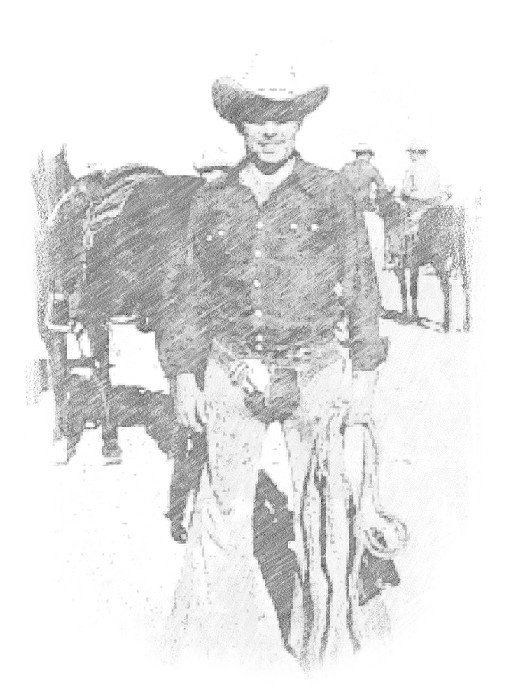 Walt LaRue
Walt LaRue was a rodeo cowboy during the 1940's and the 1950's, belonged to the Cowboy Turtle Association, the Rodeo Cowboys Association, and was a gold card member of the Professional Rodeo Cowboys Association.
He followed the shows from Salinas, California to Madison Square Garden, rode bulls and bareback broncs, was a good hand, and could make his living going down the road.
While rodeo'n, Walt had the opportunity to work in the movies, became a stuntman, and worked at both for a long time. When he wasn't robbing trains, chasing buffalo, or fighting the rustlers in the movies, he was going to the rodeos sometimes for the weekend sometime for a month or more.
In the mid-1950's, after riding the wild ones for a long time, he hung up his gear and bid the rodeos goodbye.
Walt stayed in the motion picture industry, along with his acting and stunt work. Along the way, the stunt work became a little tamer as the years went by.
Walt was born in Canada, the son of American parents, and came to the United States as a small boy.. He lived most of his life in California.
He grew up with horses, and during his youth, broke horses, was a guide and packer in the Rocky Mountains and in the High Sierra's and took people into the back country, He worked in both Glacier and Yosemite National Parks * claims he wasn't the greatest guide or packer around, but he "got them folks where they were going and got them back," and didn't remember ever losing any of them. Quote: "Once in a while I'd get lost myself, but I'd never let those folks following me know it, sooner or later I'd see a landmark I remembered, or I would just get lucky and find a trail to where we was goin."
Walt worked as a free-lance artist as an avocation for many years, he started drawing as a kid and continued though his life.
He drew cartoons for newspapers, magazines, and advertising agencies, and also did a regular Sunday Cartoon strip. Weber's Bread and Levi Strauss were among his accounts. He also illustrated books, and for over forty years continued doing his fine art until he passed in 2010.
His paintings, all Westerns, are in private collections, galleries, and museums all over the world. Successful as it was, He still called the art work a side line and shared it with his other interests. Some of Walt's most enjoyable moments were when he was surrounded by friends, telling humorous tales of his past experiences. Tales of rodero, movies, western art, or of cowboys in general. He loved the stories and got as much a kick out of telling them as the people did listening. When he was really on a roll, his emotions got the better of him and animation took over, he would then act out every part to the end of the story.
Walt often broke up the story-telling with his guitar and a few Western songs along the way; and it all added up to some really good listening….
Source: Walt LaRue