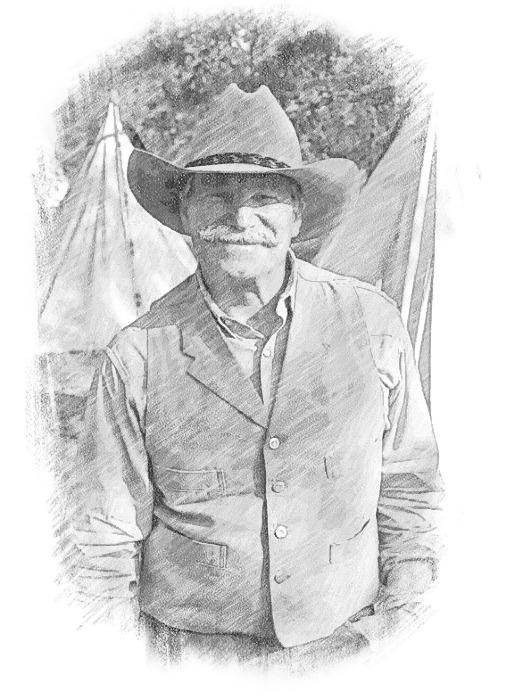 Ron Riddick, CA
(b.1952)
Ron Riddick moved to Arizona in 1979, being inspired by the brilliant light, colorful historic cultures and the old-fashioned Western traditions. It was there he met his wife, Natalie, whose gifts and talents partnered together with his to create a new and wonderful shared vision. With many years in the equine industry, her insights, knowledge and love of ranch life are a constant source of motivation and encouragement.
With heartfelt thanks to a long list of artists for their inspiration, Ron is a dedicated student of art history.  His personal style and blend of realism and colorism through classical painting techniques finds fulfilment in the rich and diverse subject matter in the great American West.
Ron has had the honor of receiving numerous Gold and Silver awards for his paintings, water solubles and drawings at CAA exhibitions as well as other national museum shows across the country.
Source: Cowboy Artist of America
Song To The Horizon Maker

Artist:

Ron S. Riddick, CA Emeritus (b.1952)

Description:

Oil (2004) | Dimensions: Image Size: 60"h x 50"w; Framed Size: 74"h x 64"w

Using a bright and bold palette in this scene, a young Indian man and his elder isolated by the clouds and the outcropping of rocks warrants that the viewer's eye is entirely focused on them. The large, majestic cloud formation framing the two figures offers contrast with the vivid colors of the sky, the sandy soil, and the traditional dress of the subjects who are singing a sacred song and posed in dramatic fashion adding to the canvas' overall feeling of dynamism and vibrancy. The painting is large, with an impressive visual impact.

Ron Riddick believes that art should be emotional; it should touch the human spirit and affirm humanity. He was first inspired by the brilliant light, colorful historic cultures and the traditions of the old West. His masterful skills, combined with his knowledge of his subjects, allow him to achieve the excellence he strives for in his work. When asked why he paints such a vast selection of imagery, he answers "I feel that an artist should remain faithful to creating art that speaks about the things he loves. For me, life is a visual feast and I hope to savor its abundance to the fullest. I will always remain a student working toward growth and refinement … in my art and in my life."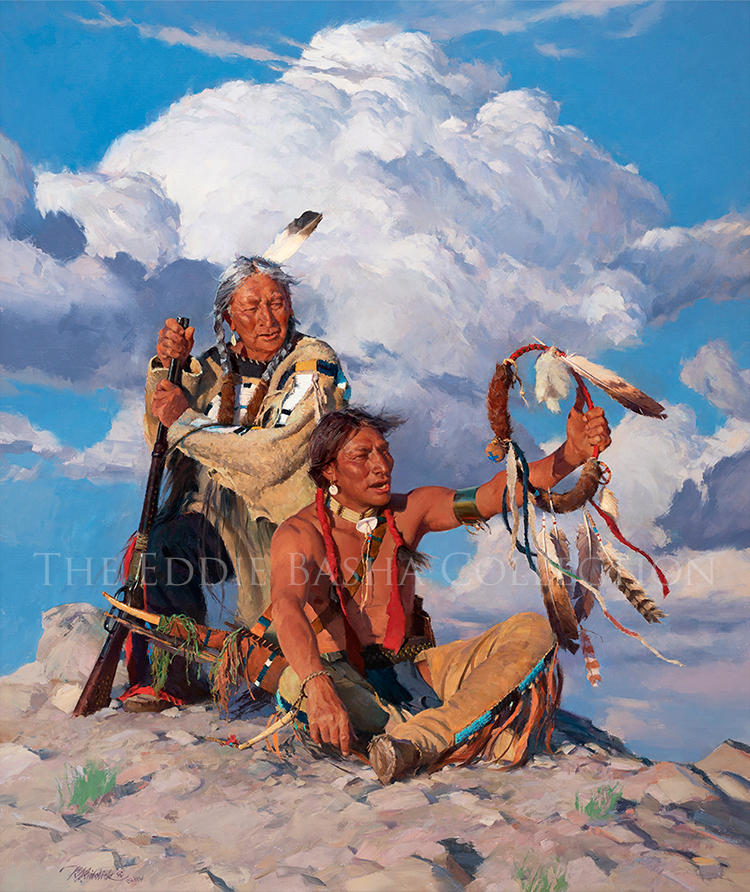 Oil (2004) | Dimensions: Image Size: 60"h x 50"w; Framed Size: 74"h x 64"w

Using a bright and bold palette in this scene, a young Indian man and his elder isolated by the clouds and the outcropping of rocks warrants that the viewer's eye is entirely focused on them. The large, majestic cloud formation framing the two figures offers contrast with the vivid colors of the sky, the sandy soil, and the traditional dress of the subjects who are singing a sacred song and posed in dramatic fashion adding to the canvas' overall feeling of dynamism and vibrancy. The painting is large, with an impressive visual impact.

Ron Riddick believes that art should be emotional; it should touch the human spirit and affirm humanity. He was first inspired by the brilliant light, colorful historic cultures and the traditions of the old West. His masterful skills, combined with his knowledge of his subjects, allow him to achieve the excellence he strives for in his work. When asked why he paints such a vast selection of imagery, he answers "I feel that an artist should remain faithful to creating art that speaks about the things he loves. For me, life is a visual feast and I hope to savor its abundance to the fullest. I will always remain a student working toward growth and refinement … in my art and in my life."