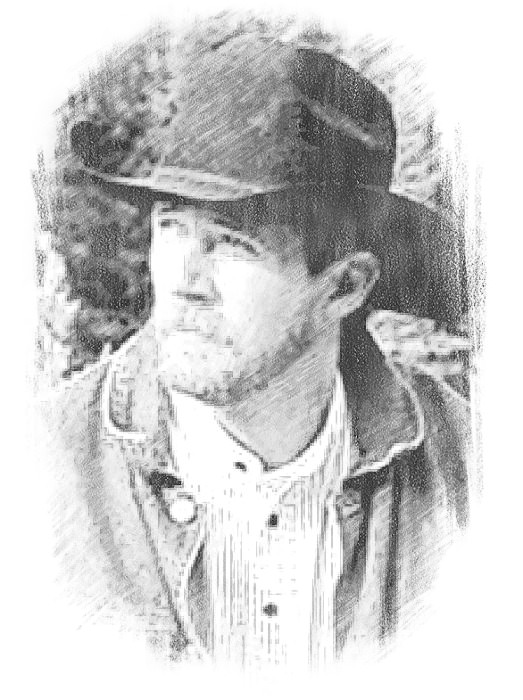 Martin Grelle, CA
(b. 1954)
Born and raised in Clifton, Texas, Martin Grelle still lives on a small ranch a few miles from town. His studio sits in the picturesque Meridian Creek Valley, surrounded by the oak & cedar-covered hills of Bosque County.
Martin began drawing and painting when he was very young, and was fortunate to have James Boren and Melvin Warren, two professional artists and members of the prestigious Cowboy Artists of America, move to the area when he was still in high school. It had a lasting impact on his direction and career. Mentored by Boren, he had his first one-man show at a local gallery within a year of graduating from high school in 1973. In the nearly 40 years since that time, he has produced some 30 one-man exhibitions, including annual shows at Overland Gallery in Scottsdale, Arizona since 1989, and has won awards of both regional and national importance at shows around the country.
He was invited into membership with the Cowboy Artists of America in 1995. That same year he was invited to participate in the first Prix de West Invitational at the National Cowboy & Western Heritage Museum in Oklahoma City. Since that time he has won the Prix de West Purchase Award, twice (one of only seven artists to do so), the Nona Jean Hulsey Rumsey Buyers' Choice Award, twice, the CA People's Choice Award in 2002, the CA Ray Swanson Award in 2008, the CA Buyers' Choice Award in 2011, 2012, and 2014, and the Silver Award for Water Solubles in 2012 and 2014. He was awarded the Legacy Award by The Briscoe Museum in 2012, for his impact on western art. He was honored with a retrospective showing of his work, along with fellow CA artist, Herb Mignery, for the Gilcrease Museum's Rendezvous Show 2013.
Beyond his studio, Martin strives to pass on what others have passed to him. He has given multiple demonstrations around the country, teaches an annual weekend workshop and mentors other aspiring artists by critiquing their work. He has donated work to a large number of organizations to aid in their progress, including The Bosque Arts Center in Clifton, Texas.
He has twice served as a Director for the CA organization and served as President for 2013-14. He is also involved with The Joe Beeler Foundation, founded by the Cowboy Artists of America to coincide with their mentoring program, which provides scholarship opportunities for artists seeking to improve their skills, and has served as President of the Foundation as well.
Source: Cowboy Artists of America
Warriors

Artist:

Martin Grelle, CA (b. 1954)

Description:

Oil on Linen (1996) | Image Size: 40"h x 60"w; Framed Size: 50 1/8"h x 70 1/8"w

Martin Grelle's "Warriors" was inspired by a trip he made to Glacier National Park. One morning while taking photographs he captured on film the weather cloud system shown here. And since the area is home to the Blackfeet Nation, he portrayed a trio of warriors traversing the area on horseback.

Council's Over

Artist:

Martin Grelle, CA (b. 1954)

Description:

Oil (2003) | Image Size: 48"h x 60"w; Framed Size: 61 ¼"h x 73 ¼"w

Martin Grelle invites viewers to step back in time and participate in the unfolding of a story from the Great Plains … the departure of tribal members at the conclusion of their council meeting. Important topics were discussed, debated and deliberated and all final decisions reached were done so by unanimous consent.

Here, Grelle presents a group of Plains warriors, all painted with intricately detailed clothing, accoutrements, and decoration that are appropriate to the 19th century, when the Plains people ruled a huge swath of the American West. Even the decorative paint and symbols on the horses tell part of this unfolding saga as each is important to the history of its particular rider and his tribe. The group is presented in bright sunlight on an open prairie with rugged hills in the background under a blue sky highlighted by white and gray clouds. The leaders of the group, each with a distinctive headdress, are in the center of the painting and are flanked by three younger Indians.

Every detail of this historic scene is authentic. The viewer has been placed in a specific time period and the artist has added all of the elements to spark the imagination with anticipation of what will happen next.

Price of Passage

Artist:

Martin Grelle, CA (b. 1954)

Description:

Oil Painting (1999) | Image Size: 36"h x 48"w; Framed Size: 49.5"h x 60"w

In the period following the end of the Civil War, when the great longhorn cattle drives brought beef from Texas to the railheads in Kansas and later to the open range of Montana, conflict between cattle outfits and American Indians was inevitable. For the Plains Indians, these drives represented incursions into their territory. In addition, longhorns and buffalo were not a good mix on the open range. Violence, however, was not the only solution to this state of affairs—negotiation was often a way of avoiding bloodshed. In this masterwork, Martin Grelle shows a small band of warriors leading a group of five longhorns away from the main cattle drive which is shown in the background making its way along a ridge. The cattle were traded in return for safe passage across this disputed territory. The scene was typical of this historic era and was replayed numerous times.

The Indians and their newly acquired cattle form the primary focus of the painting as they follow a rutted wagon trail, indicating that settlers once passed this way long ago. The rutted trail serves to lead the viewer's eye back toward the center of the painting and the group of three warriors and the cattle. Shade from a cloud offers a contrast from the bright sunlight of the rest of the image. The sage and brush covered landscape is topped by a bright blue sky and billowing white clouds. As in many of his works, Grelle paints a compelling story that is loaded with details.

Wolves of Winter

Artist:

Martin Grelle, CA (b. 1954)

Description:

Oil (1997) | Image Size: 48"h x 72"w; Framed Size: 63"h x 87 1/2"w

Wolves have great symbolic power in many tribes from the Great Lakes to the Southern Plains. Among the Cheyenne, "wolf soldiers" were one of seven warrior societies. And they believed that by wearing wolf skins and headdresses that the physical and spiritual power of the wolf would be transferred to them.

This large and impressive painting of warriors conversing in a snow laden forest clearly establishes Martin Grelle's prowess as a masterful artist, storyteller, and student of history. Here, Grelle creates a scene that effectively uses the contrast between shadow and sunlight to enhance its realism. In the center of the painting, he has arranged three mounted warriors and one riderless horse in an inward facing semi-circle serving as its focal point. One warrior is placed in the center of the circle in direct sunlight; his placement keeps the viewer's eye focused on the ensuing dialogue. The wintry landscape and forest background foster a sense of place for the viewer. The sheer size of the canvas adds to its grandeur and theatrical qualities, as if it were a scene unfolding from an epic movie.

Is it an epic beginning or is it an epic ending? That's the beauty and mystique and compelling nature of artists' work; its' engagement is the viewer's entrée to determine.

"Wolves of Winter" made its debut at the 32nd Annual Cowboy Artists of America Exhibition & Sale held at the Phoenix Art Museum in November 1997. It was subsequently loaned to the Sedona Arts Center in 2015.

A Time to Dance

Artist:

Martin Grelle, CA (b. 1954)

Description:

Watercolor on Masonite (2001) | Image Size: 48"h x 48"w; Framed Size: 61 ¾"h x 61 ¾"w

The historic details of location, clothing and weaponry alone make this a highly compelling image of 19th century Plains Indian life. All of the figures are depicted with great skill bespeaking a thorough knowledge of ceremonial dance. However, the painting is much more than a collection of historical details; it is a well composed, colorful presentation that draws its viewers into an entire culture. The canvas is dominated by a lead dancer wearing an eagle feather head dress and carrying a long lance in a leather sheath festooned with more eagle feathers. The lance slices the painting into two halves and also connects the dancer with four other participants who flank the right and left sides of the painting. While the action is played out in front of a group of teepees, several tribal members, some of them elders, watch the proceedings seated in front of the dwellings.

Martin Grelle's attention to detail, his expertly drawn dancers and their surroundings combine to create a dramatic scene from a time long gone by, but one that feels as fresh as yesterday.