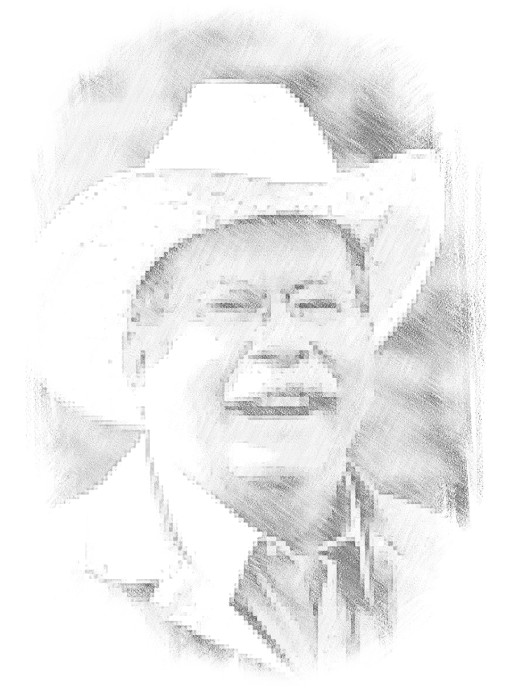 Harvey Johnson, CA
(1921-2005)
Harvey W. Johnson came by his artistic talent naturally. His father was a noted sculptor, and his mother was an accomplished painter. Following in their footsteps, after World War II, Johnson studied at the Art Students League in New York City.
He worked for many advertising studios and as an illustrator (often of frontier life) for many pulp magazines. For nineteen years, he was an instructor at the Famous Artists School in Connecticut (where he became friends with one of his artistic idols, Harold Von Schmidt). Finally, he devoted his artistic talents to interpreting the historic West, especially the era of the mountain men and the fur trade.
In 1966, while reading a copy of Western Horseman magazine, Johnson saw an article about a new organization that was forming, dedicated to the continuation of the Western art traditions of Remington and Russell. His query to Johnny Hampton about joining the group was answered with a quick response. "I not only got invited to join the group," Johnson recalls, "but was asked to send along several paintings for an exhibition and sale that was just around the corner." Johnson became a charter member of the Cowboy Artists of America. In 1976, he served as its vice president and in 1977 as president.
Harvey Johnson has been responsible for a number of "firsts" for the CAA. He was one of the first artists to apply for membership in the fledgling organization and participated in the first exhibition in Oklahoma City, Oklahoma.
A stickler for detail, Johnson does extensive research for his illustrations and paintings. Throughout his lifetime, he has collected artifacts from and books about Western history. For the past twenty-seven years, Johnson and his wife, Ilse, have lived in Santa Fe, New Mexico – in an adobe house overlooking the Santa Fe Trail, one of the first trade routes between Mexico and the United States.
Source: Cowboy Artists of America
As Sure as By Star

Artist:

Harvey Johnson, CA (1921-2005)

Description:

Oil (1973) | Image Size: 20 ¼"h x 24"w; Framed Size: 27"h x 30 ¾"w

Harvey Johnson's interpretation of the assuredness and navigational expertise of first peoples is expertly portrayed in his 1973 oil painting, "As Sure as by Star". Whiteout conditions were unwelcome and dangerous impediments, but those who had a mastery of the terrain, the ability to navigate by the stars, knowledge of wind and gust patterns, as well as an equal amount of perseverance and a level head weathered the storms.

Johnson has managed to create a dramatic scene with a very simple format. His solitary rider, bundled in a white hooded coat makes his way from the top right of the painting to the lower left. We see the incline of the rider and horse and that is the only indication that we have of the descending terrain. The rest of the canvas is a blend of white snow and pale gray clouds. The figure seems to have emerged out of nowhere, but resolutely makes his way across the stormy landscape aided only by this knowledge. For the viewer, the task seems nearly impossible, but Johnson shows no sense of panic in his subject.

Unknown Title

Artist:

Harvey Johnson, CA (1921-2005)

Description:

Oil (1989) | Image Size: 12"h x 9"w; Framed Size: 19"h x 15"w

Harvey Johnson prided himself on knowing his subjects, right down to the smallest detail. As a student of the history of the American West, Johnson was particularly interested in the fur trade era. This small portrait is a good example, both of Johnson's ability to create a character out of the pages of history and to imbue that character with a unique personality. The figure here is authentic in every detail in terms of clothing and equipment.

An Assiniboine

Artist:

Harvey Johnson, CA (1921-2005)

Description:

Charcoal (1991) | Image Size: 18"h x 24"w; Framed Size: 26"h x 31 ¾"w

Harvey Johnson was a thorough researcher who studied the history of the various eras of the American West with the intent of using the information he learned in his masterworks that would tell the many stories of the people who lived during those times. His studio was filled with period items from numerous cultures. His painstaking attention to detail and historical accuracy are on display in this charcoal drawing of an Assiniboine Indian. He presents his subject in partial profile allowing the viewer to see his entire face and the eagle feather headdress that he is wearing. The face is drawn with clarity and precision and fully captures the essence of the subject's personality.

The Assiniboine tribe originated in the Lake of the Woods and the Lake Winnipeg areas of Canada. The tribe split and many moved south to hunt buffalo in the Great Plains. Today the Assiniboine communities primarily inhabit areas of Saskatchewan and Alberta in Canada though others are scattered throughout Canada as well as the Great Plains regions.

The Black Bear Hat

Artist:

Harvey Johnson, CA (1921-2005)

Description:

Oil (1989) | Image Size: 20"h x 12"w; Framed Size: 29 ½"h x 21 ½"w

The traders and trappers who traveled through the American West during the fur trade era of the early nineteenth century often moved easily between different cultures: Native American, French and British. They dressed in hybrid fashion borrowing items from each culture and using material they found in the mountains and prairies such as animal hides and/or traded for items such as Indian bead work.

This portrait shows one of those traders decked out in tanned leather clothes, moccasins, and a warm hat made from the hide of a black bear. Here, Johnson paints a frontier type that represents a multi-cultural as well as vibrant part of North American history.

Piegan Encampment

Artist:

Harvey Johnson, CA (1921-2005)

Description:

Oil (1978) | Image Size: 12"h x 24"w; Framed Size: 22 ½"h x 34 ½"w

The Piegan are a Northern Plains tribe that once roamed throughout Montana and southern Canada. Like other Plains people, they were nomadic and carried their houses with them. In this painting, Johnson shows a typical day in a Piegan camp providing a snapshot of life on the Plains in the nineteenth century. Five tipis are grouped together with mountains and a faint moon visible in the distance. The focus is on the ordinary daily activities that occupied the greater part of the tribal members' lives that has a tranquil aura about it.

Sundown

Artist:

Harvey Johnson, CA (1921-2005)

Description:

Oil (1984) | Image Size: 16"h x 26"w; Framed Size: 25"h x 35"w

Harvey Johnson's primary subject was the fur trade era of the early nineteenth century, but he also portrayed scenes that reflect the history of later years. Here he shows a settler riding alongside a fence made from posts. The settler rides toward and to the right of the viewer, while the fence recedes into the background enhancing the sense of distance. The effect on the viewer is the assumption that the individual pictured has made a long journey as this particular day comes to a close. The blue of the sky is fading, while shadows are advancing toward the rider.

Study of a Mountain Man #12

Artist:

Harvey Johnson, CA (1921-2005)

Description:

Oil (1983) | Image Size: 12"h x 9"w; Framed Size: 19"h x 16"w

Although labeled as a study, this is a very well done and detailed portrait. Every aspect of the painting is exceptional from the details of facial features to the clothing and American Indian beadwork. Johnson has also expertly used lighting to accentuate his subject. His hat is in full light, while the shadow cast by it places the mountain man's face in partial darkness. The contrast between the portion of the face in light and that in the shadow is quite dramatic and adds to the overall effect.

The Long Way Home

Artist:

Harvey Johnson, CA (1921-2005)

Description:

Oil (1986) | Image Size: 16"h x 30"w; Framed Size: 27"h x 40 ½"w

Pioneer families making their way across a seemingly endless prairie has long been a staple scene for painters of the American West. In this painting, Harvey Johnson handles the subject with historical accuracy and artistic skill. His oxen pulled wagons move across a rolling prairie from the right of the canvas to the left. The lead wagon and oxen team and the nearby riders are painted in sharp detail, while the following wagons are less distinct, adding to a sense of distance. The pioneers are traveling under a cloudless sky and appear to be heading west. Johnson uses mostly muted tones and colors to give a sense of a long and dusty journey across a challenging terrain. The artist's addition of such details as a boy and his dog walking alongside and a chair attached to the side of the wagon, add both a human touch and a sense of authenticity to the scene.

Why oxen? For long journeys oxen performed better, could forage on almost anything, cost far less, and were less likely to be stampeded or driven off by raiders. Their average speed was three miles per hour, approximately fifteen miles per day.

The Beanmaster at Work

Artist:

Harvey Johnson, CA (1921-2005)

Description:

Oil (1975) | Image Size: 20"h x 24"w; Framed Size: 27"h x 31"w

The surrounding terrain in this neatly framed Harvey Johnson oil painting is a golden brown sea of prairie grasses. A few clouds are blowing up on the horizon, perhaps harbingers of a much needed rain. But the real focus is on the "beanmaster" and the work at hand. Shaded by a tarp that provides a welcome relief from the hot sun, a camp cook prepares a meal for a hungry group of cow hands soon to return. The cook works from a well-stocked chuck wagon. His dutch ovens are placed near the campfire where the ever present coffee pot hangs, and one cowboy has already availed himself to a cup while he rests in the shade.

Unknown Title

Artist:

Harvey Johnson, CA (1921-2005)

Description:

Bone | Dimensions: 9"h x 15"w x 2"d

The inscription reads "To Eddie Basha—a gentleman and a real good friend."

Signed: Harvey W. Johnson, CA, 1982

This small piece clearly illustrates the portraiture skills Harvey Johnson possessed even on an unusual material such as bone.

The Bear Skin Hat

Artist:

Harvey Johnson, CA (1921-2005)

Description:

Oil (1985) | Image Size: 12"h x 9"w; Framed Size: 19"h X 16"w

As a keen student of the history of the fur trade era of the American West, Harvey Johnson often painted portraits, such as this one, that portray a typical character of the period. These may have been done as studies for larger paintings or may have been meant to stand alone. All are marked by an attention to detail and strict adherence to period details. One can always be certain that Johnson's historic figures are true to their time period in all facets of dress and equipment.

Moonlighting

Artist:

Harvey Johnson, CA (1921-2005)

Description:

Since Harvey Johnson expertly set the tone of this small painting by using the moon as its lighting source, it is aptly named "Moonlighting." The rider's shirt and the white spot on the horse's face reflect the moon's bright, yet soft luminescence. And though the painting is quiet with a simple composition, it is evocative and highly effective.

Staff of Life

Artist:

Harvey Johnson, CA (1921-2005)

Description:

Oil (1978) | Image Size: 20"h x 30"w; Framed Size: 28 7/8"h x 38 7/8"w

Aptly named and using a muted range of colors and a deft handling of the contrast between light and shadow, Harvey Johnson effectively captured a tense moment that was repeated countless times in the West before the arrival of pioneer settlers—two Indians cautiously approach a buffalo herd armed only with bows and arrows. Johnson separated the two adversaries with a line of sage that bisected the painting into two distinct scenes.

The Cold Chill of Winter

Artist:

Harvey Johnson, CA (1921-2005)

Description:

Oil (1982) | Image Size: 22"h x 38"w; Framed Size: 32 ¾"h x 48 ¾"w

The daily life of solitary trappers in the far West was a favored subject of Harvey Johnson. And through his research, he found an almost endless supply of era-related facets to portray. In fact, Johnson became known as a master storyteller of this aspect of western history and maintained a steady base of collectors who shared his passion.

Formally trained at The Art Students League of New York and honing his skills early on as an illustrator for advertising companies, pulp fiction magazines and teaching at the Famous Artists' School where he met, befriended and worked with one of his artistic idols, Harold Von Schmidt, prepared Johnson for the compelling narratives he would share throughout his career as a professional fine artist.

Santuario

Artist:

Harvey Johnson, CA (1921-2005)

Description:

Acrylic on Masonite (1985) | Image Size: 9"h x 12"w; Framed Size: 15 ½"h x 18 ½"w

Powder River Camp

Artist:

Harvey Johnson, CA (1921-2005)

Description:

Oil (1981) | Image Size: 20"h x 30"w; Framed Size: 29"h x 39"w

Gone the Nagi

Artist:

Harvey Johnson, CA (1921-2005)

Description:

Oil (1986) | Image Size: 24"h x 32"w; Framed Size: 34 ½"h x 42 ½"w

Northern Plains Indians buried their departed on biers and placed in trees to prevent, at least for a while, avengers such as coyotes and wolves and other wildlife from desecrating a corpse. Often times the deceased's most treasured or emblematic possessions were wrapped within the burial shroud. Here it is marked by the warrior's lance. It is believed that one's soul, or "Nagi", departs at death and returns to the spirit world.

Artist Harvey Johnson has set this scene in the winter on a snow covered hill. The warrior is covered with snow while overhead gray clouds scud across the sky. And though the piece is rather somber and bleak, the subject matter has been handled with sensitivity and respect.

Spring Runoff

Artist:

Harvey Johnson, CA (1921-2005)