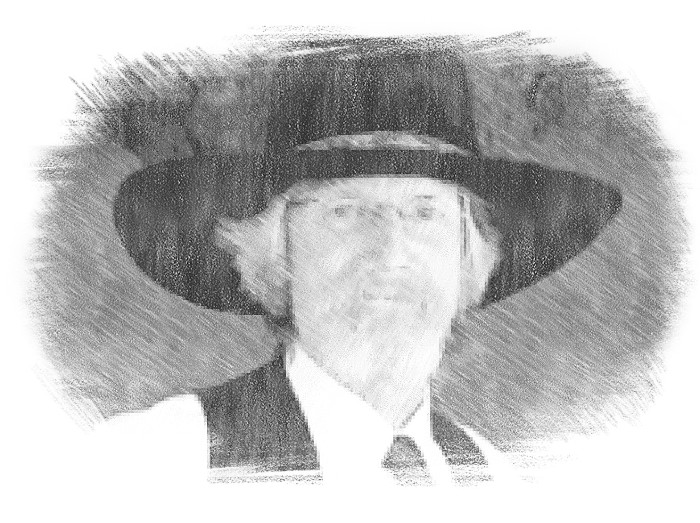 Dave Powell
(b. 1954)
Others may call Dave Powell the reincarnation of Charlie Russell, but we see a modern, if traditional, man with a new vision for cowboy art. That vision is the "Code," a sense of the soul of cowboy culture which Dave feels strongly must be preserved.
"The Code is so important; it's not figured out, it's not written down, it's just kind of a philosophy of the cowboy arts," he says. As an active member of the Cowboy Artists of America (CAA), he believes the job of cowboy artists is "not about painting pretty pictures or painting pictures that sell for a lot of money, it's about the heart. It's about the Western soul—the soul of the livestock, the cattle and horses, and the culture that goes with it."
Dave grew up the son of artists Nancy McLaughlin and Ace Powell. As a youngster raised in Agpar, Montana, where his father worked as a packer at Glacier National Park, Ace met Charles M. Russell at his summer home, Bull Head Lodge. Russell encouraged Ace to become an artist.
Just like his father was mentored by America's leading cowboy artist, 57-year-old Dave has watched over this generation's young men who share that same desire to chronicle the West. Dave believes mentoring those young artists is as important as his own work. That's not the least of the reasons why we love him.
Source: True West Magazine
Christmas Thank You Letter

Artist:

Dave Powell, Former CA (b. 1954)

Description:

Watercolor Pen (2006) | Image Size: 11"h x 8 ½"w; Framed Size: 19 3/8"h x 17"w

Friends, Mr. & Mrs Basha,

We want to drop a note of thank you for the portrait medallion of Joe. To me he was the chief, "he walked the good road and as an artist and friend he embodied all that is honest and good."

Like the cowboy carrying simple gifts to his friends and if truly blessed, his family, it's always the power of the heart given with this material gift that gives the magic. Joe did this by being Joe.

With wishes of the Holy Season we call Christmas, our sincere regards.

Dave, Sasha and Boys

Watercolor Portraits

Artist:

Dave Powell, Former CA (b. 1954)

Description:

Watercolor | Prairie Medicine, Sky Medicine (2013)

Image Size: 8"h x 5"w; Framed Size: 17"h x 13 ½"w

Watercolor | Southern Star (2009)

Image Size: 9 ½"h x 6 ½"w; Framed Size: 17 1/8"h x 13 5/8"w

Watercolor | Kee-o-etsenco, The Ten Bravest (2013)

Image Size: 9" x 8"; Framed Size: 17"h x 15 1/8"w

Watercolor | Waterbird (2013)

Image Size: 7 ½"h x 7"; Framed Size: 15 ½"h x 14 1/8"w

Montana born Dave Powell's art pedigree is substantive. His parents, Nancy McLaughlin Powell and Ace Powell were both artists. In fact, Ace was gifted his first set of paints by none other than Charlie Russell. And just like his parents and Russell, the land, lifestyle, and Montana heritage was a tremendous factor and influence in Dave's career as an artist. Though largely self-taught, he studied with a formidable line up of great western artists including Joe Beeler, Robert Lougheed, Tom Lovell and Bob Scriver, just to name a few.

One of Powell's specialties is the depiction of Native Americans. He has a great knowledge of Native American history, customs, and dress and utilizes all of that knowledge in his work. In this series of portraits, he has paid particular attention to portraying each figure with authenticity and sensitivity. He has also utilized that knowledge in providing costuming, prop and technical advice in film and television productions such as Lonesome Dove, Silverado and Seabiscuit.

Eyes of the People

Artist:

Dave Powell, Former CA (b. 1954)

Description:

Watercolor (2013) | Image Size: 10"h x 15"w; Framed Size: 18 ½"h x 22 7/8"w

Dave Powell was born in Montana … the land, the lifestyle and heritage of the state has been a tremendous factor and influence in his career as an artist. He is largely self-taught, but studied with a formidable line up of western artists including his parents, Nancy & Ace Powell, Joe Beeler, Robert Lougheed, Bob Scriver, Tom Lovell and Ned Jacobs just to name a few.

Dave's vast knowledge of history also accorded him the opportunity to provide technical assistance in the film productions of Lonesome Dove, Silverado, Good Old Boys and Seabiscuit.

War Bird Leggings

Artist:

Dave Powell, Former CA (b. 1954)