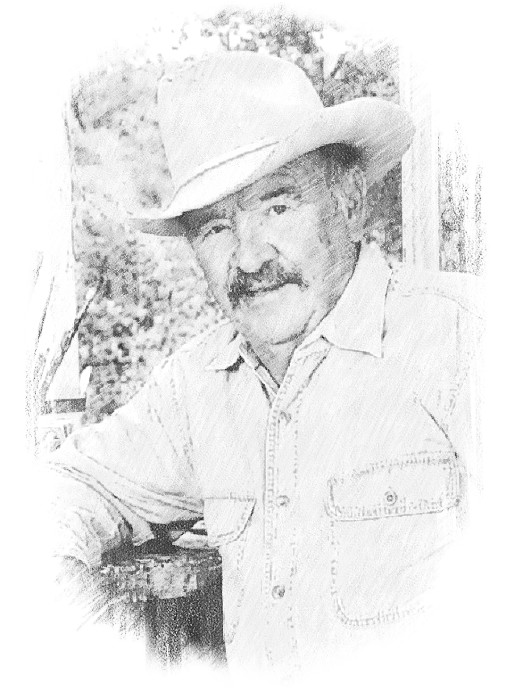 Gene Zesch
(b. 1932)
Gene Zesch grew up during the Depression on a hard scrabble central Texas ranch working cattle, shoeing and breaking horses, milking cows and building fence in between riding horseback four miles to school. His experiences with ranching provided the inspiration for his famous carvings which portrayed the witty and rich irony of that life.
Honored by numerous awards and publications, Gene's long and illustrious career distinguishes him as the nation's premiere cowboy woodcarving caricaturist.
Gene first received national recognition when President Johnson bought some of his carvings.
Publicity about this event resurfaced in 1993-1994 when the Smithsonian Portrait Gallery included one of Zesch's carvings.
Then in 1996-1997 he was one of 12 artists used by the National Archives in their show "Tokens and Treasures of 12 Presidents".
Photos and stories of these pieces were widely distributed by the National Geographic, New York Times, UPI etc.
Gene started carving in 1954. He had just married his high school sweetheart, Patsy, and entered the Army as a pilot.
While on leave they passed through Santa Fe and watched a man on the Plaza carving a likeness of President Eisenhower. He had never seen a sculpture with the bold cuts that gave it character. He was literally smitten by this medium and told his wife "I believe I can do this".
After his stint as a pilot he returned home to the ranch and started carving, selling first in gift shops then small art galleries and finally to some of the top Western art galleries in the U. S.
His first one man show was at the Witte Museum in San Antonio. He didn't realize how prestigious it was to have a one man show at such an early age.
His next one man show was in 1988 in the Institute of Texan Cultures in San Antonio. According to Al Lowman, Director, "it is by far the most popular exhibit we've ever had".
He then had a one man show at Texas A&M University, which he says was an "art free zone" when he attended.
By far, his one man show at the National Cowboy and Western Heritage Museum has been his most important show. It was held September 2005 to January 2006. It was one of the best attended one man shows in the history of the Museum. They now have seven pieces in their permanent collection.
Professor and sculptor, Umlaf, advised Gene not to take lessons but to keep developing his own style.
Even though he has flown airplanes, ridden motorcycles all over the world, and skied, his greatest pleasure has been to part time ranch with his sons and grandsons.
Source: Gene Zesch
This Ranch Has Made Me What I Am Today

Artist:

Gene Zesch (b. 1932)

Description:

Wood (1979 | Dimensions: 9 ½"h x 18"w x 7 ½"d 

Gene Zesch's experiences with ranching provided the inspiration for his famous carvings which portrayed the witty and rich irony of that life.

Honored by numerous awards and publications, Gene's long and illustrious career distinguishes him as the nation's premiere cowboy woodcarving caricaturist.

Where The Skies Are Not Cloudy All Day

Artist:

Gene Zesch (b. 1932)

Description:

Wood Sculpture (1976) | Dimensions:  9"h x 14"w x 7'd

Source: Gene Zesch Website

"He feels that he is recording ranch life, as he has known it. Most of his work is an exaggeration of experiences he or his friends have had. All art is exaggerated to some degree, but caricature gives Gene more to "play" with."

Now, if this don't turn them cows it oughta scare hell out of 'em |

Artist:

Gene Zesch (b. 1932)

Description:

Wood Sculpture (1976) | Dimensions: 9"h x 20"w x 7"d

Gene Zesch grew up during the Depression on a hard scrabble central Texas ranch working cattle, shoeing, and breaking horses, milking cows, and building fence in between riding horseback four miles to school. His experiences with ranching provided the inspiration for his famous carvings which portrayed the witty and rich irony of that life.

Honored by numerous awards and publications, Gene's long and illustrious career distinguishes him as the nation's premiere cowboy woodcarving caricaturist. To learn more about Gene and his wickedly delightful sense of humor, check out his website at https://genezesch.com/about/

I See By Your Outfit That You Are A Cowboy

Artist:

Gene Zesch (b. 1932)

Description:

Wood Sculpture (1974) | Dimensions: 9"h x 16"w x 7"d

A little dry humor and some wit go a long way in this Gene Zesch sculpture. We can always count on Gene to serve it.

I See By Your Outfit That You Are A Cowboy

Artist:

Gene Zesch (b. 1932)

Description:

Wood Sculpture (1974) | Dimensions: 9"h x 16"w x 7"d

A little dry humor and some wit go a long way in this Gene Zesch sculpture. We can always count on Gene to serve it.

Now Wonder How These Cows Got Out?

Artist:

Gene Zesch (b. 1932)

Description:

Woodcarving | Dimensions: 9"h x 14"w x 8"d

Part of the appeal of Gene Zesch's work is the creative integration of sculpture and title. The perfect clincher is often a play on words, use of a colloquialism, a touch of sarcasm, simple semantics or quirky characters. And aren't we the lucky ones that he does?

Blocked

Artist:

Gene Zesch (b. 1932)

Description:

Bronze | Dimensions: 6"h x 13"w x 7"d; Edition #2 of 25

Looks Like We'll Have to Just Tighten Our Belts Again

Artist:

Gene Zesch (b. 1932)

Description:

Wood Sculpture (1976) | Dimensions: 9 1/2"h x 18"w x 7 ½"d

One Quarter Inch, Including Bugs and Dust

Artist:

Gene Zesch (b. 1932)

Description:

Wood | Dimensions: 10"h x 16"w x 7"d

In his wooden carvings and bronzes, Gene Zesch presents another side of the West, not the romantic heroism of western movies and novels, but the hard scrabble existence that many cowboys and small ranchers face on a daily basis. Even though he creates obviously exaggerated caricatures in his vignettes, the people he portrays exhibit a true humanity. They face hardships; they barely eke out a living; their finances, at best, are precarious; each day is a struggle. But his characters survive and endure to face a new challenge tomorrow and they do so with a hard bitten and sometimes dark humor. Zesch has so successfully captured the personalities and histories of his people that we may think we have met the cowpoke standing in front of the broken down barbed wire fence in "One Quarter Inch, Including Bugs and Dust". These pieces speak to our hearts. Zesch knows these people and he has the talent to bring them to life.

Model T

Artist:

Gene Zesch (b. 1932)

Description:

Bronze | Dimensions: 9"h x 16"w x 7"d; Edition #11 of 50

Looks Like We'll Just Have to Tighten our Belts Again

Artist:

Gene Zesch (b. 1932)

Description:

Wood Carving (1976) | Dimensions: 9 ½"h x 18"w x 7 ½"d

Born in 1932, Gene Zesch grew up on a Texas ranch and still lives there today. After attending Texas A&M University, he started working as an artist in 1954. In his wooden carvings and bronzes, Zesch presents another side of the West, not the romantic heroism of western movies and novels, but the hard scrabble existence that some cowboys and small ranchers face on a daily basis. Even though he creates obviously exaggerated caricatures, the people he portrays exhibit humanity. They face hardships; they barely eke out a living; their finances, at best, are precarious; each day is a struggle. But his characters survive and endure to face a new challenge tomorrow and they do so with a hard bitten and sometimes dark humor. We can easily relate to these cowpokes standing in front of a broke down fence saying, "Looks Like We'll Just Have to Tighten our Belts Again."

Gene's work has been exhibited at the Smithsonian Institution's National Portrait Gallery, the National Cowboy & Western Heritage Museum, the Institute of Texan Cultures, the Witte Museum, at his alma mater and numerous other galleries and institutions.

Country Gone to Town

Artist:

Gene Zesch (b. 1932)

Description:

Wood Carving (1976) | 15"h x 15"w x 4"d

Down at the Fishin' Hole

Artist:

Gene Zesch (b. 1932)

Description:

Wood Carving (1976) | 7"h x 12 ½"w x 8"d

Gene Zesch did it again in "Down at the Fishin' Hole." Life's foibles just can't be taken too seriously as Zesch so accurately portrays in his character's facial resignation of the tangled fishing line below.

A Reputashun Like Mine Ishn't Built Overnight

Artist:

Gene Zesch (b. 1932)

Description:

Wood Carving (1977) | 9"h x 13"w x 7"d

In his woodcarvings and bronzes, Gene Zesch presents another side of the West; not the romantic heroism of western movies and novels, but the hard scrabble existence that many cowboys and small ranchers face on a daily basis. Even though he creates obviously exaggerated caricatures in his vignettes, the people he portrays exhibit a true humanity. They face hardships; they barely eke out a living; their finances, at best, are precarious; each day is a struggle. But his characters survive and endure to face a new challenge tomorrow and they do so with a hard bitten and sometimes dark humor. Zesch knows these people and has the talent to bring them life as he did in "A Reputashun Like Mine Ishn't Built Overnight."

The Rodeo Has Made Me What I Am Today

Artist:

Gene Zesch (b. 1932)

Description:

Wood Carving (1977) | 11"h x 10"w x 6"d

Jenkins, Let's Go Out and Raise a Little Hell

Artist:

Gene Zesch (b. 1932)