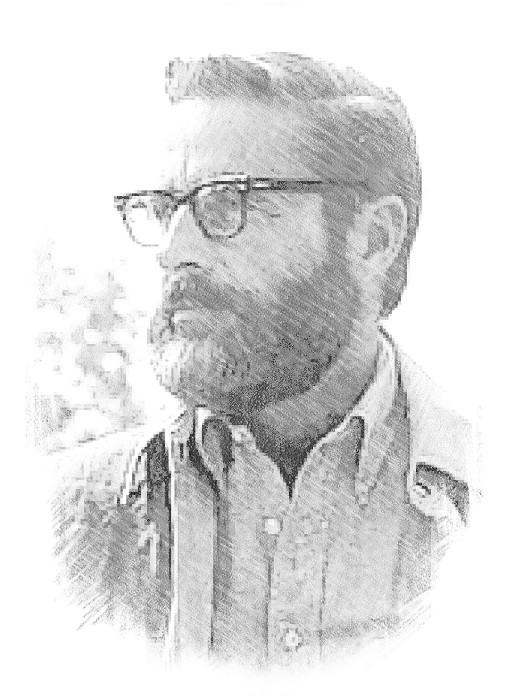 Frank C. McCarthy, CA
(1924-2002)
To view Frank C. McCarthy's artwork is akin to be amidst all the action. The artist creates heroic images of the American West that have a legion of admirers among art lovers, critics and collectors alike. Simply stated, there are few practicing artists who can depict man and horse in action with the same degree of accuracy or drama in a uniquely Western landscape.
Frank McCarthy found early inspiration in Scribner's classics Robin Hood and Treasure Island, and in illustrations by artist N. C. Wyeth, which helped bring those pages to life. His more formal training was accomplished at the Art Students League and the Pratt Institute, where he was able to study with anatomy teacher George Bridgeman and painter Reginald Marsh.
As a commercial artist in the New York City area, McCarthy's early career focused on major advertising art for the film industry, book covers and a variety of periodicals—such as Colliers, Reader's Digest, Cosmopolitan and Outdoor Life—which brought exposure and notoriety. Despite his growing reputation in the field, McCarthy sought more creative freedom and the opportunity to focus on his favorite subjects: the characters of the American West. In 1974, the artist moved west, settled in Arizona, and began to explore and document the natural settings and historical subjects he so revered.
Frank McCarthy is a much honored member of the Cowboy Artists of America, and his works have been exhibited in such institutions as the National Cowboy Hall of Fame in Oklahoma City, the Gilcrease Institute in Tulsa, Oklahoma, the Leanin' Tree Museum in Colorado and the Frontier Army Museum at Fort Leavenworth. This renowned Western artist has also been honored with a one-man retrospective at the R.W. Norton Art Gallery in Shreveport, Louisiana and at the Museum of the Southwest in Midland, Texas.
Whether his subjects are Indians, mountain men, cavalry, or cowboys, McCarthy's work has such intensity that each painting literally involves the viewer in the action taking place on canvas. "My paintings are the results of a lot of research and hard work," comments the master of Western action, "but I love it." The Art of Frank C. McCarthy was published to great acclaim in 1992, and Frank was inducted into the Society of Illustrators Hall of Fame in the summer of 1997.
Source: The Art Barbarians
On the Slope

Artist:

Frank C. McCarthy, CA (1924-2002)

Description:

Oil (1983) | Image Size: 16"h x 12"w; Framed Size: 22 ¾"h x 19"w

Frank McCarthy painted several aspects of western history. Here, he shows a fur trade era figure dressed in buckskin with his rifle sheathed in it as well atop his buffalo hide draped mount riding on a parched, grassy slope. This piece is painted with McCarthy's typical attention to period detail.

The Chief

Artist:

Frank C. McCarthy, CA (1924-2002)

Description:

Oil | Image Size: 8"h x 6"w; Framed Size: 14 ½"h x 12 ½"w

This small painting has many of the elements that Frank McCarthy is best known for—an American Indian subject, a Southwestern desert setting, and very well drawn figures. In this piece a warrior wearing an eagle feather headdress rides directly at the viewer across a rough and rocky terrain which McCarthy has painted with meticulous precision. And though much of the painting is monochromatic, the warrior carries a shield that has a red cloth attached to it, giving a pop of color to the canvas.

Crow Warrior Fording

Artist:

Frank C. McCarthy, CA (1924-2002)

Description:

Oil (1974) | Image Size: 12"h x 16"w; Framed Size: 20"h X 24 ¼"w

This is the sort of action scene that Frank McCarthy is best known for and shows his skill at capturing his subject in a single dramatic moment. A keen student of western history, particularly its American Indian aspects, McCarthy was careful to include authentic details of clothing and weaponry.

"Crow Warrior Fording" was shown in the "Cool, Cool Water" exhibition at the Phippen Museum of Western Art last year and also at the R.W. Norton Art Gallery in Shreveport, Louisiana, for a Frank McCarthy Retrospective in 1977.

Comanche Trackers

Artist:

Frank C. McCarthy, CA (1924-2002)

Description:

Oil (1973) | Image Size: 15h" x 16"w; Framed Size: 20 ½"h X 24 ½"w

The Comanche were the greatest horsemen of the Great Plains. They ranged over thousands of miles of territory from Kansas to Mexico hunting buffalo and staging raids on settlements and other tribes. In this painting, Frank McCarthy shows a small band of Comanche riding through a tall grass prairie. One warrior is shown in the center foreground of the painting carrying his lance and looking intently at the ground for any sign of tracks. His fellow warriors are dispersed behind him and are engaged in the same activity. McCarthy's palette is composed of the colors of the sunbaked prairie; golds, yellows, and dull greens. Those muted tones are contrasted with splashes of colors provided by the warriors' feathers and the dappled colors of the primary rider's pinto pony. All of the riders are moving forward from left to right and the illusion given is that we have been granted an opportunity to be part of this very deliberate process.