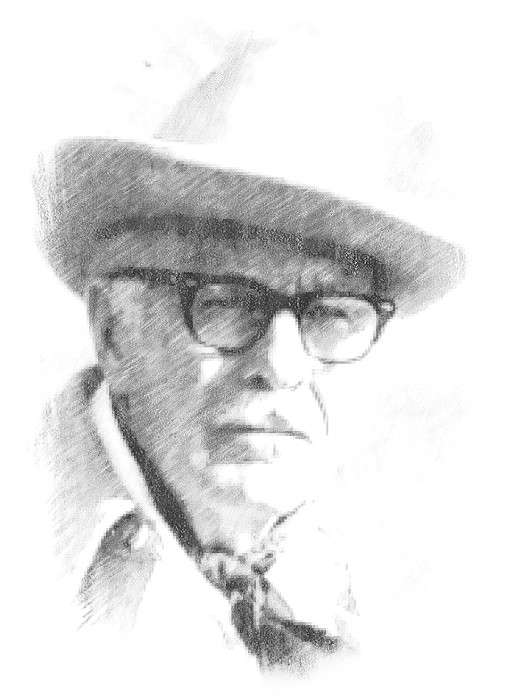 Robert Lougheed
(1910-1982)
Raised on a farm, Robert Lougheed developed a passion for drawing wildlife. At age 19, with extensive self-study and only one art course, Lougheed was offered an illustration job with the Toronto Star. Six years later, in 1935, his desire for a formal fine arts training brought him to New York.
Through John Clymer, whom he met in Toronto, Lougheed was able to get to know and study with Frank Dumond at the Art Student's League. After leaving the Art Student's League, Lougheed enjoyed a successful career as an illustrator.
He worked for many large circulation magazines, including Reader's Digest, Sports Afield, True, Argosy, and Collier's. Lougheed also developed images for commercial advertising, such as Mobil Oil's flying red horse. Balancing his commercial work to pay the bills, he devoted six months a year to fine art and travel. Lougheed was annually commissioned to paint the national field trial champion dog, and for 20 years, he spent two months each fall at the Bell Ranch in New Mexico, painting breeds of horses for National Geographic. He also traveled around the American West and Canada, occasionally joined by fellow artist, John Clymer.
Lougheed's study at the Art Student's League was invaluable to his progression as an artist. Dumond imposed the principles of plein air painting, which was essentially impressionistic realism. Lougheed's painting from that point incorporated the plein air ideals of painting light on shapes, defining only one moment of activity in the composition, and sincerely observing how distance and atmosphere affect a subject.
He said, "I am a realist in painting. I know that a serious composition must include those emotional and spiritual qualities extolled by the professional art theorist; like every other artist, I also know that accurate reporting of detail does not, of itself, constitute art; but unlike other theorists, I cannot feel that realistic treatment need detract from my reasonable or sensible idea."
Lougheed received numerous awards, including the Western Heritage Award, the Colt Firearms Award, and many gold and silver medals from the Cowboy Artists of America and the National Academy of Western Art. He was also a member of the Society of Animal Artists and the prestigious Salamagundi Club of New York City. Lougheed's works are recognized in many private collections and museums, including the National Cowboy Hall of Fame, the Phoenix Art Museum, the Fine Arts Museum of New Mexico, the Albuquerque Museum, the Portland Museum, and the National Museum of Wildlife Art.
Source: Robert Lougheed 
Golden Church in the Sun; New Mexico

Artist:

Robert Lougheed, CA (1910-1982)

Description:

Oil | Image Size: 12"h x 24"w; Framed Size: 17"h X 29"w

Lougheed was captivated by the history, people, and scenery of New Mexico. He found the light of Northern New Mexico particularly appealing and conducive to his habit of painting outside. Here he captures the colors and light effectively of the New Mexico countryside. The painting is an excellent example of his ability as a landscape painter and his eye for detail. This piece is featured in the book entitled "Lougheed" authored by B. Byron Price and published by Nygard & Elliott Publishing Company in 1991.

Colorado Adobe

Artist:

Robert Lougheed, CA (1910-1982)

Description:

Oil | Image Size: 12"h x 16"w

Robert Lougheed found northern New Mexico to be an almost perfect environment in which to paint. He could set up his easel outside for much of the year and the land, sky, and the three distinct cultures—Indian, Hispanic, and Anglo—provided an endless source of inspiration. This relatively small oil was done just north of New Mexico in southern Colorado, but it includes all of the elements that he sought in a subject—a diversity of light, a variety of textures, one of his favorite subjects, a group of horses.

Silently They Passed

Artist:

Robert Lougheed, CA (1910-1982)

Description:

Oil (1977) | Image Size 15"h x 30"w; Framed Size 24 ¼"h x 39 ½"w

The Goatman of Truchas

Artist:

Robert Lougheed, CA (1910-1982)