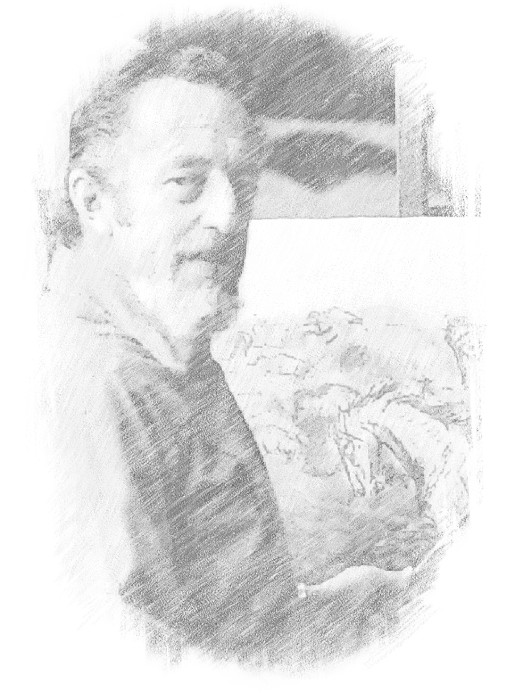 Ernest Berke
(1921-2010)
A sculptor and painter of western subjects, Ernest Berke was well known to collectors in both the Southwest and the East Coast. He was born in Harlem, New York City in 1921 to a Romanian clothing designer and a Russian sheet metal worker. His father, who recognized his son's talent early on, encouraged him to pursue art.
After serving in the Army Air Corps during WW II, he worked in advertising, as a fashion artist for Sears Roebuck before pursuing his art on a full-time basis. A self-taught artist and anthropologist, Berke was a voracious reader. He met on a regular basis at a local New York City bookstore with a group who shared his interest in the West, and occasionally Berke would show his works there.
His remarkable ability as a researcher coupled with his compassion for Indian culture and his haunting scrutiny of the indignities that were part of frontier America, all contributed to his compelling narratives in both sculpture and canvas. Berke's scholarly devotion to the West covered more than four decades, and he completed more than 2,500 paintings and nearly 80 sculptures, five of which are life-size.
His works are in the permanent collection of the Buffalo Bill Historical Center, Crazy Horse Memorial, Amon Carter Museum of the American Indian, Pearce Western Art Collection at Navarro College, Woolaroc Museum, Great Plains Art Museum, and Eiteljorg Museum of American Indian and Western Art. In addition, his work appears in 17 published books, two of which he published himself.
His work is a favorite among major western art collectors and institutions. American Artist magazine said: " Never before has the Old West been depicted from such a sociological and psychological point of view, and by such a talented artist. Our cultural history will benefit from Berke's document. Many believe it is Berke's destiny to be ranked alongside Remington and Russell as an art master of our long faded American west."
To all those who helped and brought joy to Ernest's journey, we are eternally grateful…..To all those he helped and brought joy to we hope you will remember.
Ernest Berke passed on November 15th, 2010
Source: Ernest Berke
Singing Indian

Artist:

Ernest Berke (1921-2010)

Description:

Bronze Edition #1 of 30 (1984) | Dimensions: 11"h x 10"w x 6"d

Ernest Berke produced many smaller busts such as "Singing Indian" in addition to his larger pieces. Even in this small format, he was careful to pay to attention to details of authenticity, ornamentation, anatomy, and humanity. By positioning the upward projection of the subject upon its base, its viewers long to hear the song he sings to his ancestors.

Confrontation

Artist:

Ernest Berke (1921-2010)

Description:

Bronze (1976) | Dimensions: 15"h x 24"w x 16"d; Edition #1 of 10

This bronze portrayal of an American Indian Warrior and a Fur Trader confronting one another on a wintry day has a great narrative flow and sense of balance. The two figures anchor each side of the sculpture. And though their horses are turning toward one another, they are shying away at the same time, emanating a sense of mounting tension. The use of a white stone base symbolic of the snowy terrain is an excellent feature that adds a sense of realism and visual interest. Ernest Berke's "Confrontation" simultaneously depicts movement as well as hesitation as the story unfolds in front of the viewer's eyes.

January, the hard month

Artist:

Ernest Berke (1921-2010)

Description:

Bronze (1975) | Dimensions: 10"h x 10"w x 7 ½"d; Edition #13 of 25

Ernest Berke very effectively uses a white natural stone base to add to the illusion of a harsh, winter climate. By sweeping the Indian's clothes forward along with the horse's mane and tail, the illusion of a strong wind is present.

Primarily self-taught, Berke turned an abiding interest in the history of North American Indians into a career as a painter and sculptor depicting his subjects with reverence. He grew up in New York City, left school at an early age and embarked on a varied career that included a stint as an illustrator for Sears. Throughout much of those early years, he studied and read about Indian culture and history. A favorable review of his early paintings on Indian subjects in the New York Times led him to resign his position at Sears and devote himself to art on a full time basis. Over a career that spanned four decades, he produced over 2,500 paintings and 80 sculptures. He gained additional first-hand knowledge of American Indian culture by living with the Northern Shoshone Tribe in Idaho.

The Blackfoot Tracker

Artist:

Ernest Berke (1921-2010)

Description:

Bronze (1988); Special Caste for Edward Basha | Dimensions: 15"h x 17"w x 7 ½"d

Ernest Berke was a self-taught artist who learned much by studying the work of artists like Frederic Remington and Charles Schreyvogel. This bronze has a similar feel as that of the work of Remington, however, Berke put his own style into the depiction of a Blackfoot warrior looking for signs along a trail. He may be tracking buffalo, other game, or adversaries. As he travels, he peers intently on the ground. Berke has perfectly captured the dress and other items of the period as well as the anatomy of the horse.

Berke's work can be found in museum and as well as private collections worldwide.

Apache Signal

Artist:

Ernest Berke (1921-2010)

Description:

Bronze (1969) | Dimensions: 25"h x 16"w x 10"d; Edition #8 of 12

Because Indians were trained from an early age to think and act independently, but always with the collective community goal of tribal survival and success, they were formidable hunters as well as foe. And the signals adept at communicating from afar without being detected contributed immeasurably to that survival and success.

In this well-executed bronze, an Apache warrior waves a large hide high. The bronze itself shows off Berke's casting prowess with the hide balanced over the warrior's head supported only by the Indian's outstretched arm. Casting the hide with no other support would have been a challenging feat of engineering at that time. The artistry of the single figure is also well done and striking.

Three-Legged One

Artist:

Ernest Berke (1921-2010)

Description:

Bronze (1966) | Dimensions: 13"h x 8"w; Edition #23

In this simple but empathetic bronze depiction, Berke turns his attention to a quieter side of Native American life, the gathering of firewood. It was often a laborious task that took its toll on the women who performed it as evidenced by the rather haggard appearance of this elder who depended on her sturdy walking stick to provide balance and stability.

Throwing the Snow Snake

Artist:

Ernest Berke (1921-2010)

Description:

Bronze (1971) | 13 ¾"h x 25"w; Edition #1 of 6

According to Native American oral tradition, the snow snake game is more than 500 years old. The game originated as a form of communication between villages and eventually evolved as a competitive sport actively played during long winters. Its name was derived from the serpent-like motion of the poles as they slid down the track.

Ernest Berke cleverly used a stone base to give the impression of a winter snow scene. The figure is caught mid-action and his far left placement generates a sense of forward momentum.

The Tacticians

Artist:

Ernest Berke (1921-2010)

Description:

Bronze (1968)

"Every Western sculptor dreams about the horse with all four hooves off the ground, but Berke has actually succeeded in creating it: Both horse and two Indians are cantilevered at a nearly impossible 45-degree angle off the legs of the one Indian being dragged through the brush. The Tacticians is an engineering feat: 150 pounds of bronze have been suspended off the right front leg of one horse. Berke built up a bridge from one horse to the other by constructing a robe curving up to touch the horse's rump and by having the horses so close that one rider's leg touches the other rider's horse. This bridge supports the weight of both horses and riders" as was highlighted in American Artist by Diane G. Cochran when referring to the complex engineering characteristics evidenced in Ernest Berke's bronzes.