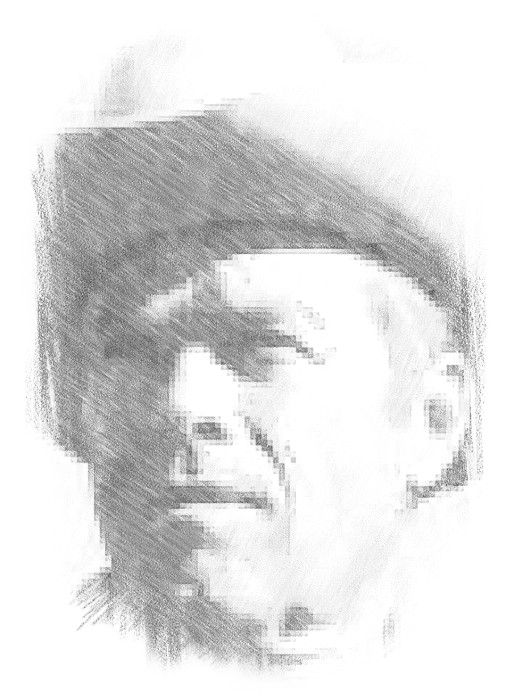 James Boren, CA
(1921-1990)
James Boren was born on September 26, 1921 in Waxahachie, Texas. He lived in several towns in south and west Texas, including Lamesa, Big Spring, Sweetwater, Snyder, and San Antonio.
After receiving his master of fine arts degree in 1951 from the Kansas City Art Institute, he taught fine arts for two years at St. Mary's College, Leavenworth, Kansas.
From 1956 to 1965, he worked as a concept illustrator for the Martin-Marietta Company in Denver, Colorado. Boren's philosophy of art always centered on traditional values. "Good drawing, good color, an understanding of the basic design and elements such as form, pattern, value, line, and texture are essential to producing good art," he said. "This is the foundation on which an artist should build."
In 1965, Boren became the first art director of the National Cowboy Hall of Fame in Oklahoma City, Oklahoma. He provided expertise and leadership in assembling the Hall of Fame's fine-art collections and exhibits. He left the position to devote all of his time to his painting career.
He became a member of the Cowboy Artists of America in 1968, and later served two terms as its president and secretary. He also served on the original board of trustees of the museum formerly known as the Cowboy Artists of America Museum in Kerrville, Texas.
Boren was awarded twelve gold medals and nine silver medals in annual competitions in Cowboy Artists of America annual shows. In 1976, he was named Texas Artist of the Year. In 1980, he participated in a show at the Grand Palais in Paris, and in 1981, the Chinese government invited him to participate in the first Western art show held in Peking, China.
In 1989, in the annual competition of the Academy of Western Art, Boren won the gold medal in watercolor, which he called his "most favored medium." "It offers the greatest spontaneity of expression of any painting medium," he said, and "lends itself to beautiful transparent passages or to completely opaque gouache techniques, or a combination of the two."
Source: The Cowboy Artists of America
After a Rainy Night

Artist:

James Boren, CA (1921-1990)

Description:

Watercolor (1970) | Image Size: 25 ½"h x 40 ½"w; Framed Size: 34 7/8"h x 48 7/8"w

One of the most difficult tasks for an artist is the accurate depiction of different textures. In this watercolor of cowboys gathered around a chuck wagon in the morning after a rain, James Boren most accurately portrays the sandy mud around the wagon, the standing water with its smooth, placid sheen, and the prairie grasses and sagebrush. Each of those subjects require different techniques and approaches and Boren has done a masterful job of presenting each in a wholly authentic way. He also effectively paints the gray skies with a hint of more rain to come.

Lighting is provided by the morning sun intermittently breaking through the clouds and the campfire with the men huddled around it. It is a scene that could have occurred in the last century or in more modern times. The key to its success is Boren's versatility in depicting each element, whether it is the water or the flickering campfire, accurately.

Hillsboro Station

Artist:

James Boren, CA (1921-1990)

Description:

Watercolor (19077) | Image Size: 10"h x 13"w; Framed Size: 17 ½"h x 20"w

Peaceful winter scenes set in historical time periods were among James Boren's favorite subjects. Boren shows the Hillsboro Railroad Station covered in a blanket of snow and has added a horse drawn wagon on the left edge of the canvas to add period authenticity. Previously, the EBC shared another image that the station was featured in.

What compelled Boren to memorialize the station in his preferred watercolors on a few occasions? Was it because the central Texas town of Hillsboro was located not far from Waxahachie, TX, where Boren was born (b.1921) and Clifton, TX, where he resided (1971-1990)? Perhaps it wasn't only his personal connection to the region, but for its storied history that brought early residents as well as presidents such as Woodrow Wilson, William Taft, Calvin Coolidge and Harry Truman to the area vis-à-vis the railroad. Or maybe it was because the station's ultimate fate was no longer in question when Boren took up residence nearby during the 1970's; the station's combination architectural features, Eastlake, Victorian and Prairie Style, would be spared. Whatever the reason, Boren chose to depict Hillsboro on its original site prior to the station's relocation, restoration and designation as a historic landmark in 1980.

And that begs the question, what piqued Eddie Basha's interest in the Hillsboro Station masterworks? They aren't overtly within either the Western American or American Indian genres he was keen to collect. If you guessed it was, in part, due to the historic significance of railroads and its stations you wouldn't be wrong. But there was another very sentimental draw … few may know that in his teens Eddie often unloaded boxcars at the Chandler Railroad Station that transported goods for his family's grocery stores! The Chandler Station too was relocated and is now a part of the Arizona Railway Museum at Tumbleweed Park in Chandler.

Rainy Day at Hillsboro

Artist:

James Boren, CA (1921-1990)

Description:

Watercolor (1976) | Image Size: 14"h x 21"w

Watercolor was the preferred medium for James Boren and he proved to be a master of its use. He had a great ability to use the medium to enhance the overall look and feel of his paintings as he does here in this scene of a rainy day at a turn of the century train depot. The cowboys in their bright yellow slickers and the reflection of the whole scene in the accumulated water in the foreground all add up to an evocative unfolding story.

Arizona Winter

Artist:

James Boren, CA (1921-1990)

Description:

Watercolor (1987) | Image Size: 11"h x 17"w; Framed Size: 20"h x 26 ¼"w

The horses' hoof prints that begin at the bottom of the painting direct the viewer's eye up the rise on this well-trodden path through the snow and on to the corral and barn where the horses patiently await their riders. James Boren masterfully portrayed all the winter feels as well as a sense of tranquility.

"Watercolor is my most favored medium," said Boren. "It offers the greatest spontaneity of expression of any painting medium and lends itself to beautiful transparent passages or to completely opaque gouache techniques or a combination of the two."

Old Homestead

Artist:

James Boren, CA (1921-1990)

Description:

Watercolor (1970) | Image Size: 15"h x 22"w; Framed Size: 24"h x 31"w"

One of the early members of the Cowboy Artists of America, James Boren excelled in the medium of watercolors. Here he offered a study of a log cabin on a snowy day. An abandoned and broken down wagon weighted down by heavy snowfall rests beside the house. Boren evoked a sense of isolation and the passing of an era using cool colors and subdued lighting. At one time, this homestead may have provided a fresh start and the promise of a better future for a pioneering family who moved on for any number of reasons; the old weathered cabin seems to have its own story to tell.

One of a Kind

Artist:

James Boren, CA (1921-1990)

Description:

Gouache (1981) | Image Size: 32"h x 20"w; Framed Size: 43 ½"h x 31 3/8"w