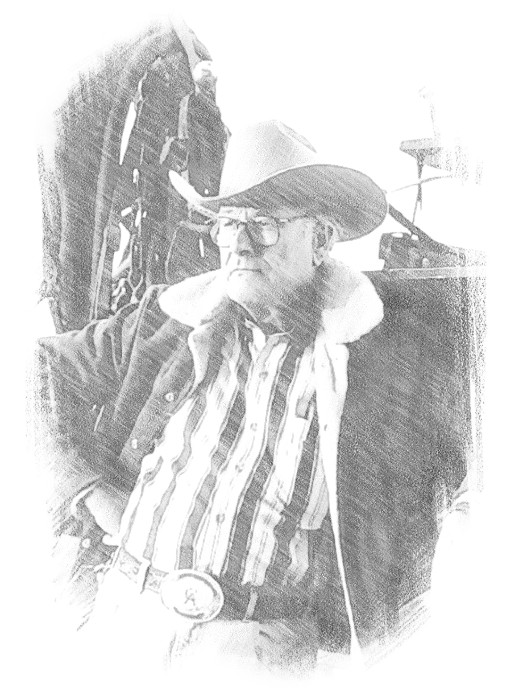 Don Crowley, CA
(1926 -2019)
Known for his realistic and meticulous depiction of Indian figures, Don Crowley's work had a photographic quality to it.  As a child in southern California, Crowley showed a talent for art.  As a young man, Crowley was inspired by Frederic Remington's book, Done in the Open and a book of English painters, titled World Famous Paintings.
Crowley spent four years in the Navy and Merchant Marines and used the G.I. Bill to finance his way through The Art Center College of Design in Los Angeles.  He married a fellow art student, BJ (Betty Jean), whom he credited as his most discerning critic.
After art school, his career began when he was hired as a commercial illustrator by a New York firm.  For the next 20 years he worked at almost every conceivable form of illustration in the advertising field.  He illustrated for Reader's Digest, Dorothy Sayers' mysteries and children's books.  The nature of his work placed many demands and deadlines on his time as well as constraints on his creativity.
In 1974, wanting more creative freedom, Crowley decided he and his family would move to Arizona.  The move from commercial to fine art had a loosening effect on his style and it became more colorful.  He also began to paint the subjects of his choosing, the Paiute and Apache Indians.  He was fascinated with the inner dignity of the Native American and strove to impart the serenity of the people and their surroundings.  He said, "Their dress, their bearing, their fascination with color.  The Native Americans in this region are absolutely charismatic!"
In 1994, Crowley was elected to membership in the Cowboy Artists of America, which he considered his finest moment.  In 1996, he swept the winnings at the annual exhibition when he received both gold and silver medals for oil, Best Overall Show and the prestigious Kieckhefer Award.  In 1998, Friends of Western Art named him Artist of the Year.
Don was also a member of the "Tucson 7," an informal group of artists who began their careers in commercial art and illustration and made the successful transition to Western fine art.  Crowley was represented by some of the most prestigious western art galleries in the country including Settlers West (Tucson, AZ), Trailside (Scottsdale, AZ; Jackson Hole, WY) and Altermann (Santa Fe, NM).
Don once said, "This is a calling.  It's very fortunate to know what you want out of life. It's the searching and doing of it that's important. The gift is having the goal."
A Man of Honor

Artist:

Don Crowley, CA (1926 -2019)

Description:

Pencil (2001) | Image Size: 29"h x 23"w; Framed Size: 37 ¾"h x 31w

Don Crowley is primarily known for his highly detailed, realistic and meticulous depictions of primarily American Indian figures from the Southwest, however, he shows with this pencil portrait that he can be equally effective depicting other tribes. Here he presents a portrait of a Plains Indian complete with headdress, multi-strand, beaded neck piece and distinctive feathers.

His subject is shown in full face looking directly at the viewer with a direct expression; Crowley has expertly captured both his likeness and spirit. Crowley's work is said to have a photographic quality to it.

As a Southern California child, Crowley's artistic talents were promising. He spent four years in the Navy/Merchant Marines and used the GI Bill to finance his art education. After school he worked as a commercial illustrator in New York City for twenty-five years in the advertising field, for various publications and children's books. The work was demanding and it inhibited his creativity. As a result, in 1974 he and his family moved to Arizona. Unrestricted, his style became more fluid, more colorful and the subject matter more intriguing … American Indians. He became fascinated with the inner dignity of his subjects and strove to impart the serenity of the people and their surroundings. He has said, "their dress, their bearing, their fascination with color … are absolutely charismatic!"

Don became a member of the Cowboy Artists of America in 1994 and remained so until his death in 2019. This particular piece debuted at the 36th Annual CAA Show & Sale in 2001 at the Phoenix Art Museum and was subsequently exhibited at the Quest Artist of Distinction 2014 Exhibition at the Eiteljorg Museum in Indianapolis.

Grandson of Geronimo

Artist:

Don Crowley, CA (1926 -2019)

Description:

Tempura | Image Size: 12"h x 9"w; Framed Size: 18"h x 15"w

This modern day portrait of the descendant of one of the most famous Apache chiefs, Geronimo, shows Crowley's ability to capture a man's personality as well as his likeness. He shows his subject wearing full ceremonial regalia and an impressive eagle feather headdress. Clearly the subject is mounted on a horse, the details of which are minimal, permitted the artist to concentrate solely on the figure. A bright pink shirt contrasts effectively with a white, fringed leather jacket. The juxtaposition of traditional items such as the headdress and more modern attire, such as the shirt and jacket, effectively bring together the historic and contemporary. Crowley executed a similar oil painting of this same individual wearing the same clothing but with a different headdress and titled it "The Grand Marshall" which sold not that long ago at the Scottsdale Art Auction in 2012.

Black Powder Primer

Artist:

Don Crowley, CA (1926 -2019)

Description:

Pencil on Paper (2005) | Image Size: 23" h x 29" w; Framed Size: 28 1/8"h x 34 1/8"w

Emeritus Member of the Cowboy Artists of America Don Crowley occasionally ventures into non-Native American subjects. In this pencil drawing he shows a man preparing to fire a black powder rifle. The man is shown in profile and dressed in buckskins with a hat pulled low on his head. He is loading the powder into the rifle and a small powder keg hangs from his shoulder. Since the man's face is hidden, we are drawn to the details of clothing, the rifle, and what appears to be a low, split rail fence with a wagon wheel leaning against it. Whether this is a scene from a historical period, or a modern day revisiting of that era, Crowley has captured it with his characteristic precision.

Mandan with Buffalo Totem

Artist:

Don Crowley, CA (1926 -2019)

Description:

Oil (2001) | Image Size: 40"h x 30"w; Framed Size: 49 7/8"h x 39 7/8"w

Reminiscent of paintings done by such explorer artists as Karl Bodmer and George Catlin, this historic period piece by Don Crowley is characteristic of his style and approach. He effectively gives his subject a gravity and seriousness appropriate for someone bearing an item of great power and significance, the buffalo skull. The Mandan, like all Plains Indian tribes, were largely dependent upon buffalo for food, clothing, housing and tools. Accordingly, they treated the animals with great respect. In this painting, Crowley focuses all of the viewer's attention on the figure wearing a buffalo robe and holding a skull and presents him against a flat, vacant background.

This piece made its debut at the 36th Annual Cowboy Artists of America Exhibition & Sale in 2001 at the Phoenix Art Museum. It was subsequently exhibited at the Quest Artist of Distinction 2014 Exhibition at the Eiteljorg Museum in Indianapolis, Indiana.

The Butterfly Saddle

Artist:

Don Crowley, CA (1926 -2019)

Description:

Watercolor (1975) | Image Size: 11"h x 14"w; Framed Size: 23"h x 27"w