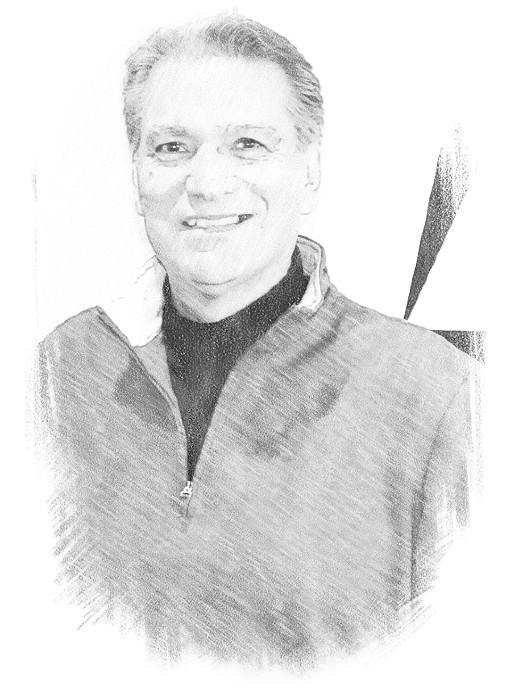 Dan Namingha
(b. 1950)
American Indian (Tewa-Hopi)
Born and raised in Arizona, Dan Namingha was raised in a family of noted Hopi potters.  He now lives in New Mexico.  Namingha's artistic talent took him on a different path than that of his ancestors.  He has become an internationally known contemporary artist whose work is in both public and private collections worldwide.
Drawing and painting throughout his childhood, prepared him for the future that lie ahead.  He took art lessons at the Polacca Day School where he was exposed to watercolors and techniques of design.  Following his participation in a summer art program at the University of Kansas, Namingha, at the age of 16, enrolled at the Institute of American Indian Art in Santa Fe.  He studied there for two years prior to his enrollment at the American Academy of Art in Chicago.  Artists like Rothko, Pollack and de Kooning were influential in his development as a modern abstract artist.  However, it is Namingha's respect for the earth and the spirit of his ancestry which are directly reflected in each and every piece.
At the age of twenty, Namingha joined the U.S. Marines and served from 1970 to 1972.  Since then he has participated in individual as well as group exhibitions in galleries and museums worldwide.  His work is on display in collections at the Heard Museum, Harvard University, U. S. Dept. of the Interior, U.S. Embassies in Brazil, Denmark & Bolivia, and the NASA Art Collection in Washington, D.C. just to name a few.  In 1979, Namingha was commissioned to create a 27-foot-long mural at Sky Harbor International Airport in Phoenix, Arizona.
Numerous articles, books and films have featured the work of Dan Namingha.  He is listed in Who's Who in American Art and the International Biographical Center's Men of Achievement.  In 1996, he was selected by the Smithsonian Institution to create a commemorative lithography to celebrate its 150th anniversary.
Namingha often uses fragmented images of katsinam faces, the sun, rainbows, feathers and corn stalks in his work as well as pueblo structures and landscapes as recurrent themes.  His magnificent symbolic art is represented sculpturally in wood and bronze as well.
The awards, recognition and accolades which have been bestowed upon this artist are numerous; pages in fact.
Sichomovi Village

Artist:

Dan Namingha - Tewa-Hopi (b. 1950)

Description:

Mixed Media Collage (1989) | Image Size: 38"h x 28"w; Framed Size: 49"h x 39"w

Sichomovi Village is one of three villages on the Hopi Tribe's First Mesa in northeastern Arizona. It was established in 1750 and has been occupied ever since. It is approximately a five-minute drive from Sichomovi to Polacca where Dan Namingha was raised on a ranch by his mother and grandparents. And it is those memories of his early life on the Mesa and his culture that permeate his work such as the mixed media collage shown here entitled "Sichomovi Village". His work takes on a more modernist as well as minimalist approach.

In November 2022, Dan Namingha, was honored by the Heard Museum at its Annual Moondance for his artistic acumen and accomplishments; one of many awards he has received throughout his lifetime. And, like his mother, a potter, Dextra Quotskuyva Nampeyo, who received the 1994 Arizona Living Treasure Award, Namingha received a Living Treasure Award in New Mexico in 2016. Both mother and son's work can be found in museums and private collections worldwide.

Namingha's formal studies were undertaken at the University of Kansas, the American Academy of Art in Chicago IL, and the Institute of American Indian Arts in Santa Fe NM; the latter of which bestowed upon him an Honorary Doctorate degree in 2009. His first solo museum exhibition was held at the Museum of Northern Arizona in Flagstaff in 1977.

Hopi Cloud Swirl #1

Artist:

Dan Namingha - Tewa-Hopi (b. 1950)

Description:

Acrylic (2002) | Image Size: 50"h x 40"w; Unframed/Stretcher Bars

Some of Dan Namingha's most arresting paintings are large bold depictions of the landscape near his home. He uses broad, flat shapes with dynamic contrasts of color to capture the essence of the land.

New Mexico Dusk (1998), Po-Geh I (1998), Weepo Sunrise (2003), Polacca Sunset (2003), Arroyo (1998), Po-Geh II (1998)

Artist:

Dan Namingha - Tewa-Hopi (b. 1950)

Description:

Acrylics | All Image Sizes: 10"h x 10"w

Dan Namingha studied at the IAIA Museum of Contemporary Native Arts in SantaFe, New Mexico, and later went on to continue his studies in Chicago at the American Academy of Art where he was influenced by Jackson Pollack, Adolph Gottlieb, Michelangelo, Vincent Van Gogh and Norman Rockwell.

Dualities

Artist:

Dan Namingha - Tewa-Hopi (b. 1950)

Description:

Mixed Media/Three Dimensional (1996) | 32"h x 26"w x 17"d

Dan Namingha's heritage, culture and lineage have played an important role during his lifetime as well as his professional career as a painter and sculptor for over forty years. Though Dan's inspiration is culturally rich and deeply entrenched, his creative expression is diverse, innovative and often abstract. His representations of his homeland, pueblo symbolism and spiritual beliefs are acutely accentuated by color, texture and shape.