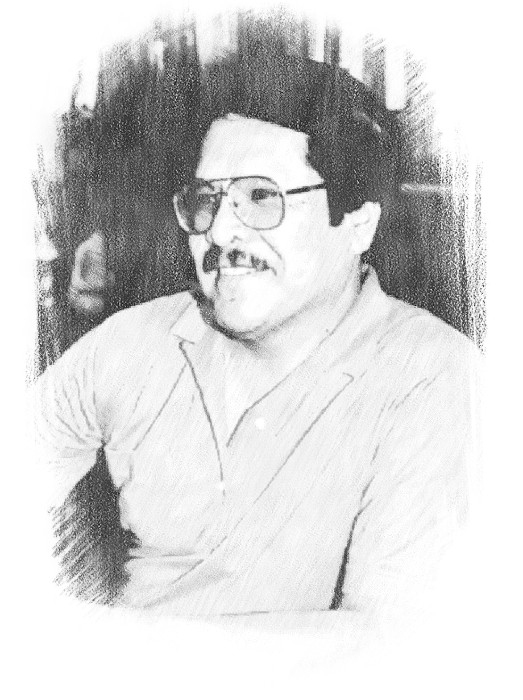 Clifford Beck, Jr.
(1946 – 1995)
Clifford Beck, Jr. is regarded as a world renowned American Indian artist who worked in the mediums of oil and pastels.  He grew up on the Navajo Indian Reservation in northern Arizona where his father was a tribal councilman and his mother was a weaver.  Beck drew heavily upon his heritage in his work and credited impressionist Edgar Degas as his greatest influence.  He described his art as "semi-abstract and occasionally surrealistic."  His paintings were respectful homages to traditional people whom he considered the foundation of his Navajo culture.
As a boy, Beck attended a boarding school in Holbrook but returned home every summer to help with the livestock.  After graduating from Flagstaff High School in 1963, he was determined to attend college.  Clifford was one of the first of his tribe to receive a tribal scholarship.  He attended the California College of Arts and Crafts in Oakland, California, where he was drawn to anatomy and figure drawing.  During that time he met painter R.C. Gorman who gave him much encouragement and subsequently became a family friend.  He considered those years a period of incredible professional and personal growth.  During the summer months, Beck maintained cultural ties to the reservation and returned every year to work.  In fact, he illustrated for the Navajo Times in 1965.
Upon graduation in 1968, Beck designed materials for Indian Health Services in southern Arizona while simultaneously pursuing his professional fine art career; he was represented and sold at Tom Woodward's trading post in Gallup, New Mexico.  In 1971, he was hired as an art instructor at the newly formed Navajo Community College where he taught design, advanced drawing and painting.  As commercial interest in Beck's work accelerated, his work was exhibited and sold from 1975-1978 at R.C. Gorman's Navajo Gallery in Taos, the Colorado Springs Fine Art Center, the annual Scottsdale National Indian Arts Exhibition as well as the Heard Museum Indian Market.  By the late 1970s, Beck was a full time professional fine artist.
Beck's earliest portraits were of relatives and later he expanded to his subject matter to include other tribes.  He portrayed people as they were – capturing a glimpse of a significant moment.  He typically painted older people whose worn faces showed difficult lives, but also reflected a heroic quality.
Unknown Title

Artist:

Clifford Beck, Jr. (1946-1995)

Description:

Pastel | Image Size: 25"h x 19"w; Framed Size: 32 ½"h x 26 ½"w  

Navajo artist, Clifford Beck, Jr., had great respect for American Indian cultures and traditions across the board and frequently painted individuals of various tribal affiliations different from his own. They were often depicted wearing their respective traditional regalia worn at ceremonials or dances.

In this profile portrait an American Indian is shown with a small mandala, feathers and braid wrap in his hair. He is also wearing a bandana type neck scarf tied over a colorfully printed shirt with satin armband. The figure is set against a pastel purple background at the bottom half of the piece and a beige band of color on the top half.

Warrior's Prayer

Artist:

Clifford Beck, Jr. (1946-1995)

Description:

Pastel (1994) | Image Size: 23"h x 19"w; Framed Size: 32 ¾"h x 28 ½"w

This Clifford Beck pastel profile portrait of an older warrior with eagle feathers in his warrior bonnet and decorated buckskin shirt is detailed in terms of dress as well as the subject's evocative face which reflects many years of experiences. The background is blank with a few pastel strokes surrounding the head to add emphasis to the facial features.

Of his work, Clifford Beck said, "Each face reveals a story. I analyze faces like a historian analyzes the details of mankind's written history."

Unknown Title

Artist:

Clifford Beck, Jr. (1946-1995)

Description:

Oil | Image Size: 48"h x 36"w; Canvas mounted on stretcher bars, unframed

This is a striking portrait in a large format. Three distinctive bands of color—white, which covers the bottom half of the painting; a narrower band of red, just below the man's face, and finally a dark, bluish gray. By positioning a high contrast color in between light and dark bands of color, Beck skillfully focuses attention on the subject of the painting, an American Indian wearing a distinctive wolf headdress. The man's face shows great strength of character and his steely eyes communicate a fierce determination.

Cradle to the Bier

Artist:

Clifford Beck, Jr. (1946-1995)

Description:

Pastel (1979) | Image Size: 18"h x 24"w; Framed Size: 28"h x 34"w

There are two portraits in this pastel, one in profile and one of a full face. Both are of the same man, and both are somewhat obscured by brown and black pastel strokes. A hand is shown in the painting's right corner, perhaps that of a child, which would be in keeping with the title "Cradle to the Bier" representing the full cycle of life.

Pursuit

Artist:

Clifford Beck, Jr. (1946-1995)

Description:

Pastel | Image Size: 30"h x 22"w; Framed Size: 27 ½"h x 29 ½"w

This three quarter length portrait captures a Yaqui deer dancer mid motion and gives an excellent representation of this traditional ceremony. The dancer is shown with his headdress and rattles in both hands, both essential elements of the dance. He is set against a background of a blend of several colors that serve to emphasize his figure.

Unknown Title

Artist:

Clifford Beck, Jr. (1946-1995)

Description:

Oil | Image Size: 48"h x 36"w; unframed on stretcher bars

This is an excellent large oil portrait of an American Indian chief wrapped in a blanket and wearing an eagle headdress. The painting is full of vibrant colors and many details of traditional dress and adornment. The face is expressive and very well executed.

As beautiful as this piece is, that's who Clifford was; a very kind, gracious and thoughtful soul.

Critique II

Artist:

Clifford Beck, Jr. (1946-1995)

Description:

Critique II was the last pastel completed by Clifford Beck (1946-1995) just before he passed on. At the time, Clifford asked his family to take him from the hospital to his studio so he could put the last strokes on this masterwork. He then asked his family to make sure it was delivered to his shik'is (the Navajo word for friend), Eddie Basha (1937-2013).

Once entrusted to his care, Eddie placed the pastel in the gallery nestled among several other of Clifford's works for a few years prior to his relocating and displaying it at his Santa Fe residence. (Its move was protested, but visitation privileges were awarded.) However, when the Santa Fe residence was sold, Eddie ensured the return of Critique II to the gallery. Little did we know that the day of this work's return would mark the last time Eddie toured the collection he'd assembled. He marveled at the greatness of the artists, their artistic passions and personal pursuits, and reminisced about the gifts of friendship each and every one had blessed him with.

As he bid adieu later that afternoon, in a jesting parting shot, Eddie remarked, "And just because Clifford's pastel isn't going home with me today, doesn't mean it won't next week." "Yes," I replied, "but possession is nine-tenths of the law." Borrowing Olympia Dukakis's line in Steele Magnolias, he replied, "Touché, spoken like a true smartass." And then we laughed: He with his "I'm-a-good-man-but-a-bad-boy" swagger and I, grateful for that swagger, leaned down to kiss his big, beautiful, shiny bald head.

Perhaps the penetrating elder gazes of this artist's final pastel were meant to intimate the reflections and experiences of lives well-lived. If so, we thank our departed shik'is, Clifford and Eddie, for the humbling honor of Critique II's entrusted care, and for sharing the lives you both lived so well with us.

Legends

Artist:

Clifford Beck, Jr. (1946-1995)

Description:

Oil | Image Size: 48"h x 40"w; Unframed

Navajo artist Clifford Beck, Jr. developed a very effective style of portraiture painting. His large formats emphasize broad swaths of bold color reminiscent of color field paintings. The faces, however, are meticulously drawn and painted with a humanitarian emphasis.

As an art student in Oakland, California Clifford was particularly focused on anatomy and drawing figures which played an enormous role in his development as an artist as did many of the 19th century French painters and pastel artists he was drawn to. Upon returning to reservation life, reconnecting with family and home, he taught and illustrated for several years which accorded him the opportunity to develop and perfect his artistic style and eventually leading to not only his participation in numerous exhibitions and shows, but receiving top honors at them as well. Clifford's work has been exhibited at the Smithsonian's National Museum of Natural History, the Eiteljorg Museum of American Indians and Western Art, the Wheelwright Museum of the American Indian and numerous others.

Native Chief in Blue

Artist:

Clifford Beck, Jr. (1946-1995)

Description:

Oil (1968) | Image Size: 24"h x 48"w; Framed Size: 33.5"h x 57.5"w

In this very evocative portrait, Clifford Beck, the artist, used a subtle play of light across the cheek and neck of the subject to call attention to the lines and features that reveal the man's experiences and character. The background suggests a broad empty prairie with brown earth topped by gray clouds. Nature is de-emphasized while humanity is examined.

Waiting

Artist:

Clifford Beck, Jr. (1946-1995)

Description:

Oil (1994) | Image Size: 48"h x 32"w; Unframed

Crimson Robe

Artist:

Clifford Beck, Jr. (1946-1995)

Description:

Oil (1991) | 48"h x 36"w; Unframed

Two Women with Kerchiefs

Artist:

Clifford Beck, Jr. (1946-1995)

Old Sage

Artist:

Clifford Beck, Jr. (1946-1995)