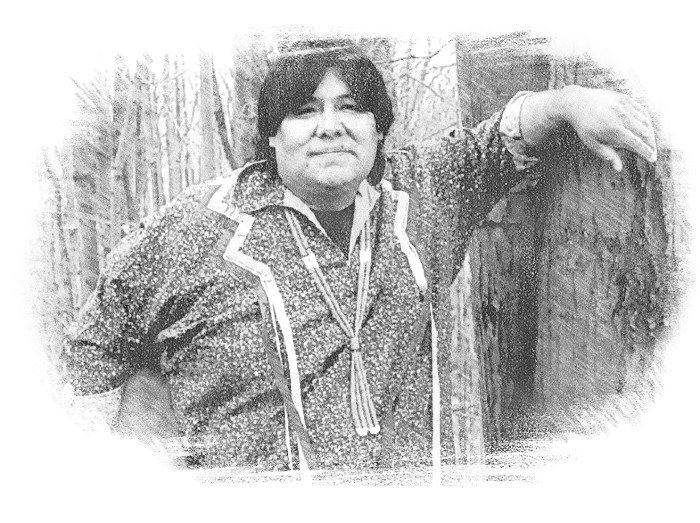 Michael LaCapa
(1955-2005)
Born in Phoenix, Arizona, Michael LaCapa moved to Whiteriver, Arizona, on the Fort Apache Indian Reservation at the age of one. He was the 2nd of eight children with ethnic roots from the Hopi, Tewa and Apache Tribes. Michael's boyhood passion for art was "fine tuned" after earning a Bachelors Degree in Secondary Art Education for Arizona State University and graduate studies in printmaking for Northern Arizona University.
He began his formal teaching career at Phoenix Indian High School and Chaparral High School in Scottsdale. Michael left his high school teaching duties to work with the Apache Tribe in developing multicultural educational curricula for native school-age children. From this work came Michael's first co-authored/illustrated book, Ndee Benagode`i (Three Stories of the White Mountain Apache Tribe). Michael then returned to the classroom from 1982 to 1984 to teach art at Whiteriver Elementary School.
At the time of his death, Michael was well known for authoring and illustrating many children's books. He was also nationally recognized for his Native American storytelling. Michael said, "I think that every picture must have a story. Every painting must tell, share, move or excite us to words. It is the job of artist to create that reaction." When he was a child, Michael would sit and hope that someday he could paint and draw all day long. As an adult, Michael painted images of places and people that were a part of his life. He used color and designs to define the story.
Michael is survived by three children and his wife Kathy, who is also an author. And yes, when he wanted to, he got to paint all day long.
Source: Breakfast Serials
Grandma and Tony

Artist:

Michael LaCapa (1955-2005)

Description:

Water Marker/Water Pen | Image Size: 12"h x 19"w

The late Apache/Hopi artist and storyteller Michael Lacapa illustrated and co-authored with his wife the book entitled Less than Half, More than Whole. It is about a young boy who realizes he is different than his friends who also notice. One of whom comments that Tony may be "only half, or less than half." Tony then embarks on his quest to find out what that means.

The illustration, "Grandma and Tony" appears in the book along with the following: "Grandma Doris sat working in her garden. Bees and butterflies bobbed around her head. "Well hello there, Tony," she said as he knelt down next to her in the cool brown dirt. Her garden smelled like sun and rain and growing things. In a sad voice Tony said, "Hi, Grandma." Grandma Doris stopped working and asked, "what's wrong?" "Grandma, I don't look like Scott or Will, and Will says I'm less than half. What does that mean, less than half?"

Tony does find his answer and learns that he is, in fact, more than whole. "Any child who has ever felt different will find a sense of peace and belonging in the touching wisdom of this story."

Bundle of Corn

Artist:

Michael LaCapa (1955-2005)

The Flute Player

Artist:

Michael LaCapa (1955-2005)

Safe Amongst the Prickly Pear

Artist:

Michael LaCapa (1955-2005)

Magical Hummingbird

Artist:

Michael LaCapa (1955-2005)

Book Vignette

Artist:

Michael LaCapa (1955-2005)