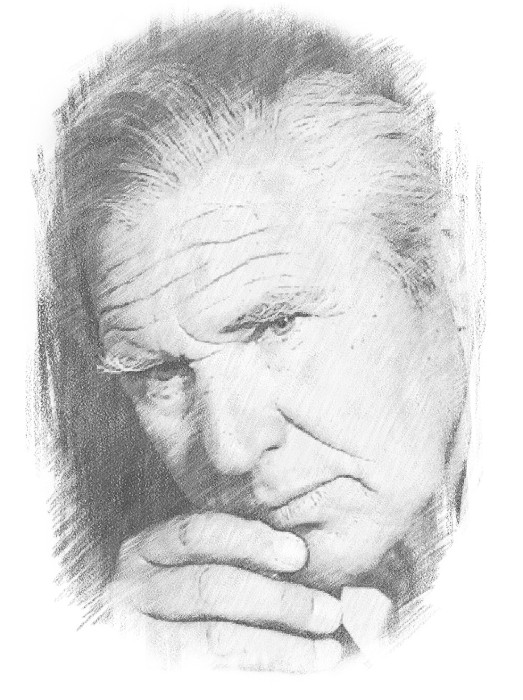 Olaf Wieghorst
(1899-1988)
Recognized as the "Dean of Western Painters", Wieghorst's work is often compared with that of Remington and Russel, and his paintings hang in the great public and private collections of western art.
Because of Mr. Wieghorst's popularity among collectors and art investors alike, a select number of his paintings are offered as limited edition lithographs.
Olaf Wieghorst (1899-1988) was born in Viborg, Denmark, and became one of the premier interpreters of the American West. This small exhibition, featuring color lithographs from original paintings and reproductions of original pen and ink drawings, represents an impressive body of work by this Western and Danish-American artist.
Wieghorst, who was self-taught, was interested in creating works of art as well as documenting the story of the Old West. Painting in the same tradition of Remington and Russell, his artwork included themes of horses, Indian peoples, the U.S. Cavalry, cowboys as well as Southwestern landscapes.
He drew from his experiences as a trick rider for a circus, a member of the U.S. 5th Cavalry patrolling the Mexican border, a cowboy in Arizona and New Mexico, and a member of the New York City Mounted Police. He retired in El Cajon, California where he worked until his death in 1987, recapturing in his paintings and prints the West he had known as a trooper and cowboy. The exhibition is on loan from the Danish Immigrant Museum in Elkhorn, Iowa. (www.dkmuseum.org and www.wieghorstmuseum.org)
Samuels' Encyclopedia Of Artists Of The American West by Peggy and Harold Samuels; Book Sales, Inc., 1985. says of Wieghorst:
(He) specialized in horses of the West and was known for as an illustrator and sculptor. Wieghorst was the son of a display artist and photograph retoucher who became an engraver. He was educated in the Copenhagen public schools. Interest in horses developed while he apprenticed in a store and on a farm so he began painting in 1916. While working as a sailor in 1918, he jumped ship in New York City where he enlisted in the U. S. Cavalry for a duty on the Mexican border. During his three years of military service as a horseshoer, he learned rodeoing and trick riding.
He was mustered out in Arizona, finding work as a ranch hand on the Quarter Circle 2C Ranch whose brand became Wieghorst's insignia. In 1923, he returned to New York City, graduating from the Police Academy in 1925. Assigned to the Police Show Team of the Mounted Division, Wieghorst began to paint in his spare time. In 1940, he found an agent for his paintings which immediately sold them as calendar art and as Western illlustrations.
By 1942, he was receiving commissions for horse portraits and bronzes. In 1944, Wieghorst retired from the Police Department, settling in El Cajon, California in 1945. By 1955, he had a waiting list of buyers. "I try to paint the little natural things, the way a horse turns his tail to the wind on cold nights, the way he flattens his ears in the rain, seasonal changes in the coat of a horse, and psychology of his behavior. Horses have been my life."
Source: Art World Western Heritage Gallery
Unknown Title

Artist:

Olaf Wieghorst (1899-1988)

Description:

Oil (1956) | Image Size: 11"h x 8"w; Framed Size: 21 ¾"h x 18 ¾"w

"My greatest teacher has been the horse, observing and sketching horses in every kind of circumstance made me the painter I am. That's how I learned anatomy and style and perfected my sketching. I couldn't have learned what I did from some teacher in art school, I learned about horses by sleeping, freezing, thirsting and starving with them. I learned by doing; I paint what I know." –Olaf Wieghorst

From the time that he was a boy in Denmark, Olaf Wieghorst worked around horses. He continued to do so after immigrating to the United States and became a member of the U.S.Cavalry, a member of the New York Police Department's Mounted Patrol, and as a cow hand on Southwestern ranches. In this small study of a horse outside of a pueblo and a Native American seated on the ground, Wieghorst focuses his talent on the horse and its gear. He has also captured perfectly the glancing Southwestern sunlight which casts the horse's shadow against the adobe wall. The neutral color of the adobe provides an effective contrast, both with the darker brown of the horse and the blue sky and white clouds overhead.

Vacquero

Artist:

Olaf Wieghorst (1899-1988)

Description:

Oil | Image Size: 14"h x 12"w; Framed Size: 24 7/8"h x 22 7/8"w

Drawing on his many years and first-hand experience in the Southwest as a soldier, ranch hand and as an artist, Olaf Wieghorst was well qualified to paint portraits that reflected the culture rich region.

Mexican Vaqueros preceded cowboys in ranching history of the Southwest. Many of their methods herding cattle utilizing ropes and their equipment, such as spurs, chaps, and saddles, were later adopted. This full length, horse-mounted Vaquero portrait is set against a desert landscape that glows with sunlight.

/unknown title

Artist:

Olaf Wieghorst (1899-1988)

Description:

Oil | Image Size: 10"h x 8"w; Framed Size: 18 7/8"h x 16 3/8"w

Over the course of his long career, Olaf Wieghorst painted hundreds of small portraits of a wide variety of American Indians. Most, however, were representative of tribes from the greater southwest which included authentic details of dress and ornamentation denoting tribal affiliation. Set against painterly backgrounds, the portraits typically are straightforward with the subjects looking directly at the viewer such as the one seen here.

Apache Warriors

Artist:

Olaf Wieghorst (1899-1988)

Description:

Oil | Image Size: 20"h x 24"w; Framed Size: 30"h x 34"x

A very well done scene of Apache warriors making their way across a high desert on a bright moonlit night. A dramatic mountain range rises behind the riders who are progressing single file toward a clear stream. The reflection of the lead rider on a white horse is clearly shone in the stream. Wieghorst has masterfully handled all of the landscape elements, the rocky terrain of the dry stream the warriors are riding on, the sage and cacti covered ground beside it, the looming mountains in the background, and the glassy surface of the water in the foreground. The lighting is also handled with expertise with the moonlight reflecting off of the white horse and clothing of the warriors. The lead rider wears a red headband, a color that is repeated on his saddle blanket and also reflected in the water. Those notes of color contrast well with the blues and greens of the scene. The line of riders forms a half circle that begins on the left of the painting and proceeds to the center and then back to the left, guiding the viewer's eye from the trailing warriors to the primary figure.

Unknown Title

Artist:

Olaf Wieghorst (1899-1988)

Description:

Oil | Image Size: 11"h x 9"w; Framed Size: 22 5/8"h x 20 5/8"w

Over the course of his long career, Olaf Wieghorst painted hundreds of small portraits of diverse American Indians of varied ages. Most, however, were of Southwestern tribal members and are straightforward with the subject looking directly at the viewer. Authentic details of dress and ornamentation were often added to denote a particular tribal affiliation. As with this portrait, his subjects were set against simple backgrounds of one or two colors. Wieghorst was very adept at depicting his subjects as individuals with distinctive personalities.

Nude Profile

Artist:

Olaf Wieghorst (1899-1988)

Description:

Oil | Image Size: 7"h x 5"w; Framed Size: 14"w x 16"h

It's not uncommon for an artist to stretch his or her legs a bit and deviate from a particular subject matter norm. And such was the case here; Olaf Wieghorst captured the warmth and glow of heart and hearth.