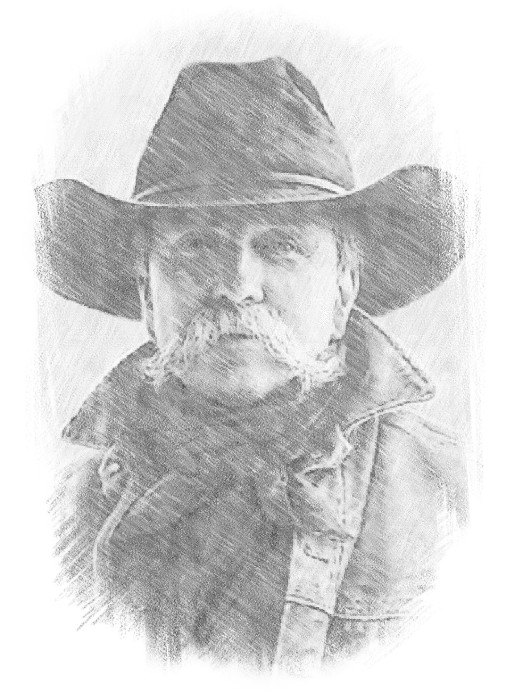 John Coleman, CA Emeritus
(b. 1949)
John Coleman was born in Southern California and began his early art studies at the Art Center for Design in Los Angeles. Sculpting full time since 1994, John was voted into professional membership of The National Sculpture Society of New York in 1999.
John was brought into the Cowboy Artist of America in October, 2001, and is a fellow member of the National Sculpture Society. He usually has six or seven works-in-progress at any one time and will introduce four to five new editions each year.
"I am fascinated how music can convey a mood without lyrics and have often thought sculpture lends itself to that idea. I have always loved history and mythology and feel they are the lyrics to my sculpture; the musical interpretation that engages the emotions. Just as music has a beginning, a middle and an end, so does sculpture.
I like to tell stories in my work using metaphors that help explain who we are and from where we came. Creating an object means little to me unless I can portray an underlying emotion or analogy. Each piece tells a story in the three dimensional, a visual mythology written by my hands and spiritual imagination, somehow linking us to the past and bringing us to a greater understanding of our ancestors."
Source: Coleman Studios
The Greeter

Artist:

John Coleman, CA Emeritus (b. 1949)

Pariskaroopa, Two Crows

Artist:

John Coleman, CA Emeritus (b. 1949)

Description:

Bronze (2005) | 35"h x 18"w x 11"d; Edition #10 of 35

Mato-Tope, Four Bears

Artist:

John Coleman, CA Emeritus (b. 1949)

Description:

Bronze (2005) | 36"h x 23"w x 11"d; Edition #10 of 35

Among sculptor and painter John Coleman's memorable works are a series of ten bronzes which were based on the paintings, field notes and journals of the artist explorers, Karl Bodmer and George Catlin, who followed the journey of Lewis & Clark. John's intent was not to replicate the efforts of Bodmer and Catlin, but rather to provide his own three-dimensional interpretation of the period and the individuals who lived in those locations. In many cases, such as with the Mandan tribe, the Bodmer and Catlin works are the only visual records made of those tribes which were decimated by small pox and other diseases and ceased to exist as separate tribal societies shortly after the expeditions. To complete the series, Coleman did his own exhaustive research on the explorer artists' work, the time period and the individuals they chronicled. Authentic in every detail and reflective of his own feelings and respect for the tribal cultures and traditions of those depicted, each piece is masterfully sculpted and enhanced with varied patinas richly interpreting the subjects.

Among them "Mato-Tope, Four Bears" was modeled after a Karl Bodmer watercolor completed around 1834. "He stood proudly for Bodmer, adorned in his finest clothing with accoutrements that related to past victories of war. The wooden knife in his war bonnet is a reminder of a particular battle that Mato-Tope was involved in with a Cheyenne. The Cheyenne attacked Mato-Tope, wounding his hand, but Mato-Tope was able to disarm him, keeping the knife. The lance he held in his right hand killed an Arikara who had murdered his brother. The lance was also adorned with the scalp of an enemy," wrote John Coleman.

Addih-Hiddisch, Hidatsa

Artist:

John Coleman, CA Emeritus (b. 1949)

Description:

Bronze (2004) | 35"h x 18"w x 11"d; Edition #10 of 35

On his website, www.colemanstudios.com, John Coleman shared that this bronze was the first he sculpted in the Bodmer/Catlin series. It was modeled after the full figure image of Addih-Hiddisch, Hidatsa Chief as painted by Karl Bodmer in 1833. Bodmer also wrote of the Chief that he was a great warrior and that the patterns on his body were tattoos, not paint. He wore a Euro-American hat, carried a trade tomahawk with a scalp lock attached and a peace medal around his neck.

Addih-Hiddisch was a tribal council member, keeper of the great medicine bundle and was remembered one hundred years later by his tribe as an outstanding leader.
John Coleman, CA Emeritus