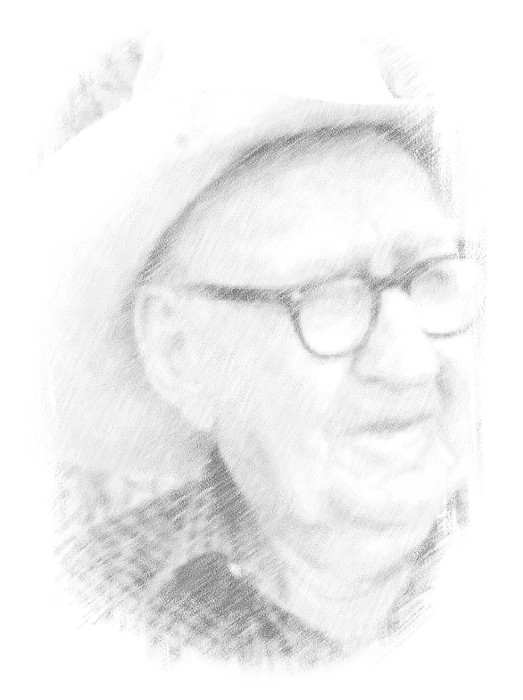 Frank Polk
(1908-2000)
Frank Polk was born in Louisville, Kentucky in 1908, but moved to Phoenix, Arizona in 1911. His first job, at age sixteen, was in the rodeo working with his trained burro. He later landed his first cowboy job with the Yolo Ranch at Camp Wood. His 1978 autobiography, F-F-F-Frank Polk: An Uncommonly Frank Autobiography, tells of his adventures as a cowboy.
Polk's experiences, as a ranch hand, rodeo cowboy, and dude wrangler gave him enough material to tell authentic stories of the cowboy in America in his basswood and bronze sculptures.
In the early twentieth century there were no cameras, so Polk began to carve what he saw. He wanted to communicate what cowboy life was all about. Polk eventually opened a woodcarving store in Reno, Nevada. He was creating wood sculptures of Western scenes and models of characters for slot machines when George Phippen got him interested in the idea of casting figures in bronze. "Working in wood made it difficult to achieve the action and looseness I wanted," Polk said, "but after I started working in wax, I found I could obtain these qualities with much more freedom."
In 1967, Joe Beeler asked him to join the Cowboy Artists of America; "the best thing that ever happened to my career as an artist," Polk later said. In 1972, he and his wife, Mary, settled in Mayer, Arizona. He bought the Old Mayer State Bank, which Polk had wanted to own ever since he was a boy, and turned it into his studio.
Polk believed that to be an artist is to follow a calling. "I believe that everyone has a talent for something, but many do not find it. What sets an artist apart and makes him different from the other members of society is his creative nature," he said. "An artist's creativeness comes from within. It is not something that can be learned in books, although lessons from another artist more mature in his work can help. An artist is born with a gift from the higher-up and a constant inner contact with his maker."
Source: The Cowboy Artists of America
Novello Viejo

Artist:

Frank Polk, CA (1908-2000)

Description:

Bronze (1975) | Dimensions: 13"h x 20"w x 10"d; Edition #17 of 35

Having spent most of his life around ranches and cattle, Frank Polk was well acquainted with livestock, such as this majestic longhorn. He has given the piece a rich, dark patina which accentuates its quality.

A Long Rope and A Telescope

Artist:

Frank Polk, CA (1908-2000)