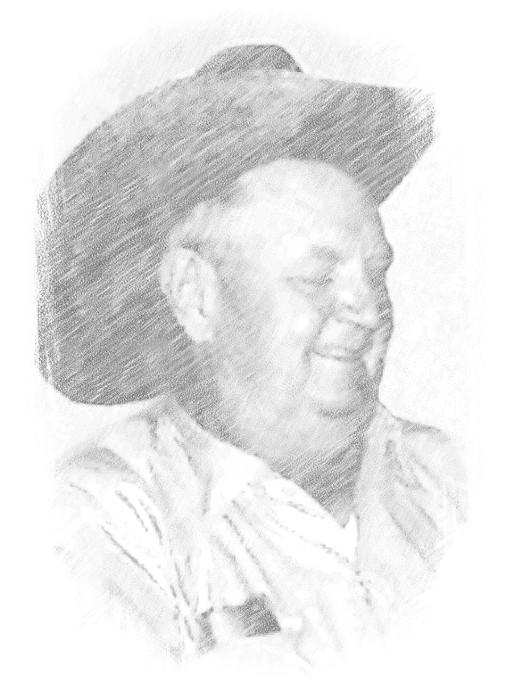 Charlie Dye
Charlie Dye, one of the founders of the Cowboy Artists of America, had two natural affinities. He was good with horses and he could draw. Born in Colorado in 1906, Dye was introduced to cowboy life at an early age. By his seventeenth birthday, he could hold his own with the most seasoned top hands on ranches in California, Colorado, and Oregon. Like Charles Russell, one of his artistic heroes, Dye spent much of his time as a working cowboy. As a hobby, he drew scenes from the cowboy life he lived. His early days were spent in a wide variety of other pursuits, too – ranching, playing semi-professional football, and even working as a bodyguard for a politician.
Dye acquired his formal art training in Chicago, Illinois, where he attended the Art Institute and the American Academy of Art. From there he moved to New York City, where he established himself in the field of magazine and book illustration. In the 1950's his family made a trip to the West to visit his ailing sister. That trip, coinciding with the decline in the market for magazine illustration, led Dye to decide to leave the East Coast to try his hand at Western art. For a short time, he taught art in Colorado, but he had greater success with his Western paintings, which were selling well in several galleries. Dye was successful enough to purchase a home and studio in Sedona, Arizona, in 1962, where he lived for the rest of his life.
Disciplined by his many years as an illustrator, Dye was a prolific painter and natural storyteller. He was also a gifted draftsman and relied on sketches and drawings to rough out his paintings. Although Dye painted a wide variety of Western subjects, he had a passion for depicting the working cowboy. As a young boy, he had observed firsthand the skill that was needed to succeed in that line of work. As a teenager, he had worked his way from wrangler to top hand. Later, as an artist, he brought an insider's knowledge to his portraits of both the historic and contemporary cowboy.
Source: Cowboy Artists of America
The Butterfield Stage

Artist:

Charlie Dye

Date:

1963

Rawhide Rhapsody

Artist:

Charlie Dye

Date:

1969

Description:

Oil; Image Size: 24"h x 32"w; Framed Size: 33"h x 41"w

Long Road to Town

Artist:

Charlie Dye

Date:

1968

Description:

Oil | Image Size: 24"h x 48"w; Framed Size: 33.5"h x 57.5"w

Apaches

Artist:

Charlie Dye

Date:

1966

Description:

Oil | Image Size: 22"h x 34"w; Framed Size: 32"h x 44"w