Pieces from The Eddie Basha Collection are headed to New York
Over 14 Howard Terpning pieces from the collection to be featured at The Rockwell Museum
(Phoenix, AZ) – This summer, select pieces from The Eddie Basha Collection will be heading to New York for the American Masterworks of Howard Terpning: Highlights from the Eddie Basha Collection exhibition from June 24 through September 11, 2016 at The Rockwell Museum, 111 Cedar St, Corning, NY.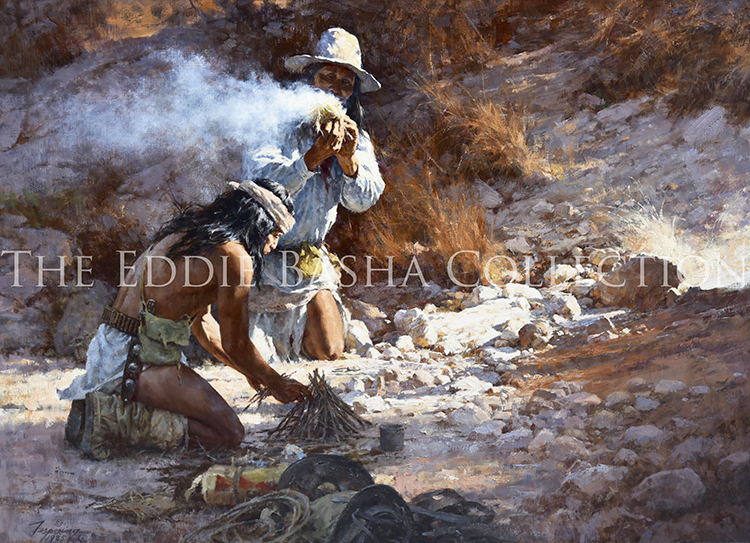 Fourteen Terpning pieces from the collection will be making the trip to New York to be highlighted at this event, including "Allegiance to the Crown" (1993), "Apache Firemakers" (1985), "Medicine Man of the Cheyenne" (1983) and eleven others. Visitors to the Rockwell will have a unique opportunity to not only experience the works of one of Arizona's most celebrated artists, but pieces from one of Arizona's greatest collections.
"This exhibition embodies one of our key missions here at The Rockwell by presenting a unique artistic perspective to audiences that have never seen Terpning's work before. Some of the paintings from the Eddie Basha Collection that will be featured in this show are being publically exhibited for the first time!" says Kirsty Buchanan, Curator of Collections at The Rockwell Museum.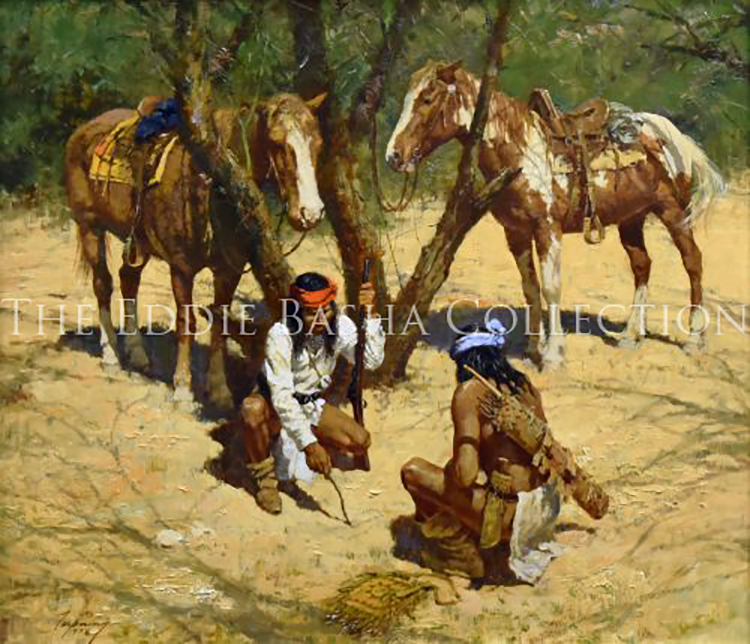 Howard Terpning has been an artist for most of his life. He is sometimes called the "Storyteller of the Native American" because of his devotion and respect for Plains Indians and the American West. His artworks are among some of the most sought after and acclaimed images ever produced of Native American traditions, customs, and history.
While Eddie was a consummate collector of Howard's work, it was their friendship that he treasured more than the art itself. He sought not only to collect Howard's art, but to truly immerse himself in his journey. Eddie enjoyed visiting Howard's studio, sharing discussions about life and history, reminiscing, and of course, much laughter.
"The symbiotic relationship that existed between Eddie and Howard – as a patron and artist – is a classical model. Focusing the exhibition on that productive friendship allowed us to curate a multi-layered show that will resonate with art lovers, collectors, and art historians alike," claims Buchanan.
The Rockwell Museum
The Rockwell is home to an incredible collection of art, gifted by Bob and Hertha Rockwell. Housed in Corning's Old City Hall, they have a strong presence in the local community, hosting activities for people of all ages and interests, from innovative arts education for children and their parents, to exceptional lectures by leading scholars. The museum is celebrating its 40th anniversary as well as becoming a Smithsonian Affiliate, the only one in Upstate NY!
Where
111 Cedar St, Corning, NY 14830
607-937-5386; info@rockwellmuseum.org
Admission Prices
Adults (18-54): $10
55+: $9
Students (with ID): $9
AAA and Military: $9
Local Resident Rate: $5
Kids & Teens (17 & Under): FREE
Museum Hours
9 a.m. – 5 p.m.
Summer hours, 9 a.m. – 8 p.m.
(Summer hours begin Friday, May 27, 2016 through Monday, September 5, 2016)