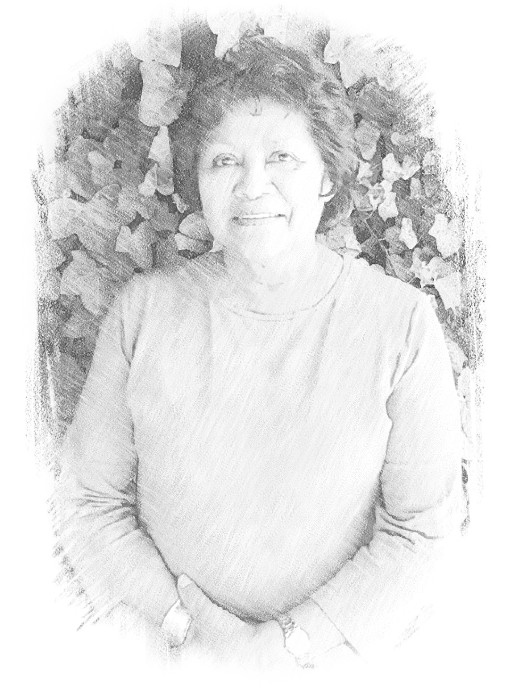 Verma Nequatewa
(b. 1949)
Verma Nequatewa began an apprenticeship with her uncle, Charles Loloma, around 1966 and worked with him for more than twenty years. During that time she not only learned specific jewelry-making techniques, but she also learned to distinguish quality stones and to develop a keen design aesthetic which is decidedly more feminine than that of her uncles. Verma has signed her distinctive work with the Hopi feminine word for beauty, "Sonwai", since 1989. It complements her uncle's name, which was the masculine word with the same meaning.
Verma is inspired by her culture and the rich environment and landscapes she sees from her studio at Third Mesa on the Hopi Reservation in Arizona. Her masterworks are reflective of the patterns frequently observed such as the subtle colors a cloudy sky casts upon the vast surrounding lands or the complexity of the stone walls of ancient homes. While an unusual or exceptional stone may serve as inspiration, it is her innate sense of rich and varied color combinations juxtaposed by her intricate patterning that fits together like puzzle pieces that are the essential components contributing to her overall design aesthetic.
Today, Verma is recognized as one of the leading American Indian lapidary artists and a world class jeweler working primarily in 18 karat gold and only the finest quality stones. By incorporating a variety of inlay and metal-working techniques, she creates her elegant contemporary masterworks for private collectors and museums worldwide.
Bracelet

Artist:

Verma Nequatewa (b. 1949)

Description:

Gold, ebony, red/white coral, turquoise, and fossilized ivory

Bracelet

Artist:

Verma Nequatewa (b. 1949)

Description:

Gold, ebony, red/white coral, turquoise, and fossilized ivory

Bracelet

Artist:

Verma Nequatewa (b. 1949)

Description:

Silver, red/orange/white coral, turquoise, ebony, fossilized ivory, and lapis lazuli

Bracelet

Artist:

Verma Nequatewa (b. 1949)

Description:

Silver, red/orange/white coral, turquoise, ebony, fossilized ivory, and lapis lazuli

Bracelet

Artist:

Verma Nequatewa (b. 1949)

Description:

Gold, turquoise, red/orange coral, and lapis lazuli

Bracelet

Artist:

Verma Nequatewa (b. 1949)

Description:

Gold, turquoise, red/orange coral, and lapis lazuli

Bracelets

Artist:

Verma Nequatewa (b. 1949)

Earrings

Artist:

Verma Nequatewa (b. 1949)

Description:

Gold, sugilite, red coral and turquoise

Pin

Artist:

Verma Nequatewa (b. 1949)

Description:

Gold, turquoise and sugilite

Pin

Artist:

Verma Nequatewa (b. 1949)

Description:

Silver, gold, turquoise, red coral and sugilite

Pins, Earrings, and Bracelets

Artist:

Verma Nequatewa (b. 1949)