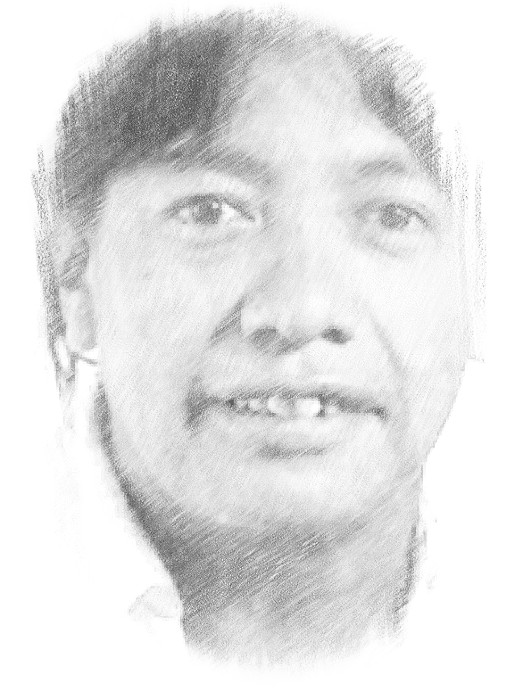 Tommy Montoya
(1952-2009)
Montoya was born at San Juan Pueblo (now Ohkay Owingeh Pueblo) in the family home on the edge of the plaza. His father passed away while Tommy was very young so his mother, originally from Nambe Pueblo, raised him herself. 
Montoya attended the Santa Fe Indian School and the Institute of American Indian Arts in Santa Fe.  He continued on to get his BFA and MFA degrees at California colleges.  After returning to the pueblo from California, Montoya took a job as technical illustrator and photographer at Los Alamos National Labs.  He pursued his art in the evenings.  Once his reputation was established and his commissions increased, he quit his job at Los Alamos and pursued his art career full time.
Ohkay Owingeh is the largest, most northerly, and the most geographically isolated of the six Tewa villages. It is known as one of the pueblos where ritual and political matters continue to be strictly observed. Living and working in this environment, Montoya developed two independent sides of his art: figurative studies of traditional Tewa ritual; and his more cerebral, purely abstract studies of color and form. His popular figurative works brim with vitality and action. His strong asymmetric compositions come to life as if one were witnessing a ceremonial function at the pueblo rather than viewing a piece of art.
Source: Adobe Gallery
Unknown Title

Artist:

Tommy Montoya (1952-2009)

Description:

Pastel | Image Size: 30"h x 22"w; Framed Size: 35"h x 28"w

The motif of this Tommy Montoya pastel features not only multiple Sun Face headdresses as its focal point, but a depth of multiple layers intended to convey the rhythm of the dancers.

Katsina Warrior

Artist:

Tommy Montoya (1952-2009)

Description:

Pastel | Image Size: 20"h x 16"w; Framed Size: 27 ¼"h x 23 ¼"w

Adobe Gallery on famed Canyon Road in New Mexico represented the Ohkay Owingeh artist, Tommy Edward Montoya, for several years. They shared the following: "Ohkay Owingeh is the largest, most northerly, and the most geographically isolated of the six Tewa villages. It is known as one of the pueblos where ritual and political matters continue to be strictly observed. Living and working in this environment, Montoya developed two independent sides of his art: figurative studies of traditional Tewa ritual and his more cerebral, purely abstract studies of color and form. His popular figurative works brim with vitality and action. His strong asymmetric compositions come to life as if one were witnessing a ceremonial function at the pueblo rather than viewing a piece of art."

Eddie Basha was a huge fan of Montoya's work. As such, he collected numerous pieces of Montoya's throughout the years.

Spirit Dolls

Artist:

Tommy Montoya (1952-2009)

Description:

Pastel | Image Size: 24"h x 32"w; Framed Size: 27 ½"h x 35 ¼"w

Inspired by his culture and Ohkay Owingeh pueblo lifestyle, Tommy Montoya revealed his subjects in a very contemporary fashion. His pastel drawings of abstract pueblo forms and dancers are full of movement and appear to dance off their pages. During his lifetime he received many awards at Inter-tribal Indian Ceremonials, the Heard Museum Indian Fair & Market and at the Santa Fe Indian Market. The Bureau of Indian Affairs in Washington, D.C., also houses a public collection of his works.

Kachina Maidens

Artist:

Tommy Montoya (1952-2009)

Description:

Pastel | Image Size: 22"h x 28"w; Framed Size: 29"h x 35 3/8"w

"Kachina Maidens" was purchased at a Santa Fe Indian Market during the 1990's and was subsequently loaned to the Phippen Museum for the "Pastels – Color the West" exhibition in 2018.

Tommy Montoya was raised in a Tewa Village of the San Juan Pueblo by his single mother after his father passed at a very early age. He attended the Institute of American Indian Arts in Santa Fe and received his Fine Arts Certificate, followed by a Bachelor's Degree in Graphic Design at the California College of Arts & Crafts and a Master's in Fine Arts & Photography in 1973 at the University of California at Berkeley. After returning home, he worked as an illustrator and photographer at Los Alamos National Labs while honing is craft at night.

Tommy was inspired by the ritual-filled pueblo lifestyle, but he revealed his subjects in a very contemporary fashion. His pastel drawings of abstract pueblo forms and dancers are full of movement and appear to dance off their pages. During his lifetime he received many awards at Inter-tribal Indian Ceremonials, the Heard Museum Indian Fair & Market and at the Santa Fe Indian Market. The Bureau of Indian Affairs in Washington, D.C., also houses a public collection of his works.

Sky Dancers

Artist:

Tommy Montoya (1952-2009)

Description:

Pastel | Image Size: 24"h x 32"w; Framed Size: 31 ½"h x 40 ½"w

After his father passed away at an early age, Tommy Montoya (1952-2009) was raised in a Tewa Village of the Ohkay Owingeh, formerly San Juan Pueblo, by his single mother. He attended the Institute of American Indian Arts in Santa Fe and received his Fine Arts Certificate, followed by a Bachelor's Degree in Graphic Design at the California College of Arts & Crafts and a Master's in Fine Arts & Photography in 1973 at the University of California at Berkeley. After returning home, he worked as an illustrator and photographer at Los Alamos National Laboratory while honing is craft at night.

Tommy was inspired by the ritual-filled pueblo lifestyle, but he revealed his subjects in a very contemporary fashion. His pastel drawings of abstract pueblo forms and dancers are full of movement and appear to dance off their pages. During his lifetime he received many awards at Gallup Inter Tribal Indian Ceremonial, the Heard Museum Indian Fair & Market and at the Santa Fe Indian Market. The Bureau of Indian Affairs in Washington, D.C., also houses a public collection of his works.

Bow and Arrow Dance

Artist:

Tommy Montoya (1952-2009)

Description:

Pastel | Image Size: 20"h x 28"w; Framed Size: 26 ¾"h x 34 ½"w

Born in his family's home at the former San Juan Pueblo, now Ohkay Owingeh Pueblo, Montoya attended the Santa Fe Indian School and the Institute of American Indian Arts in Santa Fe. After earning his BFA and MFA degrees at California colleges, he returned home and began his professional life as a technical illustrator and photographer at Los Alamos National Labs, all the while pursuing his artistic aspirations evenings and weekends.

Perhaps due to its most geographic isolation of the six Tewa villages, Ohkay Owingeh Pueblo is known as one of the pueblos where ritual and political matters continue to be observed strictly.

While living and working in this environment, Montoya developed two independent aspects in which to portray his art that included figurative studies of traditional Tewa ritual and abstract studies of color and form. Montoya was an amazingly talented artist who enjoyed working with pastels as evidenced in his abstract version of the traditional Bow and Arrow Ceremonial Dance.

Sichomovi Village

Artist:

Tommy Montoya (1952-2009)

Description:

Pastel | Image Size: 24"h x 32"w; Framed Size: 30 ¾"h x 39 1/8"w

Tryptic

Artist:

Tommy Montoya (1952-2009)

Pink Abstract

Artist:

Tommy Montoya (1952-2009)

Don Juan Pueblo

Artist:

Tommy Montoya (1952-2009)