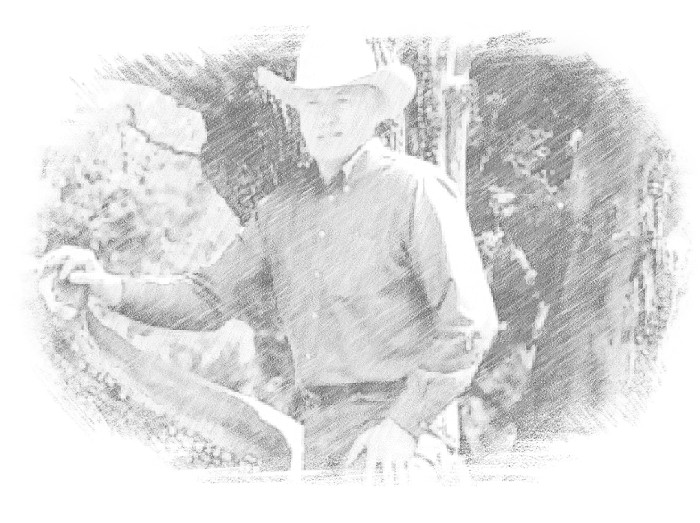 Russell Houston
(b.1954)
Russ' desire to paint comes in large measure from his love of the West, its people and the variety of experiences they find themselves in. Born the son of Marine Corp parents, Russ spent time drawing the military activities around him. His imagination for stories grew even greater with his family's move to Arizona. The cast of characters and color of the desert provided Russ with endless possibilities for paintings and drawings. His capacity to illustrate increased when at 17, he became the youngest staff artist at A & M Associates, the ad agency for U-Haul International.
His advances in art continued back in California at the Art Center College of Design. Upon graduation with a B.F.A. in Illustration, Russ returned to Arizona. Working on the family ranch in Arizona, he also worked on illustration accounts during the day and pursued western art at night. A short time later he made the transition to painting westerns full-time. Russ' versatility led him to create and publish a series of paintings on cowboy golf. Russ now concentrates on painting Western American realism.  Russ currently resides with his family in the White Mountains of Arizona.
Source: The Art of Russell Houston
Unknown Title

Artist:

Russell Houston (b.1954)

Description:

Pencil (1988) | Image Size: 8"h x 11"w; Framed Size: 14"h x 16"w

Russell Houston's drawings of cowboys at work are rooted in his own experiences working on a ranch. With skill and precision, he renders both figures and landscapes alike.

In this scene there is a familial gist with a calf in the foreground shepherded by its mother and further afield perhaps the siring bull.

Unknown Title

Artist:

Russell Houston (b.1954)

Description:

Pencil (1987) | Image Size: 13"h x 20"w; Framed Size: 16 ½"h x 24"w

Russell Houston handles figures and landscapes with authenticity, skill and precision. Here, Houston's depiction of cowboys driving cattle through the trees and brush with boulders, hills and a fluid sky as the backdrop is based on his own experiences working cattle.

Charlie Coppinger – Mule Trainer

Artist:

Russell Houston (b.1954)

Description:

Pencil (1988) | Image Size: 10 ½"h x 8"w; Framed Size: 16"h x 13 ½"w

Like many young artists at the time, Russell Houston struggled early in his career to make enough money as an artist to pursue painting and drawing on a full-time basis. At one point, he worked on his family's ranch in Arizona while working on illustration assignments by day and his fine art at night. However, her persevered and has devoted his time primarily to painting western subjects for several years. He received his training at the Art Center College of Design in Los Angeles, graduating with a B.F.A. In addition to traditional western subjects, Houston has developed a humorous series of cowboys playing golf many of which can be found on his website. By the way, Charlie Coppinger is one of two models Houston frequently uses in his golfing series masterworks.

Pack Mules

Artist:

Russell Houston (b.1954)

Description:

Oil | Image Size: 13 ½"h x 24"w; Framed Size: 19"h x 31 1/8"w

Following graduation from the Art Center College of Design in California, Russell Houston returned to Arizona. While he worked on the family ranch and illustration accounts by day, he pursued Western Art at night. Later, he was accorded the opportunity to pursue painting on a full-time basis.

Russell was making a modest living as a painter of traditional Western scenes when his career doglegged onto the golf course. A photograph taken near a vanished southern Arizona mining town on a now vanished desert course built for miners, circa 1900, of two cowboys, horses in tow, playing golf forever changed Russ' trajectory. "I knew I had to paint this subject," says Houston. "And you'd be surprised how many modern cowboys I know who carry golf clubs around in the back of their pickups." He has had the honor to participate in numerous cowboy golf tournaments inspired by his artwork. With worldwide distribution, Russ' work has also been featured in People Magazine, Sports Illustrated, The Boston Globe, and the Los Angeles Times.

Spending canvas time equally between telling the great stories of the traditional West and the hilarious parodies of cowboy golf, Russ continues to hit 'em like a pro! www.russellhoustonart.com

Apaches

Artist:

Russell Houston (b.1954)

Description:

(1987) | Image Size: 16"h x 15"w; Framed Size: 23 ¾"h x 22 ¼"w

Dancer of the Sun

Artist:

Russell Houston (b.1954)

Description:

Oil | Image Size: 20"w x 30"h

Capitol Offense

Artist:

Russell Houston (b.1954)

Description:

Oil (2011) | Image Size: 30"h x 40"w

When the Capitol Building was opened in 1901, the seventeen-foot-tall Winged Victory was placed on top of the copper dome as a weather vane. On Saturday nights cowboys wrapped up their night of drinking by riding pall mall down Washington Street to the Capitol and firing their pistols at her wings to make her spin. Over time many came to believe this was just another tall tale, but years later when the dome was being restored workers found bullet marks on her wings.