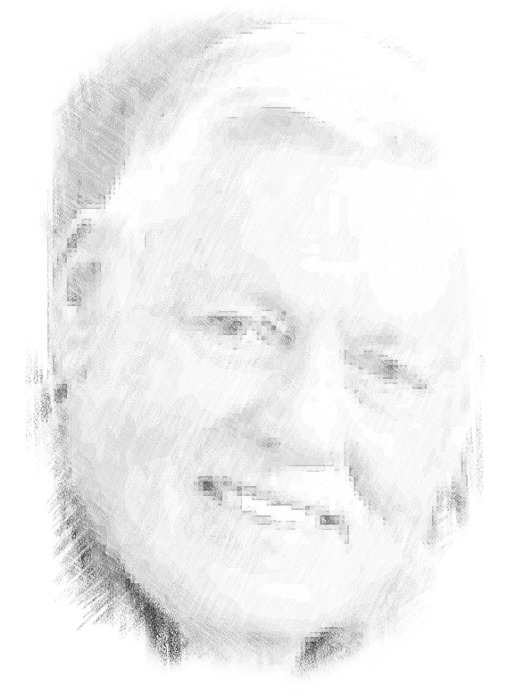 Roy Andersen, CA
(1930-2019)
It has been said that Roy Andersen worked with deliberation and supreme confidence.  With a life long interest in American Indian art, his paintings reflected his affinity for animals and his belief in artistic authenticity.  His primary subject matter were the Crow, Cheyenne and Apache Indians, and his knowledge of them was obtained through extensive research.  Andersen's work has its own sense of composition and color harmony.
Andersen grew up on a horse farm in New Hampshire and was influenced by a cowboy uncle from Nebraska.  While receiving formal training at the Chicago Academy of Fine Art, he spent many hours at the Chicago Museum of Natural History learning about Indian customs.  Andersen also trained at the Art Center School in Los Angeles.
Roy Andersen's career as an illustrator spanned more than thirty years working for National Geographic, Time and Sports Illustrated.  He also illustrated commemorative stamps for the U.S. Postal Service, numerous paperback novels and movie posters; two such posters were The Outlaw and Josie Wales.  During his years as an illustrator, Andersen developed the discipline and capacity for hard work that was essential to those who strove for artistic success.
In 1981, he and his wife relocated to Arizona.  As his name and reputation spread, his work began appearing in many of the finest galleries, museums and private collections in the Nation.
Andersen was inducted into the Cowboy Artists of America in 1989.  In 1991, he won the Gold Medal in the Oil Category at the 25th Annual CAA Exhibition.  Roy collected numerous honors and accolades throughout his entire career.
As an artist, Roy found a distinctive niche utilizing bold color choices and a dynamic style that continues to excite audiences today.  Roy once commented, "perhaps I see colors that others don't.  I like to take chances with color because the creative process doesn't happen without risk."
The Medicine Rider

Artist:

Roy Andersen, CA (1930-2019)

Description:

Oil (2005) | Image Size: 40"h x 36"w; Framed Size: 52"h x 48"w

Of his 2005 National Cowboy & Western Heritage Museum's Prix de West Exhibition painting, The Medicine Rider, Roy Andersen said, "A medicine warrior, with a sacred war medicine bonnet on his head and a wolf bone whistle around his neck, rides the shallows of a deep valley searching for a vision place where he can open his medicine bundles and bring forth a new dream."

After receiving his formal training in both Chicago and Los Angeles, Andersen attained the highest recognition as a professional illustrator working for major corporations, the U.S. Postal Service, and Time and National Geographic Magazines. And it was that thirty years of experience to which he credited his research abilities in a broad range of subject matter. It was, however, that early life experience in discovering Indian artifacts at the Chicago Field Museum of Natural History that was a lasting one and ultimately helped in his decision to make the West his home.

Like many of his contemporaries in the field of western art, Andersen could be described as a visual historian. Rather than writing historical vignettes of Plains Indian life and culture, he painted scenes that contained ample information about those subjects. As someone who is well versed in many facets of the history and traditions of many American Indian tribes, Andersen strove for authenticity and accuracy in his work. Each detail is appropriate for the time period, the tribal affiliation, and the location. Here, Andersen, who raised American Paint Horses, demonstrates his skill at depicting horses as well as people.

Across the Valley

Artist:

Roy Andersen, CA (1930-2019)

Description:

Oil (2005) | Image Size: 36" x 50"; Framed Size: 49"h x 62"w

This large and impressive painting showing a group of Apache Indians on the edge of a canyon in front of a dramatic swirl of clouds is a showcase for Roy Andersen's prodigious skills as an artist. He has masterfully used color and light to recreate the beauty and majesty of a Southwestern landscape with a sunlit mountain in the background topped by massive blue, gray, and pink clouds that reveal just a touch of blue sky. The painting is divided roughly in half horizontally by the effective use of light and shadow, with the lower half painted in darker tones and the upper half awash in the bright rays of a fading sun. Andersen has arranged a dark line of mountains in the middle distance to add a sense of depth to the scene. The figures of the Indians are also staggered with a line of mounted warriors just in front of the middle mountains. Two other Indians ride toward the viewer and are positioned just behind the final two figures that have dismounted and occupy the center foreground. One kneels, while the primary figure stands in the center. In one hand he holds a blanket while his other hand is raised above his head holding a knife that glistens in the sun. The knife is used to send a signal across the valley, as the title suggests. While the standing Apache is the focal point of the painting, all of the figures are expertly depicted in authentic period dress. Andersen's handling of the landscape and the figures and his clever addition of the raised signal knife add up to a highly successful narrative painting and captures the beauty of the Southwest.

Alchesay - White Mountain Apache

Artist:

Roy Andersen, CA (1930-2019)

Description:

Oil (1995) | Image Size: 48"h x 30"w; Framed Size: 59"h X 40"w

The highly regarded and respected White Mountain Apache Chief, Alchesay, was a Medal of Honor recipient who served as an Apache Scout under General George Crook and as the emissary whose mission was to broker peace between Geronimo and the U.S. Calvary. It should be noted that Alchesay and Geronimo remained friends throughout their lifetimes. Following active military service, Alchesay reunited with his family, became a rancher/farmer and remained committed to improving the lives of the Apache and other Indian communities.

This striking portrait is a classic example of Roy Andersen's unique style and his great skill at capturing the essence of his subject figure complete with many authentic details of dress. The figure, which is painted in a realistic fashion, is set against a background that vibrates with myriad color and texture. While the figure is painted with meticulous precision, the background is an exercise in broad brush strokes that fill the canvas with paint. The contrast in technique serves to make the figure even more prominent and to focus the viewer's attention on such details as the colorful shield with dangling feathers, the leather and silver belt, and the intricately detailed breast plate hanging from Alchesay's neck. Rather than placing his subject in a narrative context and a specific location, Andersen directs the viewer's full attention to this proud man.

After studying at the School of the Art Institute of Chicago and the ArtCenter College of Design, Andersen spent many years as an illustrator for Sports Illustrated, National Geographic and other publications. He also illustrated advertisements for Western movies, such as The Outlaw Josey Wales.

Eagle Spirit

Artist:

Roy Andersen, CA (1930-2019)

Description:

Oil | Image Size: 14"h x 18"w; Framed Size: 20 3/8"h x 24 3/8"w

This relatively small portrait of a Plains Indian warrior is rich in detail and authenticity. As always, Roy Andersen thoroughly researched his subject and added details of ornamentation and dress that reflect a specific tribe and historical period. He also included an image of the highly revered eagle in the background which emphasizes its significance within American Indian culture, religion and traditions. Above all, Andersen portrayed his subject in a manner that reflected his character and dignity.

Warriors of the Twilight

Artist:

Roy Andersen, CA (1930-2019)

Description:

Oil (1994) | Image Size: 30"h x 40"w; Framed Size: 45"h x 54"w

The Apache roamed over huge swaths of Arizona and the Southwest. They were fierce warriors adept at living off the land and often spent days and weeks away from their home territory.

Roy Andersen has specialized in painting scenes that reflect the history and culture of the Apache. Here he shows a band making its way across a desert landscape at twilight with the setting sun spreading pinks, blues, whites, and yellows across the evening sky. The moon is already up and may well provide the light for these warriors to cover even more territory before they rest. Andersen focuses the viewer's attention on a lead warrior with lance in hand mounted on a splendid Paint horse. He is riding toward the viewer trailed by several other warriors. A close inspection of the primary figure reveals many authentic details of dress and gear. Andersen has perfectly captured the authenticity of the landscape, the time of day, and a moment in the history of the Apache.

Prior to his becoming a full time professional fine artist, Anderson was one of the top illustrators in America producing work for many major corporations, the US Postal Service as well as prestigious publications such as National Geographic and Time Magazine.

"Warriors of the Twilight" made its debut at the 29th Annual Cowboy Artists of America Show & Sale in 1994 at the Phoenix Art Museum.

The Buffalo Robe

Artist:

Roy Andersen, CA (1930-2019)

Description:

Gouache | Image Size: 32"h x 30"w; Framed Size: 42"h x 40"w

Buffalo, American bison, were the sustenance of the American Indian; very little if any went to waste. Its meat was consumed. Hides were used as blankets, for tipis and moccasins, and even as water satchels. Bones and teeth made rudimentary utensils, tools or used ornamentally. Bison were revered amongst the first peoples.

Because of the great slaughters as well as the commercial demand for hides, the American bison nearly became extinct. Today, herds are protected.

Seen here, Cowboy Artists of America member, Roy Andersen, conveys to the viewer a palpable sense of the bitter cold experienced by a lone Northern Plains Indian making his way across a snow-covered expanse of prairie. The landscape is desolate and immense with no color except for the brown and rust of the prairie grass that pushes through the snow just behind the rider. Similar rows of grass are barely visible in the background shrouded in snow. The figure is shown in sharp relief to this backdrop. His buffalo robe covers his lap, his rifle rests in the crook of his arms, and his head is turned away from the wind toward the viewer. The confirmation of the horse is expertly captured by Andersen and is indicative of his thorough knowledge of equine subjects. Rider and horse are both shown in detail, while the landscape is simply suggested. Andersen's intent is to impart some sense of what the rider is experiencing on this bitter day, a task that he has successfully completed.