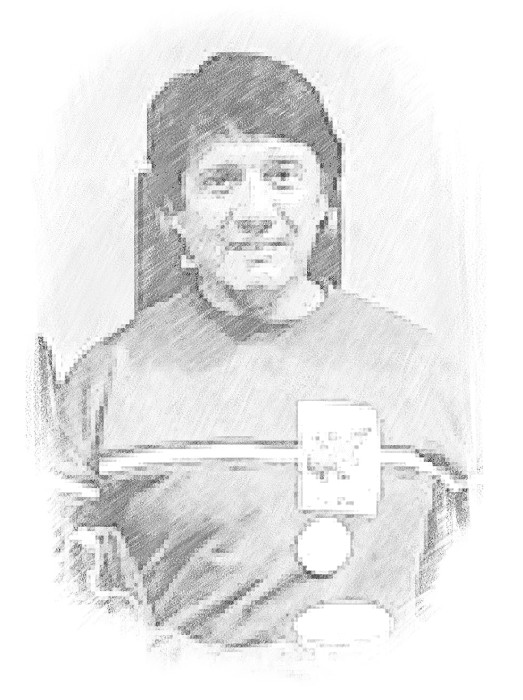 Ron Toahani Jackson
(b.1958)
Navajo artist, Ron Toahani Jackson was raised in Window Rock, AZ, the capitol of the Navajo Nation. Toahani is his Navajo clan name, which translates into 'Near to Water'.
After graduating from Window Rock High, Ron attended and received a Architectural Drafting degree from Albuquerque Technical Vocational Institute in Albuquerque, NM. He then went on to attend the Institute of American Indian Arts in Santa Fe, NM.
A move to Tempe, AZ to accept a job offer at a major architectural firm followed and then on to attend and graduate from Arizona State University with a Bachelor of Fine Arts degree in Painting & Drawing. While at ASU, he was exposed to the various forms of printmaking and has executed many lithographs and monotypes.
Since then he has been attending art shows all over the country promoting and selling his work. He has won numerous awards at various Indian art shows such as Santa Fe Indian Market, the Heard Museum Indian Art Show, Red Earth Festival, Eiteljorg Museum Indian Art Market, Northern Arizona Museum. His many styles and mediums include painting and drawing, printmaking, collages, clay masks and more recently silver jewelry.
Source: Ron Toahani Jackson
Creation Story

Artist:

Ron Toahani Jackson (b.1958)

Description:

Watercolor | Image Size: 20"h x 28"w; Framed Size: 30"h x 38"w

Diné Baahane', the story of the Navajo people, tells the prehistoric emergence of the Navajo as part of their religious belief. It centers on their traditional homeland known as the Dineˊtah and forms the basis of the traditional Navajo way of life and ceremony.

Four Dancers and Sun

Artist:

Ron Toahani Jackson (b.1958)

Description:

Watercolor (1995) | Image Size: 22"h x 30"w; Framed Size: 33"h x 41"w

"Four Dancers and Sun" was the 1995 Pueblo Grande Museum Auxiliary Indian Market Poster Competition Blue Ribbon Winner!

Navajo artist, Ron Toahani Jackson, was raised in Window Rock, AZ. Toahani is his Navajo clan name, which translates into Near to Water. Jackson obtained an Architectural Drafting degree from Albuquerque Technical Vocational Institute and then went on to attend the Institute of American Indian Arts in Santa Fe, NM. He later moved to Tempe, Arizona, to work with an architectural firm. While there he graduated from Arizona State University with a Bachelor of Fine Arts in painting and drawing. While attending ASU, Jackson was exposed to various forms of printmaking and since then has executed a number of lithographs and monotypes that are often reflective of his culture.

Over the years, Jackson has won awards at various art shows including the Santa Fe Indian Market, the Eiteljorg Museum Indian Art Market, and the Heard Museum Indian Art Show. While Jackson's styles and mediums include painting, drawing, printmaking, collages, and clay masks, he later ventured into jewelry making and photography. And, for the first time in five years, Jackson will once again be showing at this year's Santa Fe Indian Market, August 20-21, 2022! The EBC hopes for a triumphant return for Jackson.

We Strive for Harmony

Artist:

Ron Toahani Jackson (b.1958)

Description:

Prismacolor Pencil | Image Size: 29"h x 21"w; Framed Size: 40"h x 32"w

"We Strive for Harmony" expresses the essence of the Navajo way of life… finding and maintaining one's beauty and harmony. The Navajo word for it is hozho. It is achieved by attaining balance, even amongst the chaos. The figures shown are that of the Navajo Holy People or Yei that exemplify the concept of hozho, and the stars refer to the Navajo Creation Story and the emergence of the Navajo people, the Diné.

The Hero Twins

Artist:

Ron Toahani Jackson (b.1958)

Description:

Mixed Media – Diptych | Image Size: 24"h x 18"w; Framed Size: 33"h x 27"w