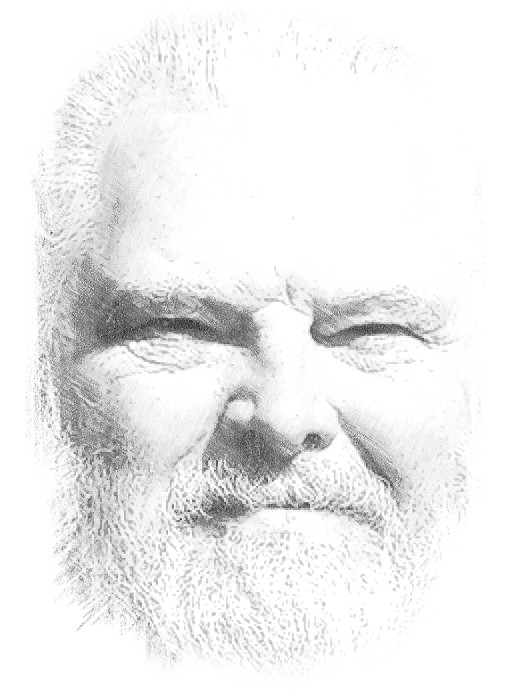 Richard V. Greeves
(1935-2022)
Richard V. Greeves often says his destiny as an artist was shaped by a trip he took when he was 15 years old. He traveled to Fort Washakie on the Wind River Indian Reservation in Wyoming. It was a brief respite from school, but the journey, and his time spent with a Native American family, left an indelible impression.
Greeves finished school but knew the Wind River Reservation had stolen his heart. Several years later, he returned there and for more than five decades has made his home among the northern Plains Indians living on the reservation. In that time, he has forged out of the whole cloth of Native America a unique lifestyle centered around his artistic capabilities. "There is a magic, a mysticism for me here that I really can't explain. I just feel it," he says.
Greeves' bronze sculpture In the Land of the Water People won the Prix de West Purchase Award in 1977. In 2000, he received the Prix de West James Earle Fraser Sculpture Award, and he designed the 1998 Prix de West collector's bolo.
Source: Prix de West
Osage

Artist:

Richard V. Greeves (1935-2022)

Description:

Bronze (1996) | Dimensions: 19"h x 11"w x 9"d; Edition #2 of 10

Famed sculptor, Richard V. Greeves, lived over sixty years in Fort Washakie on Wyoming's Wind River Indian Reservation and brought an appreciation and awareness of the native cultures he strived to portray.

His art is informed by a deep understanding of America's past, but also its present. The historical research and attention to detail in every bronze offers the viewer a glimpse of the dress, tools, weapons, and customs of the tribes two hundred years ago such as seen here in "Osage". Greeves captures the natural dignity and spirit of these individuals, but also their grace and beauty. The work not only reflects a fiercely resilient people, but also bears witness to a culture about to undergo radical change.

Sauk Fox

Artist:

Richard V. Greeves (1935-2022)

Description:

Bronze (1997) | Dimensions: 16"h x 11"w x 6"d; Edition #2 of 10

In 1734, the Sauk and Fox tribes formed an alliance. Subsequently, the tribes extended their territory westward beyond the Mississippi. Sauk chiefs included Keokuk, Wapello and the famous Black Hawk, leader of the 1832 Black Hawk War, shown here. Today there are three tribal locations; the largest in Oklahoma, the Sac and Fox Nation, the Sac and Fox Tribe of the Mississippi in Iowa, and the Sac and Fox Nation of Missouri in Kansas and Nebraska. Though geographically separated, the tribes continue to be closely aligned.

Pawnee

Artist:

Richard V. Greeves (1935-2022)

Description:

Bronze (1996) | Dimensions: 20 ½"h x 7"w x 10"d; Edition #2 of 10

A native of the start and end point of the Corps of Discovery, St. Louis, Missouri, one might say Richard Greeves came by his avid interest in history in part by geographic disposition. His interest was further piqued when he became gainfully employed at the Missouri History Museum which provided him access to its artifacts collection. And following a meeting of chance to a Shoshone girl and a subsequent visit to her family's ranch on the Wind River Reservation at the age of 15, there was no turning back. Greeves had found his home away from home in the Pacific Northwest. During his twenties, he made the move a permanent one.

As an avid historian, Greeves has sculpted numerous busts and monument-sized works portraying many of the tribes the Corps of Discovery encountered throughout its journey. In "Pawnee", Richard Greeves highlights the bear claw necklace and eagle feather headdress worn by accomplished warriors.

Huron

Artist:

Richard V. Greeves (1935-2022)

Description:

Bronze | Dimensions: 12"h x 7"w x 11"d; Edition #2 of 10

Although Richard Greeves has lived on the Wind River Reservation in Wyoming for many years, he has an interest in and knowledge of many tribal customs, not just those of the Plains people. He has studied many Warrior societies and developed a particular fascination with the custom by a variety of tribes for shaving the heads of the society members. Each tribe is unique, but all share the custom of denoting elite Warrior Society membership by distinctive styles of either completely or partially shaved heads.

Omaha

Artist:

Richard V. Greeves (1935-2022)

Description:

Bronze (1998) | Dimensions: 17 ¾"h x 6 ½"w x 8"d; Edition #2 of 10

It was not uncommon for tribal members to reflect their clan affiliation in dress as well as appearance. The hair tufts of this Omaha Indian form an abstract bird and show that he is a member of the Eagle clan. There's a foretop tuft, two tufts over his ears representing wings and one at the nape of his neck representing an eagle's tail.

Mohawk

Artist:

Richard V. Greeves (1935-2022)

Description:

Bronze | 20" h