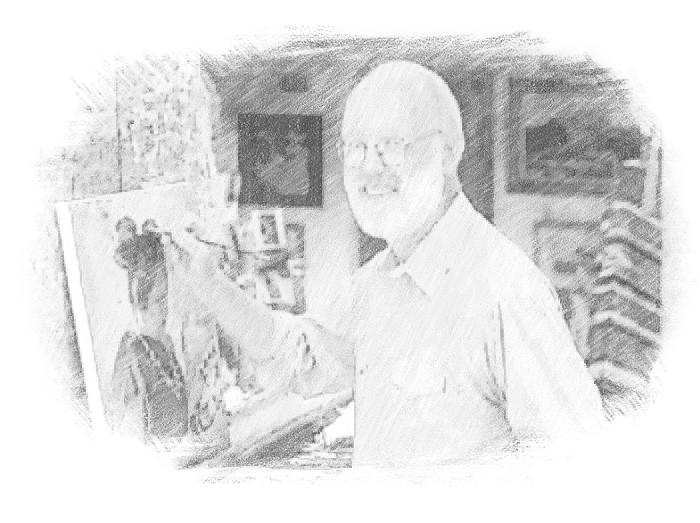 Ray Swanson, CA
(1937-2004)
Whatever the subject matter of his paintings, Ray Swanson revealed something of himself as well. His own story, however, explains much about how the man behind the canvas achieved the dream that so many artists share.
Ray's childhood and early years reveal how his artistic heritage and rural upbringing molded him into the artist that he became. Ray was able to do for a living what he loved most during his lifetime of 67 years before his untimely death on December 17, 2004.
Source: Ray Swanson
Navajo From Dennehotso

Artist:

Ray Swanson, CA (1937-2004)

Description:

Oil | Image Size: 18"h x 24"w; Framed Size: 28"h x 34"w

Ray Swanson said on many occasions that his greatest challenge and greatest reward was to capture the many emotions and experiences expressed in the faces of his subjects. In this profile portrait of a Navajo man wearing a traditional hat and turquoise jewelry, Swanson met that challenge. His portrayal of this senior citizen captured not only the gentleman's dignity, but his lifetime of unique experiences.

Blankets of the Dineh

Artist:

Ray Swanson, CA (1937-2004)

Description:

Oil (2004) | Image Size: 72"h x 36"w; Framed Size: 91"h x 55"w

This striking, full-length portrait of three Navajo women standing against a brilliant blue sky dotted with white clouds is an excellent example of Ray Swanson's realistic technique, attention to detail and accuracy, and his great sense of color. The three women wrapped in traditional multi-colored Navajo blankets stand proudly on an outcropping of red rocks with two dogs barely visible behind one of the women. The composition is dramatic with the two shorter women flanking the taller center figure and are shown in high relief contrast with the blue sky. The vibrant colors of their blankets command and hold the viewer's attention.

Swanson painted individuals that he met on his many visits to reservations, often painting members of the same family over the course of several years. He has perfectly captured the likeness and personalities of these women who stand proudly as representatives of their culture. Their life experiences are etched in the lines of their faces.

"Blankets of the Dineh" made its debut at the 39th Annual Cowboy Artists of America Show & Sale in 2004 at the Phoenix Art Museum and was selected and printed as a poster the following year. Subsequently it has also been exhibited at the Phippen Museum 2008 (Prescott AZ) and the Booth Western Art Museum 2015 (Cartersville GA).

Unknown Title

Artist:

Ray Swanson, CA (1937-2004)

Description:

Oil | Image Size: 5"h x 7"w; Framed Size: 11 ½"h x 13 ½"w

This Ray Swanson diminutive profile portrait of a Diné, meaning Navajo, man wearing an embellished hat, ceremonial velvet shirt, a chunky turquoise neckpiece and earrings also features a tsiiyéé, the sacred hair bun worn by men and women alike. The way the bun is constructed, the way it sits on the head, and the wrap used is part of the culture's spiritual practice. Though small, this portrait is full of compelling details.

Unknown Title

Artist:

Ray Swanson, CA (1937-2004)

Description:

Pencil | Image Size: 7"h x 8"w; Frame Size: 13"h x 14"w

Whether working in oil, watercolor, or pencil, Ray Swanson had a great talent for painting American Indian portraits that show a depth of emotion, a unique personality, and a life full of experiences. His portraits go beyond a mere reproduction of someone's face, but capture the soul behind the subject's eyes. Swanson's portraits, even a small one such as this, are deeply revealing tributes to specific individuals whom he met and befriended.

Where Paths Cross

Artist:

Ray Swanson, CA (1937-2004)

Description:

Gouache (2002) | Image Size: 28"h x 18"w; Framed Size: 37"h x 27"w

Ray Swanson spent decades traveling to the Navajo reservation to gather inspiration and subject matter for his art. He showed life on the reservation as it actually was, on a day in and day out basis. Occasionally, he would slip in a bit of humor in his art.

In this painting, two women have met an unexpected visitor who is blocking the path they are on—a stray dog that is no doubt just as surprised at seeing them and as they are seeing him. The women are wearing colorful Navajo blankets and occupy the majority of the canvas. One watches with trepidation down the path they are following to see the stray standing further ahead giving the women a curious look. An unexpected impasse—just who will make the next move is anyone's guess.

Pink Magenta

Artist:

Ray Swanson, CA (1937-2004)

Description:

Watercolor (1987) | Image Size: 12"h x 6"w; Framed Size: 18 5/8"h x 12 5/8"w

Ray Swanson had a special affinity for American Indian cultures, most especially for Navajo elders and children. He painted all with sensitivity and was adept at capturing personalities, humor and everyday life. In this lovely watercolor, "Pink Magenta", Ray's appreciation for traditional Navajo dress and the grace and charm as it is worn by the beautiful young girl are quite apparent. Ray was a member of both the Cowboy Artists of America and the American Watercolor Society.

Weaving A Tradition

Artist:

Ray Swanson, CA (1937-2004)

Description:

Opaque Watercolor (1994) | Image Size: 30"h x 40"w; Framed Size: 41.25"h x 51"w

In 1994, Ray Swanson won both the Gold Medal in the Water Soluble category for "Weaving A Tradition" and the Artists Choice Award for his body of work at the 29th Annual Cowboy Artists of America Exhibition & Sale held at the Phoenix Art Museum.

One of the recurring themes in Ray Swanson's art is the continuation of traditions and transfer of knowlege from one generation to another. In this painting of an Indian woman weaving a basket, Swanson focuses on how traditional crafts still have a place in modern Native American society. The woman seated under the shade of a tree is engaged in the same task that her ancestors practiced. She is using the same material to weave the basket and follows a pattern of traditional designs. Swanson's landscape is realistically presented and features the neutral tones of the Southwestern desert. His weaver intently concentrates on the task at hand. As with many of Swanson's subjects, her face shows a wealth of life experiences.

Moonlight Ride

Artist:

Ray Swanson, CA (1937-2004)

Description:

Watercolor (1991) | Image Size: 8"h x 14"w; Framed Size: 14 3/4"h x 20 3/4"w

Primarily known for his paintings of Native Americans such as this lone Navajo rider on a white horse making his way across a rough, rocky terrain on a moonlit night. The action is quiet in the painting with a greater emphasis on setting a mood than conveying a sense of movement. The moonlight is effectively reflected off of the horse and the rider's white hat.

Young Mr. Begay

Artist:

Ray Swanson, CA (1937-2004)

Description:

Pencil & Colored Pencil (1991) | Image Size: 8"h x 10"w; Framed Size: 16 1/2"h x 18 1/2"w

This is a small, but exquisite portrait of one of Ray Swanson's favorite models, Jason Begay. Swanson's technique of drawing the boy's face, hair, and hands in pencil and then contrasting those areas with the blue of a colored pencil to color his head band and shirt, adds tremendous depth to the facial features. We focus on Jason's face even more so because the blue pencil serves to frame it. The young man's personality and emotions have been expertly captured.