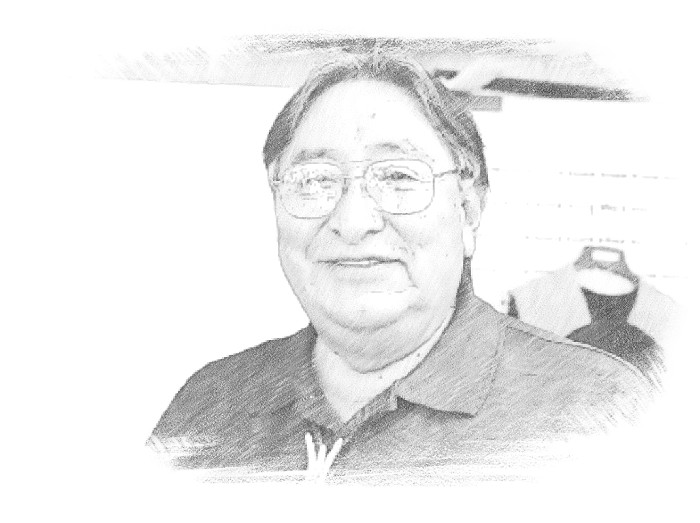 Mike Bird-Romero
Mike Bird-Romero is an accomplished jeweler known for his technical mastery, innovation, and respect for historical techniques and designs. He was born in the mid 1940s and served with the U.S. Marines in 1965-69. His artistic interests were fostered in a household of creativity. His grandmother Luteria Atencio was a respected potter whose works are in the Smithsonian Institution. His mother Lorencita Bird was an accomplished and well-known Pueblo textile artist and educator.
After learning some basic metal working skills in junior high school, Mike began serious work with metals in the late 1960s, teaching himself from books on the topic and buying some old tools while making others. By the early 1970s, Mike was actively pursuing jewelry making as his life's work.
Although he is largely a self-taught artist, Mike's work has been influenced both by extensive research into historic Navajo and Pueblo jewelry and by observing great silversmiths who lived near his home. In 1990, Mike and his wife Allison researched turn-of-the-century southwestern cress necklaces found in museums, private collections, and historic photographs. As a result, Mike created more than 140 cross pendant designs derived from a large variety of Pueblo and Navajo jewelry. Allison published a documentary book, Heart of the Dargonfly. Julian Lovato (Santo Domingo), Mark Chee (Navajo), and Antonio Duran (Picturis) were among the noted artists of the past who inspired Mike's development as a jeweler.
Mike's jewelry and silver pieces are all hand made. He makes his own stamps and dies out of parts from old car engines. He coils hand-made wire and rolls sheet silver. He carves tufa and pours the silver. He cuts and polishes his own stones. He selects only the best, most dramatic materials, often creating sculptural pieces that accent a variety of exquisite stones. He sometimes pays homage to older artists by working in their styles as when he carved a turquoise bird, atop one of his silver containers, in the style of Leekya, the famed Zuni fetish carver.
Mike's hallmark, two small birds, is found on the back of his pieces.
Source: The Wheelwright Museum of the American Indian