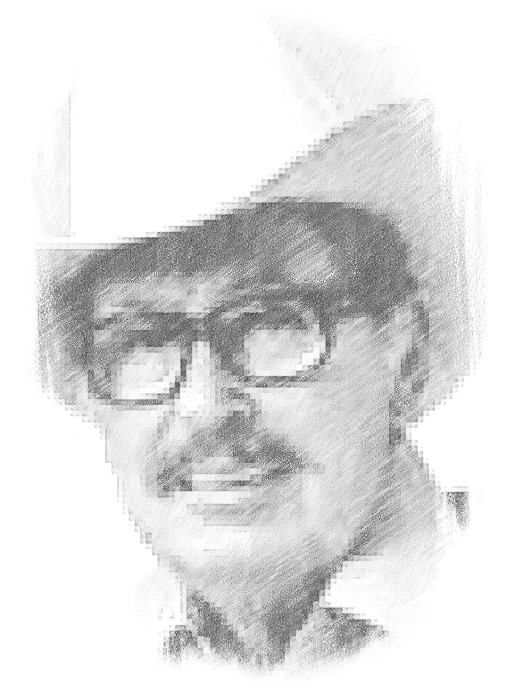 Melvin Warren, CA
(1920-1995)
Like many of his contemporaries, Mel Warren followed an arduous path to achieve artistic success. After serving a stint in the Air Force, he earned degrees in fine art from Texas Christian University in Fort Worth, Texas. When he graduated, he found that there was little in the way of work for a newly minted artist. Galleries for Western artists were few and far between, and those that were established already had a number of artists in their stables. To support himself and his family, Warren turned to the world of commercial art. After working his day job, he spent the evenings pursuing his real passion – painting the people, places, and historic events of the West.
The subject matter came easily to him. His father had been a ranch hand and cowboy, and Warren grew up on a succession of ranches in Texas and New Mexico. He had ample opportunity to watch cowboys in many different situations and was familiar with all their customary chores. He became a keen observer of ranch life and Native American culture. Warren's fascination with cowboy life and his desire to become an artist were constants in his youth. He first brought the two interests together while living on a ranch in Seymour, Texas. After seeing an ad for a course from the Federal Art School, he performed odd jobs to earn enough money to take the course. From then on, his life direction was set.
By the early 1960's, Warren had achieved enough success selling his paintings in galleries to leave the commercial art field. He joined the Cowboy Artists of America in 1968 and won the group's Memorial Award in his very first exhibition with them. Skilled as both a painter and sculptor, Warren specialized in depicting scenes of the heroic West. His early experiences of ranch life informed his artwork throughout his career. Many of his paintings were used to tell the history of early Texas in the books Frontier Forts of Texas and Trails of the Southwest. President Lyndon Baines Johnson was one of the most avid collectors of Warren's work.
Source: Cowboy Artist of America
Texas Ranger Border Patrol

Artist:

Melvin Warren, CA (1920-1995)

Description:

Oil (1970) | Image Size: 36"h x 60"w; Framed Size: 48"h x 72"w

The moonlight and the glimmering light from a lantern in a single window are the only sources of illumination in this nocturnal scene of a Texas border town. Shadows fall across several figures; some mounted, some standing outside of an old adobe building. The mood is quiet and somewhat unsettled. The viewer cannot be certain what is transpiring within the building or exactly why the Texas Rangers have stopped here. What is known, however, is how effectively Warren has set the scene through the subdued lighting accorded by the moon, the use of deep shadowing, and the realistic details of the setting.

Desert Home

Artist:

Melvin Warren, CA (1920-1995)

Description:

Oil (1973) | Image Size: 24"h x 36"w; Framed Size: 35"h x 47"w

Melvin Warren perfectly captures the look and feel of the Arizona desert in this painting of a Navajo homestead. A saddled horse and wagon are shown in front of a house made of several different elements—wood, grass, and adobe bricks. The house is positioned just to the right of a traditional hogan. The painting progresses from the warm tones of the foreground to the cool colors of distant mountains. Shadows indicate a midday time frame and the saddled horse indicates that its rider will soon return. Warren has utilized strong geometric shapes, such as circles and rectangles to organize the painting. It is a scene of order and balance with the manmade additions to the landscape blending in naturally with the surroundings.

"Desert Home" made its debut at the 8th Annual Cowboy Artists of America Show & Sale in 1973 at the Phoenix Art Museum. In an unprecedented performance, Melvin Warren won five awards at that particular exhibition including the Colt Award which is given for an artist's body of work and the MAC Award for work most typical of Arizona. "Desert Home" was subsequently exhibited in 2015 at the Cowboy Artists of America 50-Year Roundup at the Sedona Arts Center.

Cold Feet and Warm Coffee

Artist:

Melvin Warren, CA (1920-1995)

Description:

Oil (1987) | Image Size 24"h x 36"w; Framed Size 36"h x 48"w

It's the simple pleasures like a warm cup of coffee on a chilly day that is so appreciated.

Selling of the White Stallion

Artist:

Melvin Warren, CA (1920-1995)

Description:

Oil (1972) | Image Size: 24"h x 36"w; Framed Size: 29 ½"h x 41 ½"w

Set against a magnificent landscape of mountains situated under white and gray rain clouds, three American Indians are negotiating the sale of a handsome white stallion in this very well done painting by Melvin Warren. The transaction is taking place in the sunlit foreground in a rough field strewn with cacti and sagebrush. The background is dominated by a darkly colored mountain with another parallel mountain beyond it. Roiling clouds add a sense of drama to the scene and offer a sharp contrast to the sunshine of the foreground. Warren's Indians are dressed in cowboy gear and are facing the viewer and two Indian women are shown walking away from the transaction toward the distant mountains.

All of the various elements of this scene are expertly handled by Warren from the landscape to the figures and the horses. The white stallion of the title is placed squarely in the middle of the painting.

Near the Rio Grande

Artist:

Melvin Warren, CA (1920-1995)

Description:

Oil (1982) | Image Size: 12"h x 18"w; Framed Size: 18"h x 24"w

This small painting of a lone rider who appears to have just traveled across a vast distance in a high desert environment is skillfully done with bright colors that still reflect a desert palette. The rider and horse are shown in full sunlight; behind them a large section of the terrain is shown in shadow caused by overhead clouds. The rough terrain of the landscape is dotted with clumps of sage and other desert plants. A large cedar anchors the right side of the canvas; its deep green provides a nice contrast to the browns and tans of the desert floor. It is a small scene, but Warren is still able to convey a sense of distance and scale.

Vanishing Storm

Artist:

Melvin Warren, CA (1920-1995)

Description:

Oil (1977) | Image Size: 28"h x 40"w; Framed Size: 38"h x 50"w

In this scene of two weather weary cowboys preparing to head out to check on the herd after a winter storm, Melvin Warren, gives the viewer an idea of the vast distances cowboys, like these, are required to cover. The ground is covered with snow and the storm clouds are rapidly receding into the distance; now the cowboys' work will begin. Sunlight heightens the realism of the scene and effectively highlights the cowboys dress and gear. The two cow ponies patiently wait to return to their work as well.

La Luna De Roma

Artist:

Melvin Warren, CA (1920-1995)

Description:

Oil (1980) | Image Size: 36"h x 60"w; Framed Size: 48"h x 72"w

Melvin Warren specialized in scenes from the Old West and he had a special fondness for portraying the history of his adopted state of Texas. Here he presented a nocturnal scene of three riders, two in cowboy hats and the third wearing a sombrero, and their waiting horses outside of an adobe house on the early frontier. While two patiently wait calming the horses, the third makes a call on the house. The effective use of moonlight illuminates the horses coats, the riders' hats and the shirt of one of the cowboys. The only other light source is provided by the glow of a lamp from inside the house. It is a tranquil scene, evocatively painted and so very well executed. Warren, a World War II veteran, worked as an illustrator early on in his career. Once he was able to solidify his place in the world of fine art he also joined the Cowboy Artists of America. President Lyndon B. Johnson was an avid fan and collector of Warren's work as was former Texas Governor John Connally. Warren's masterworks can be found in museums and private collections worldwide.

Valenciana, Mexico

Artist:

Melvin Warren, CA (1920-1995)

Description:

Oil (1969) | Image Size: 24"h x 36"w; Framed Size: 35 1/4"h x 47 1/2"w

A red serape is the first thing that captures the viewer's attention in this nocturnal scene of a Mexican village. The serape is worn by a man riding a burro while leading a burro-pulled wagon out of the village and into the desert moonlight. Behind him the village is enjoying an active street life with people and vendors milling about. Several building interiors are lit by lanterns. The village church is shown in the background below a bright moon and distant mountains. The rider and wagon team are shown in the center of the canvas and ride toward the viewer, just before they leave the village. Warren has effectively and expertly depicted the village and shown a page from its history.

Pueblo Traders

Artist:

Melvin Warren, CA (1920-1995)

Description:

Oil (1975) | Image Size: 24"h x 48"w; Framed: 39"h x 63"w