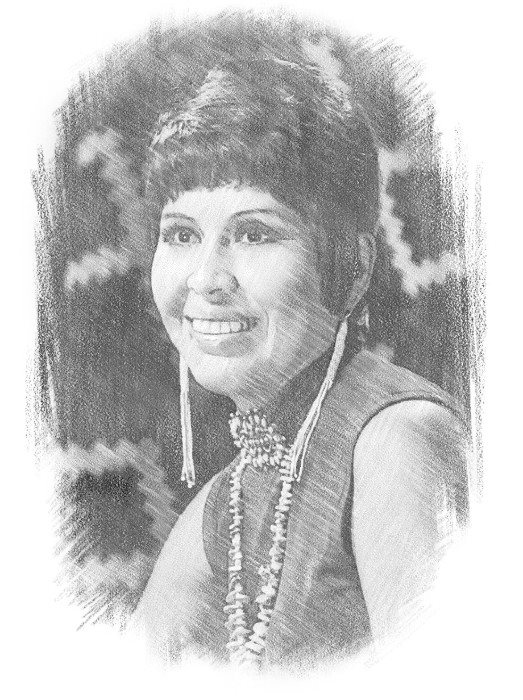 Mary Morez
(1940-2004)
The Wheelwright Museum of the American Indian (Santa Fe, NM) held an exhibition entitled "The Mary Morez Style: Transformations of Tradition" from October 8, 2022 – April 15, 2023.
The museum offered the following regarding her work and contributions: "Mary Morez, Navajo, was an innovative and influential figure in the Native American art field.  She is best known for synthesizing Navajo artistic traditions with modernism and semi-abstraction in what is known as the "Mary Morez Style." A multidisciplinary creative, her work ranged from stylized paintings to realistic drawings depicting moments of daily Navajo life. She created book and record illustrations, textiles, and graphic design and was also an art consultant to the Museum of Navajo Ceremonial Art, now the Wheelwright Museum of the American Indian, and a curator at the Heard Museum in Phoenix, Arizona. Morez lived most of her life in the southwest, primarily in Phoenix. Though she was adopted into a non-Native family after suffering from childhood polio, her deep connection to her Navajo family, life, and culture are central to her art practice. Her work examines and celebrates the Navajo narrative and is intertwined with contemporary Indigenous feminist discourse.
In the early 1960s, Morez received a scholarship through the Southwestern Indian Art Project (SWIAP), which profoundly influenced her artistic development. Directed by the University of Arizona Museum of Art and funded by the Rockefeller Foundation, SIWAP had an immense impact on the field, including the 1962 founding of the Institute of American Indian Arts in Santa Fe. Instructors included figures of historic importance in Native American art history, such as Lloyd Kiva New (Cherokee Nation) and Charles Loloma (Hopi). Morez and other Native art students, including Fritz Scholder (Luiseño), Michael Kabotie (Hopi), and Helen Hardin (Santa Clara Pueblo), later became central figures in their respective fields and forged a new movement that expanded and merged traditional tribal art forms with international contemporary art aesthetics.
This exhibition examined the breadth and depth of Morez's creative output, including her leadership in transforming Native art traditions into the global contemporary art canon.""
The painting shown here was not part of the exhibition, but rather resides at the EBC.  Morez's abstract leanings are on full display in this piece as is her penchant for creating textural elements in her work.