Martinez Family of Potters
Legendary potter, Maria Martinez (1887-1980), was of Tewa heritage from the San Ildefonso Pueblo. She learned to make pots during her youth from her aunt, Nicolasa Montoya. In 1904 at age 17, and already known for her pottery skills, Maria married Julian Martinez, a water-colorist who is credited with the revival of depicting ancient pueblo mythological creatures, but was also well known for his masterful use of color and technical skills.
On the afternoon of their wedding nuptials, they boarded a train for the St. Louis World's Fair where Maria demonstrated her pottery making skills and Julian performed traditional dances with others from their pueblo. After excavating pottery shards in 1908 near the San Ildefonso Pueblo, Dr. Edward Hewett, an archaeologist and Director at the Santa Fe Laboratory of Anthropology, sought someone to revive this type of pottery which led him to Maria.
As was customary, husbands assisted with the heavier aspects of pottery production including digging the clay, drying, crushing and refining it as well as the painting. And thus began the collaborative work of Maria & Julian Martinez. Together they were a formidable team – revivalists, innovators, and pueblo community oriented. The black-on-black technique, shiny and matte black surfaces, which they developed, garnered them legendary status.
Also customary was sharing their craft and knowledge with community and family. After Julian's passing in 1943, Maria's oldest son, Adam, took on his father's role of the arduous clay aspects and his wife, Santana, assumed the painting aspects. Working alongside and assisting Maria, both honed their skills and later became well known potters in their own right.
In 1950, another of Maria's sons, Popovi Da, who had been honing his skills as a water-colorist in the same style as that of his father, began to work alongside his mother, brother and sister-in-law. By 1956, Popovi became Maria's full partner and Adam and Santana embarked upon their own professional pottery endeavors.
Martinez Family Pottery

Artist:

Martinez Family of Potters

Description:

Tony Da | Shelves 1 & 2 | 25th Anniversary Exhibition

Maria & Julian Martinez, Adam & Santana Martinez, and Popovi Da | Shelves 3 & 4 | Permanent Gallery Display

Tony (Anthony Edward) Da descended from a talented family of potters at San Ildefonso Pueblo. Tony's grandparents, Maria & Julian Martinez, were ahead of their time when, in the early 1900's, they broke with tradition and created the now famous black-on-black pottery, breaking away at that time from the polychrome wares that were traditional. Tony's father, Popovi Da, was one of the first pueblo potters to break yet again from tradition and create something other than black-on-black pottery. With such a talented family, Tony was destined to be talented and famous. And he certainly was.

Maria & Julian were the first to transform everyday utilitarian pottery into non-functional works-of-art when they fully developed black-on-black wares around 1925. Following his father's (Julian) death in 1943, Popovi Da began assisting Maria, and by the 1950's he began infusing his own ideas into pottery making. Popovi began painting magnificent polychrome pieces reminiscent of his father's early works. Then he began to experiment with inlaying turquoise into pottery. It was this technique that Tony picked up on and eventually perfected.

Tony was born in 1940 and in his early student years experimented in jewelry making and painting. Following a stint in the US Navy, he returned to San Ildefonso in 1964. Fascinated with what Maria and Popovi were doing, he apprenticed himself to his grandmother.

Inspirationally, Tony relied upon his experiences with painting and jewelry. Early on, he worked in the two-tone black & sienna style, which Popovi Da introduced. He moved rapidly into the setting of turquoise into some of his wares, such as lidded vessels, bear fetishes and turtle sculptures. Indeed, Tony was the first pueblo potter to make extensive use of turquoise inlay in pottery. He next produced magical combinations of clay and wrought silver, as well as pottery inlaid with shell beads (heishe).

Tony soon excelled as one of the pacesetting pioneers in incising designs into pottery surfaces, combining delicately etched images with inlay and red, sienna, or two-tone finishes to create works with wholly novel effects. A favorite incised motif was the avanyu, the plumed water serpent associated in pueblo lore with summer rains. In other pieces he used a buffalo with heart line, or motifs inspired by the prehistoric Mimbres culture, including the feather motif popularized by his grandfather.

As a measure of his rapid progress, in 1967, just three years after beginning his apprenticeship with Maria, Tony's works appeared with his grandmother's and father's in the definitive "Three Generation Show," an exhibition honoring the pottery art of the Martinez-Da families at the US Department of the Interior Museum in Washington, DC."

Pottery Vignette

Artist:

Martinez Family of Potters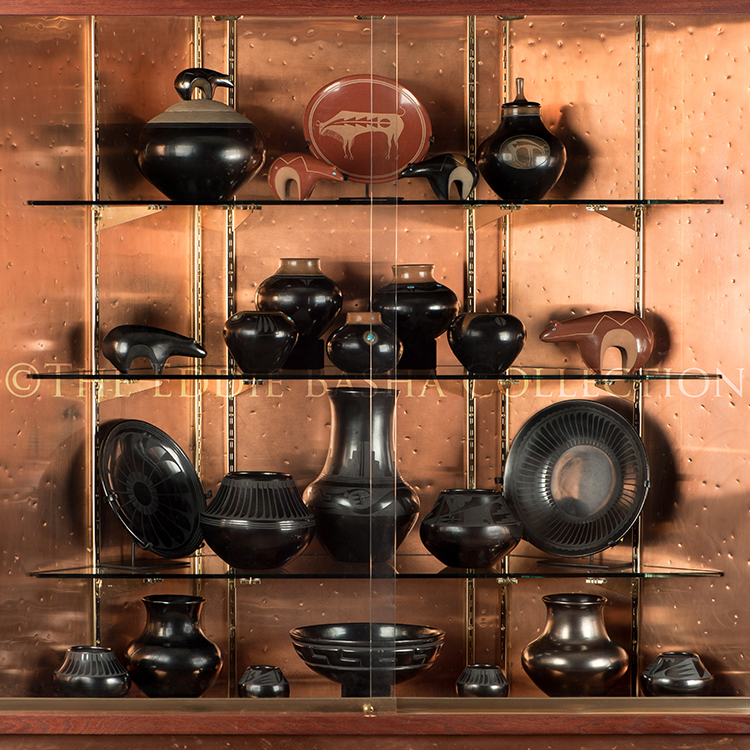 Tony Da | Shelves 1 & 2 | 25th Anniversary Exhibition

Maria & Julian Martinez, Adam & Santana Martinez, and Popovi Da | Shelves 3 & 4 | Permanent Gallery Display

Tony (Anthony Edward) Da descended from a talented family of potters at San Ildefonso Pueblo. Tony's grandparents, Maria & Julian Martinez, were ahead of their time when, in the early 1900's, they broke with tradition and created the now famous black-on-black pottery, breaking away at that time from the polychrome wares that were traditional. Tony's father, Popovi Da, was one of the first pueblo potters to break yet again from tradition and create something other than black-on-black pottery. With such a talented family, Tony was destined to be talented and famous. And he certainly was.

Maria & Julian were the first to transform everyday utilitarian pottery into non-functional works-of-art when they fully developed black-on-black wares around 1925. Following his father's (Julian) death in 1943, Popovi Da began assisting Maria, and by the 1950's he began infusing his own ideas into pottery making. Popovi began painting magnificent polychrome pieces reminiscent of his father's early works. Then he began to experiment with inlaying turquoise into pottery. It was this technique that Tony picked up on and eventually perfected.

Tony was born in 1940 and in his early student years experimented in jewelry making and painting. Following a stint in the US Navy, he returned to San Ildefonso in 1964. Fascinated with what Maria and Popovi were doing, he apprenticed himself to his grandmother.

Inspirationally, Tony relied upon his experiences with painting and jewelry. Early on, he worked in the two-tone black & sienna style, which Popovi Da introduced. He moved rapidly into the setting of turquoise into some of his wares, such as lidded vessels, bear fetishes and turtle sculptures. Indeed, Tony was the first pueblo potter to make extensive use of turquoise inlay in pottery. He next produced magical combinations of clay and wrought silver, as well as pottery inlaid with shell beads (heishe).

Tony soon excelled as one of the pacesetting pioneers in incising designs into pottery surfaces, combining delicately etched images with inlay and red, sienna, or two-tone finishes to create works with wholly novel effects. A favorite incised motif was the avanyu, the plumed water serpent associated in pueblo lore with summer rains. In other pieces he used a buffalo with heart line, or motifs inspired by the prehistoric Mimbres culture, including the feather motif popularized by his grandfather.

As a measure of his rapid progress, in 1967, just three years after beginning his apprenticeship with Maria, Tony's works appeared with his grandmother's and father's in the definitive "Three Generation Show," an exhibition honoring the pottery art of the Martinez-Da families at the US Department of the Interior Museum in Washington, DC."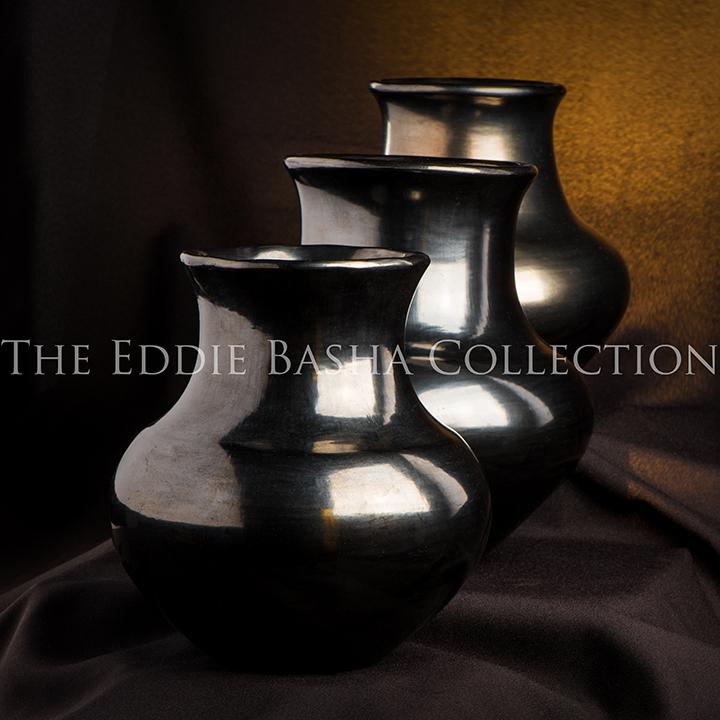 Martinez Family of Potters