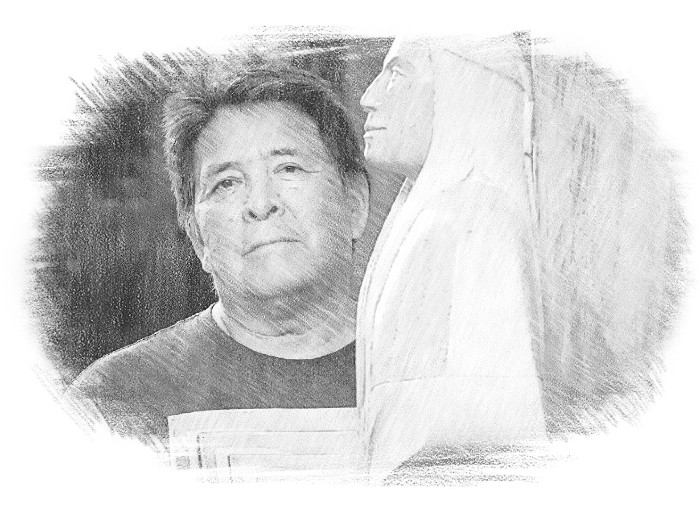 Larry Yazzie
(b.1958)
A resident of Camp Verde, Arizona near the Navajo Reservation where he grew up, he depicts his native people in sculpture, often using Carrarra marble.
Yazzie studied art at Peninsula College in Port Angeles, Washington and at the institute of American Indian Arts which he graduated from with honors.
Rather than work from sketches Yazzie prefers to allow his creativity to flow freely and let the stone direct him. His artwork is often influenced by Native American stories passed down from his elders. Yazzie believes we are all spiritual beings having a human experience and that if we connect with our spiritual side we are capable of creating wonderful things.
Source: Art of the West, July/August 2005
Soar Like the Eagle

Artist:

Larry Yazzie (b.1958)

Description:

Black Limestone | Dimensions: 17"h x 12"w x 4"d

The multi-talented sculptor, Larry Yazzie, is 2023's "Featured Artist" at the 12th Annual Waterfront Fine Art & Wine Festival held in Scottsdale, Arizona. The following excerpt is from the festival's website: "Today, stones speak to Larry before he ever picks up his chisel, but he knows that inspiration also comes from his culture and ancestors. "Growing up among the lands and people of the costal tribes of the Pacific Northwest, I began to lose my identity," he says. "I moved back to Arizona to be around my people and to find myself." Feeling initially disconnected and struggling to remember the complex Navajo language, Larry immersed himself in tribal elders' ceremonial traditions—which use specific, more difficult speech patterns—and took part in ceremonies himself, where he learned to "speak, pray, and sing in the language." This has had a powerful effect on his art. "When I look at a stone, I don't know what I'm going to make, but I've spent time with spiritual people and have heard their stories," he says. "I don't plan anything, but the spirit comes out in the work.""   

"Soar Like the Eagle" is one such example! The EBC is honored and privileged to display it and so very many more of Larry's amazing sculptures in the gallery.

Buffalo Song

Artist:

Larry Yazzie (b.1958)

Description:

Alabaster (1988) | Dimensions: 39"h x 11"w x 7"d

The buffalo, widely revered by American Indian tribes, formerly was an integral component of everyday life and is still held in high esteem. The buffalo is depicted in numerous artists' body of work such as the one shown here by Larry Yazzie due to its historic and cultural significance. "Buffalo Song" is a dramatically powerful sculpture and pays homage to this mighty creature.

Unknown Title

Artist:

Larry Yazzie (b.1958)

Description:

Limestone | Dimensions: 20"h x 9 ½"w x 6"d

Master sculptor Larry Yazzie yet again captured the proud and strong Navajo spirit in this limestone piece with exquisite details that emerge from the polished surfaces of the matriarchal face and basket highlights as well as the details captured in the earrings and necklace. The form, flow and artistic qualities of the piece belies the fact that the weight of the piece is significant.

Rose Lady

Artist:

Larry Yazzie (b.1958)

Description:

Stone & Bronze Cast | Dimensions: 10"h x 11"w x 3"d; Bronze Edition EB#22

Larry Yazzie was born near Tuba City on the Navajo Indian Reservation in 1958. He knew as a child that someday he would be an artist. Today, his sculptures are highly sought after by collectors and he consistently wins prestigious awards for his work.

As a young boy, many hours were spent in a ceremonial hogan listening to chants and stories of his people. His great-grandfather and grandfather were both medicine men and his father was training to become one before he died unexpectedly. After his father's passing, his mother remarried into a Northwest tribe and the family moved to Washington. It was a difficult time for Larry as he missed his people and the reservation. Memories of his father helped him to get through the following years. He also continued to pursue art even though he was not encouraged to do so. Some thought he should pursue a career that would provide a steady income. In spite of those admonitions, Larry moved forward and prayed for guidance.

Larry enrolled at the Institute of American Indian Art in Santa Fe after a year at Peninsula College in Washington; it was a life-changing move. In his second semester, Yazzie shifted from painting to sculpture which allowed him to feel more creative and connected with nature while working with stone. He was determined to excel and graduated from the Institute with honors.

Larry works with many different types of hard stones which can be challenging to work with. He doesn't use a model – he allows the stone to speak to him and then visualizes what it might become. He states, "Each stone has its own spirit. It is up to me to learn about that spirit and how to best represent it in the sculpture. I do this by studying the stone meditatively, seeking to express what it tells me through my emotions." Typically, Larry chooses women as his subjects because they represent strength to him. In the Navajo culture, women are considered the foundation of the family and his own mother was a model of strength and endurance to him.

A partnership developed between the artist and the collector, Larry Yazzie and Eddie Basha respectively. Yazzie provided the beloved sculptures that became the cast bronzes Basha gifted. Initially both the stone and bronzes were all gifted, but then a light bulb went off and it was decided that from that point forward the original sculpture and one of the casts would remain a permanent part of the collection. "Rose Lady" and numerous other original and bronze cast Yazzie sculptures can be seen in the gallery on your next visit.

Sháńdíín

Artist:

Larry Yazzie (b.1958)

Description:

Limestone (2002) | Dimensions: 38"h x 28"w 6"d

In Navajo, the word sháńdíín means sunlight; sunshine in English. It shares the same root, -díín, with adinídíín, but it specifically refers to the sun's light – its beams or rays. It's the shared root that refers to something that is emitting light. Sháńdíín is also used as a first name when it comes to naming newborn girls.

Larry Yazzie's limestone sculpture, Sháńdíín, shines brightly at the EBC! See for yourself on your next visit.

Artist:

Larry Yazzie (b.1958)

Artist:

Larry Yazzie (b.1958)

Of One Mind

Artist:

Larry Yazzie (b.1958)

Description:

Black India Soap Stone | Dimensions: 11"h x 9 ¾"w x 7"d

Larry Yazzie's stone sculptures are distinguished by their fluid lines and shapes that emphasize the materials being used and are grounded in the traditions of Navajo culture and symbolism. "Of One Mind" was purchased from the artist at the 2005 Indian Market in Santa Fe, NM.

Children of Mother Earth

Artist:

Larry Yazzie (b.1958)

Description:

Utah Alabaster (Year) | Dimensions: 20"h X 6"w x 5"d

The Navajo along with many other cultures have a particularly sacred relationship between its people and the land. For the Navajo, it begins at birth when an individual transitions from nourishment from their natural mother to one of nourishment by Mother Earth. And because the Navajo live between four sacred mountains, or the four sacred directions, they believe it is their responsibility to care for not only the land, but its occupants whose nourishment is derived directly from it.

Grounded in the traditions and culture of the Diné, Larry Yazzie's Utah alabaster sculpture "Children of Mother Earth" pays homage to those beliefs and practices.

A Mother's Love

Artist:

Larry Yazzie (b.1958)

Description:

Bronze & Black Stone | Bronze: 11 ½"h x 9 ½"w x 4"d; Stone: 12 ½"h x 10"w x 4½ "d

Peace Within

Artist:

Larry Yazzie (b.1958)

Description:

Marble/Bronze (2002) | Dimensions: 19"h x 7"w x 7"d

"At one point in my life I went through a lot of turmoil and rebellion. This sculpture reminds me of the journey to find peace within myself, a journey that so many human beings share," offered Larry Yazzie when asked about the origins and title of this sculpture.

"Peace Within" was one of many collaborative efforts between the artist and collector respectively. Larry's sculptures would be reproduced in bronze and subsequently gifted by Eddie to colleagues and friends effectively supporting and promoting the talents of this gifted sculptor.

Navajo Elegance

Artist:

Larry Yazzie (b.1958)

Description:

Marble | Size: 22"h x 16"w

Early Morning Vision

Artist:

Larry Yazzie (b.1958)

Description:

Alabaster Sculpture | Size: 27"h x 15"w x 5"d

"When I experience success, I thank the Great Spirit who gave me this gift. I am proud of my heritage, and am grateful that I have been given a way to communicate the beauty and dignity of my Native American culture with others," shared Larry Yazzie.

Each of Yazzie's masterfully sculpted works seemingly share a common voice - one that projects dignity, endurance, cultural value, and beauty - and this alabaster piece "Early Morning Vision" clearly does just that.

/untitled

Artist:

Larry Yazzie (b.1958)

Description:

Alabaster Sculpture | Size: 22"h x 12"w x 9"d

Note the cultural symbolism, pride, and strength as is emblematic of Yazzie's sculptures.

/untitled

Artist:

Larry Yazzie (b.1958)

Description:

Alabaster/Bronze | Size: 9"h x 11"w x 3"d

After having met sculptor Larry Yazzie, Eddie began commissioning original stone pieces that would be cast in bronze. Originally both the stone and bronze castings were gifted to business associates, those whom he served with on various committees as well as with friends. After having done so a few times, it was determined that the original sculpture and one bronze casting would remain as part of the permanent collection so that visitors may see both side by side.

Window Rock

Artist:

Larry Yazzie (b.1958)

Description:

Utah Alabaster | Size: 6" x 9" x 9"

Navajo Shell and Bead Choker

Artist:

Larry Yazzie (b.1958)

Echo Hawk

Artist:

Larry Yazzie (b.1958)

Description:

Carrera Marble Sculpture | Size: 12" x 13" x 26"