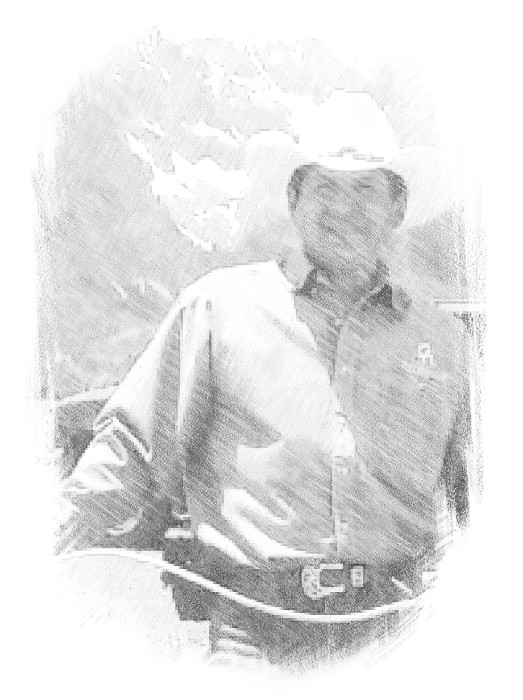 Oreland Joe, CA
(b. 1953)
Master sculptor Oreland C. Joe Sr. is world-renowned for his work in stone and bronze sculptures. His works can be found in private, corporate and museum collections in the United States and abroad. Oreland is a native New Mexican and is of Diné (Navajo) and Ute descent.
The influences in Oreland's life include his family and his travels abroad to France, Italy and Japan. Studying European art and culture, seeing and feeling the impressive artistic works of the Masters in Greek, Roman, Renaissance and Baroque periods were significant life-changing experiences.
Oreland's love for art has placed him in an elite class of stone and bronze sculptors. His accomplishments are numerous and one of them is being the first Native American to be admitted as a member to the prestigious Cowboy Artists of America organization. In two decades of CAA membership, he has won four Gold and three Silver medals for his sculptures. Oreland was awarded the Gold medal at the Masters of the American West Fine Art Exhibition and Sale at the Autry National Center in 1999 and again in 2006. In June 2002, the Lewis & Clark Bicentennial Committee of Fort Calhoun, Nebraska, commissioned Oreland to create The First Council—five life-size figures and a dog. At the Prix de West Invitational Art Exhibition in 2006, Oreland received the Purchase Award for his sculpture Buffalo Sunrise.
Source: Cowboy Artists of America
Unknown Title

Artist:

Oreland Joe, Sr., CA (b. 1953)

Description:

Pink Alabaster (2011) | Dimensions: 14"h x 10"w x 7"d

Sculpted in pink alabaster, this piece reflects not only Oreland Joe's prowess in creating different textures and colors in stone but also his ability to portray his Navajo culture and traditions in exquisite detail such as the blanket, necklace, earrings and feather worn.

Joe has been a member of the Cowboy Artists of America since 1993.

Mountain Prayer

Artist:

Oreland Joe, Sr., CA (b. 1953)

Description:

Italian White Marble (2005) | Dimensions: 22h x 5w x 3 ½" d

This elegant Italian white marble sculpture is a rare departure from Oreland Joe's figurative work. He often reduces his figures to simplified lines and shapes to create an almost abstract sculpture while still retaining a recognizable form. In this case, shape and form are the primary components of the piece.

This piece was acquired from the artist at the 84th Annual Indian Market Show & Sale (August 2005) in Santa Fe, New Mexico.

Sacred Mountain Prayer

Artist:

Oreland Joe, Sr., CA (b. 1953)

Description:

Portuguese Marble (2005) | Dimensions: 28"h x 11"w x 8"d

This sculpture is an excellent example of Oreland Joe's technique of combining a figurative motif with a pure sculptural form. The sculpture brilliantly highlights an American Indian woman carved in realistic relief; a basket and ear of corn, also realistically sculpted, are placed at her feet. One of her arms and her hand are shown emerging from a robe that is draped around her body. The robe is highly polished, a compelling contrast to the figure of the woman. It has the feel and look of an obelisk. The impression is that the figure seems to emerge directly out of the smooth stone.

Whirlwind Bust

Artist:

Oreland Joe, Sr., CA (b. 1953)

Description:

Bronze (2002) | Dimensions: 15"h x 9"w x 8"d; Edition #1 of 24

It is not uncommon for sculptors to produce essentially the same work in smaller or larger bronze cast formats and often in different edition sizes as Oreland Joe, Sr. has done with Whirlwind. In this case, the bust was modeled after the larger figure and cast in an edition of 24, just as its predecessor was. It has the same craftsmanship as the larger piece and also uses multiple patinas.

A member of the Cowboy Artists of America, Oreland Joe's work can be found in museums and privately-owned collections worldwide.

Sacred Robe

Artist:

Oreland Joe, Sr., CA (b. 1953)

Description:

Alabaster (1995) | 20"h x 8"w x 6"d

Oreland Joe has a distinct style that distinguishes his sculptures from other artists. He primarily sculpts figures that relate to the traditions, customs, and beliefs of the Native people of the Southwest. Often, as with this sculpture, he presents a single figure that represents those continuing traditions. The Sacred Robe is an alabaster stone sculpture that is simple in form, but also highly nuanced with different colors and textures that show the hand of a master stone sculptor.

New Arrival

Artist:

Oreland Joe, Sr., CA (b. 1953)

Description:

Limestone Sculpture (2003) | 23 ½"h x 35 ½"w x 31 ½"d

Whirlwind

Artist:

Oreland Joe, Sr., CA (b. 1953)

Description:

(2001) | Edition #12 of 24; 15"d x 16"w x 27"h

Untitled

Artist:

Oreland Joe, Sr., CA (b. 1953)

Description:

Belgium Black Marble Sculpture (2001) | 7"d x 10"w x 27"h

Sunrise Blessing

Artist:

Oreland Joe, Sr., CA (b. 1953)

Description:

Limestone Sculpture: (2010) | 17 ½"h x 16"w x 6"d