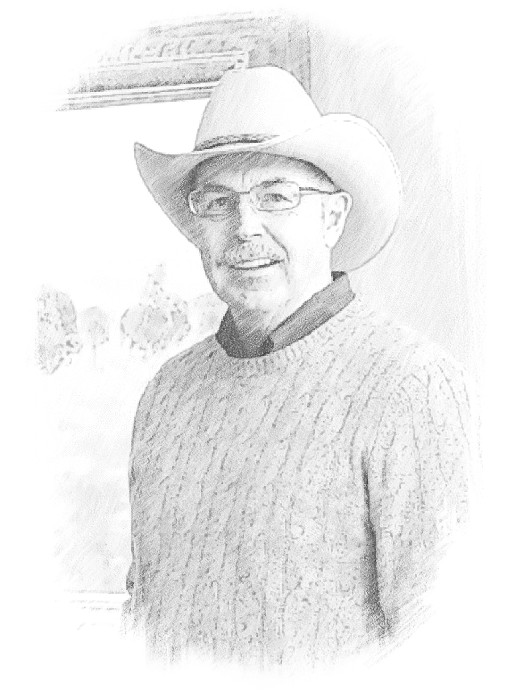 Jim Norton, CA
Jim Norton was born with a paint brush in his hand and a pigeon perched on his shoulder. His teenage years were spent taking art classes and playing high school football and basketball. He spent most of his life in the western states, but claims Wyoming as home, where he is building a cabin studio.
His education in the field of art began as a youngster watching his grandfather, Earl Fausett, paint in his basement studio. Jim continued his art education at Western Wyoming College and Brigham Young University. He has furthered his informal education by traveling to museums in Russia, Canada and the United States.
"If you want to be a great artist, you can learn from the masters themselves and the museums are full of them." Jim was invited to become a member of the Cowboy Artists of America in 1989. At the 2010 CAA show Jim received the Stetson CAA Award for his body of work and a Gold Medal for Oil Painting for The Lifetime.
Source: Cowboy Artists of America
Cheyenne Warrior

Artist:

Jim Norton, CA

Description:

Oil | Image Size: 9"h x 12"w; Framed Size: 17 ¼"h x 20"w

This small, but well done painting is a simple study of a Cheyenne Indian riding across a grass and sage covered landscape that also features small, green scrub trees. The warrior and his horse are shown in realistic detail with precise brushstrokes, while the landscape has been painted quickly with broad brush strokes, which sets up a contrast in both texture and tone. The looser strokes of the landscape tend to sharpen our eye's focus on the Indian shown in traditional attire appropriate to the historical period.

A Shared Fire

Artist:

Jim Norton, CA

Description:

Oil (2007) | Image Size: 36"h x 52"w; Framed Size: 49 ¼"h x 65 ¼"w

Not every story of the historic West was one of conflict. In this evocative painting by Jim Norton, cowboys share their campfire and food with two American Indians who have wandered into camp seeking shelter from the chilly night air. All have gathered around the fire seeking warmth and respite from what was most likely a long day. The fire, which is shielded from the viewer's direct sight line by a cowboy crouched before it, illuminates the scene and casts a shadowy light on the figures around it. The Indians are wrapped in trade blankets, while the cowboys are dressed for work in the saddle. Some of their possessions and tools have been taken from their horses and placed around the fire. The tone of the scene is quiet, almost meditative. The firelight highlights the colors of the figure's clothes and reveals the details of the crew's chuck wagon. The rest of the landscape recedes from the central light source into layers of blues and greys, blending into the night sky that shows a few developing clouds. In this western story, Norton seems to be saying that there are common bonds that can unite, even briefly, the most different cultures.

"A Shared Fire" made its debut at the 2007 CAA Show & Sale held at the Phoenix Art Museum and was subsequently exhibited at the "By the Light of the Moon" Phippen Museum Exhibition in 2017.

Left Behind

Artist:

Jim Norton, CA

Description:

Oil Painting (2005) | Image Size: 24"h x 36"w; Framed Size: 34 ¼"h x 46 ¼"w

This painting is a vibrant and dynamically colored scene of two Plains Indians riding down a forest stream on a brilliant fall afternoon. Sunlight illuminates the two riders and their horses and reveals the rich colors of the surrounding foliage. The light sparkles off the surface of the stream highlighting its movement and depth. The colors of the canvas gently meld together and move from the greenish and yellow tones of the stream in the foreground to a bright band of yellow sunlight that frames the horses, and finally to the golden oranges of the background forest. It is a masterful use of subtle, but distinctive color changes. Norton also employs a subtle storytelling technique by placing a copper pail in the middle of the stream. Its color is so compatible with the surrounding tones that it can easily be missed by the viewer. However, a closer look shows that it has caught the attention of the Indians and that its presence indicates to them that strangers have traveled this way in the not too distant past. In "Left Behind", Norton has painted another masterful story about the changing frontier where settlers and Indians shared the same territory.

Trouble at the Old Homestead

Artist:

Jim Norton, CA

Description:

Oil (2005) | Image Size: 30"h x 46"w; Framed Size: 40.25"h x 56"w

Like many of his predecessors in the field of western art, Jim Norton, in addition to being a highly accomplished artist, is also an excellent storyteller. Here he presents a vignette from the historic West that unfolds before our eyes. In the scene, a settler, rifle in hand, shields his young son from three mounted Indian Warriors. The scene is arranged in a circular format which keeps the impending action at the focal point. Shadows indicate this meeting or possible confrontation is occurring in early afternoon in bright sunlight that gives the various elements of the painting—the figures, building, and surrounding landscape—a sharp relief. The painting conveys a tense drama, which could turn out badly for the participants or could pass without further incident. As a painter, Norton provides all of the visual details of the narrative, as a storyteller, he leaves the rest to the viewer's imagination.

Purchased in 2005 at the Cowboy Artists of America Exhibition & Sale which was held at the Phoenix Art Museum, "Trouble at the Old Homestead" affirms Jim's commitment to authenticity and quality of work.

The Pony Express

Artist:

Jim Norton, CA

Description:

Bronze | 15"h x 10"w x 4"d; Edition #31 of 35

On April 3, 1860, with 80 expert riders, 400 horses, and 190 relay stations the Pony Express began delivering messages, newspapers and mail. Every Wednesday and Saturday, one rider would leave at noon from Sacramento heading east while another would leave at 8:00am from St. Joseph heading west. Riders covered 75 to 100 miles per day, averaging 8 miles per hour. Every 10-12 mile, horses would be exchanged at a relay station. Its payload was 20 pounds and letters were tucked into a Mexican saddle bag, a mochila. When the Transcontinental Telegraph Line was completed on October 21, 1861, the need for the Pony Express was eliminated. As a result, its service ended on November 20, 1861, having covered 591,501 miles and delivered 30,700 pieces of mail.

Indian with Fur Hat and Feathers

Artist:

Jim Norton, CA

Description:

Charcoal | Image Size: 9"w x 12"h; Framed Size: 18.5"w x 21.5"h