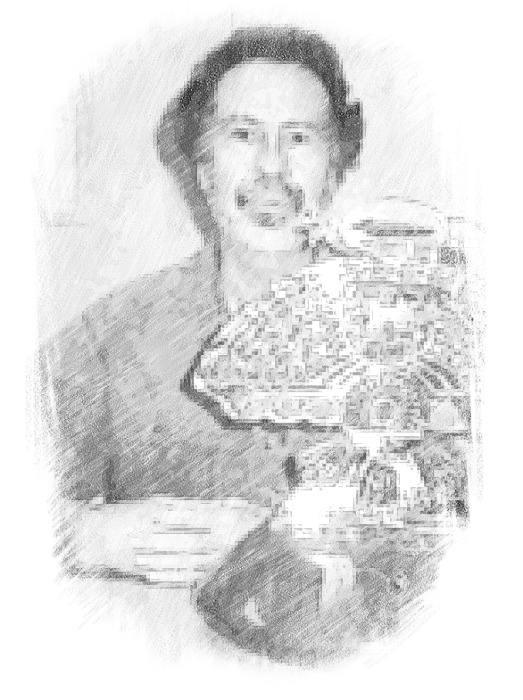 Greg Campbell
(b.1951)
A life-long resident of Arizona, Greg Campbell has been a carpenter for 25 years. He began woodturning in 1978 and became a full-time artist in 2000.
He has been a member of the Arizona Woodturners and American Woodturners Associations since 1986.
Greg has exhibited his works at the Fitchburg Art Museum (Massachusetts); the Nelson Fine Arts Gallery ASU (Tempe, Arizona); the Zelma Basha Salmeri Gallery (Chandler, Arizona); World Golf Hall of Fame (Florida); and Waterford Crystal (Ireland).
Greg has contracted with the Phoenix Thunderbirds to collaborate with Waterford Crystal to design the FBR Golf Trophy since 2000. Arizona State University has also contracted Greg for pieces gifted to visiting dignitaries and members of the Arizona legislature.
Source: Trailside Gallery
Olive Wood Turned Bowl

Artist:

Greg Campbell (b.1951)

Description:

Olive Wood (1997) | Dimensions: 7"h x 12" diameter

Though olive trees have been lauded worldwide for their luscious fruit and the amazing array of products derived from them, woodworking artisans laud it for its beautiful grains, rich color, and strength as well its fruit. Greg Campbell is one of those artisans whose olive wood turned bowls turns heads!

Wood Turned Bowl

Artist:

Greg Campbell (b.1951)

Description:

Mesquite Wood (2000) | Dimensions: 10"h x 10 ½"d

The color variants of mesquite wood range from dark brown with wavy, blackish lines to camel tan. Regardless of color, the grain can vary from straight to wavy, medium to coarse in texture, and is tightly interlocked.

Greg Campbell's bowls embody his native Arizona, evoking the landscape and its history by using fallen local materials, rich colors, and dynamic shapes.

Wood Turned Bowl

Artist:

Greg Campbell (b.1951)

Description:

Ironwood (1995) | Dimensions: 8 ¼"h x 9"d

Wood bowl turner, Greg Campbell, uses fallen trees in his practice. He is often called by a friend who has a friend who has a friend or a cousin that has lost a tree by natural causes or due to a storm. In the Sonoran Desert of the Southwest, Ironwood Trees are considered a cornerstone species because it provides sustenance and shelter for several types of animals and plants. The wood is quite dense and therefore weighs considerably more than one would think.

Campbell elected not to fill the voids nor detract from its ruggedly raw beauty, a wise decision.

Wood Turned Bowl

Artist:

Greg Campbell (b.1951)

Description:

Olive Wood (1996) | Dimensions: 7"h x 8"w

A life-long resident of Arizona, Greg Campbell has been working with wood most of his life, first as a carpenter for 25 years and then began turning wood in 1978. By 2000 he was finally able to become a full-time, professional artist.

"In many cases, it is the history of the wood that makes each piece all the more interesting," says Greg. "My favorite woods to work with are mesquite, African sumac, olive (shown), ironwood, and carob because of their rich colors and grains."

Greg's bowls are recognizable for their undeniable beauty, but they are also recognized for his signature high-gloss finish. Twelve to fourteen coats of tongue oil are applied to each piece, hand rubbed between every coat to create the final glassy appearance. More time is spent finishing each bowl in this way than in the initial cutting and hollowing.

Wood Bowl

Artist:

Greg Campbell (b.1951)

Description:

Mesquite Wood (1996) | Dimensions: 9"h x 8"w

Greg Campbell's Mesquite wood turned bowl inspired us to learn more about mesquite in general and found the following and more at WOOD Magazine.

"In the eyes of Native Americans, the mesquite tree of the Southwest represented both shade and sustenance. The tree's sugar-rich bean pods furnished food and drink. Its sap became black dye, gum, and medicine. And sewing needles were made from its sharp thorns. The tribes relied on mesquite wood, too, for fuel, arrows, lodge frames, and even plowshares. Later, pioneer hands worked mesquite into timbers, railroad ties, fence posts, wagon wheels, and sturdy rustic furniture. In the late 1800s, citizens of San Antonio paved the streets leading to their Texas shrine, the Alamo, with mesquite slabs. In testament to mesquite's durability, remnants of the wood still surface from the activity of street maintenance. While most 20th-century craftsmen equate mesquite with only the barbecue grill, bands of aficionados promote the wood as furniture-class stock. Their efforts have lifted the wood's reputation out of its native land.

Seven species of mesquite cover some 54 million acres of Texas, and parts of Arizona, California, Colorado, Kansas, Nevada, New Mexico, Oklahoma, Utah, and Mexico. Wherever it grows, it's hardy and persistent. In the arid part of its range, you'll see mesquite as more of a shrub than a tree. But in favorable conditions it grows to 50' with a single, but crooked, trunk up to 3' in diameter. Chocolate-colored, furrowed, and scaly bark make mesquite easy to identify. Its wide, spreading canopy made of twisted branches and long, thin leaves may be the only silhouette on an otherwise featureless landscape. Spring through fall, yellowish white flowers appear, followed by bean pods up to 8" long. Sharp thorns are ever present. The wood of mesquite can vary in color from dark brown with wavy, blackish lines to camel tan. Whatever its color, the grain is straight to wavy, medium to coarse in texture, and tightly interlocked. Weighing 45 pounds per cubic foot dry, it's as heavy as hickory and as strong, but even harder."

Wood Turned Bowl

Artist:

Greg Campbell (b.1951)

Description:

Alligator Juniper | Dimensions: 12 ½"h x 15"d

Greg Campbell typically utilizes fallen local materials. Campbell turns his pieces on a wood lathe using a variety of cutting tools. If the wood he is working with is dry, he is able to turn the piece in one sitting. If the wood is wet, the piece is roughly shaped, hollowed out, and allowed to dry for four to eight weeks before the bowl may be turned again.

Campbell often leaves cracks or voids in the wood while others are filled with coffee grinds (for a rustic look) or nuggets of turquoise, malachite, or lapis. His bowls are known for their high-gloss finish. Campbell applies 12 to 14 coats of tongue oil by hand and each is rubbed for the final glassy appearance. This finishing process often takes longer than the turning of the bowl.

Locally, Greg's work can be found at Mark Sublette Medicine Man Gallery in Tucson, Arizona. In addition, Greg's pieces have been featured in the Better Homes and Gardens' Woodcrafters Magazine. He has exhibited at the Fitchburg Art Museum (Massachusetts); the Nelson Fine Arts Gallery ASU (Arizona); World Golf Hall of Fame (Florida); and Waterford Crystal (Ireland). Greg has contracted with the Phoenix Thunderbirds to collaborate with Waterford Crystal to design the FBR Golf Trophy since 2000. And he has turned pieces for ASU which are gifted to visiting dignitaries.

Chinese Pistachio Bowl

Artist:

Greg Campbell (b.1951)

Description:

Wood (1998) | Dimensions: 7"h x 10"d

Isn't this Chinese Pistachio wood turned bowl a beauty?

Greg Campbell has never met a tree he didn't like! Originally a cabinet installer, Greg's passion for trees took an artistic turn when he and a friend signed up for a community class. From that point on, he has been hooked, figuratively, to the lathe. His bowls embody his native Arizona, evoking the landscape and its history through the use of local materials, rich colors, and dynamic shapes.

Greg's bowls are recognizable for their undeniable beauty but they are also recognized for his signature high-gloss finish. Twelve to fourteen coats of tongue oil are applied to each piece and each coat hand rubbed to create the final glassy appearance. More time is spent finishing each bowl in this way than in the initial cutting and hollowing.

One of Greg's pieces was featured in the Better Homes and Gardens' Woodcrafters Magazine. He has exhibited at the Fitchburg Art Museum (Massachusetts); the Nelson Fine Arts Gallery ASU (Arizona); World Golf Hall of Fame (Florida); and Waterford Crystal (Ireland). Greg has contracted with the Phoenix Thunderbirds to collaborate with Waterford Crystal to design the FBR Golf Trophy since 2000. And he has turned pieces for ASU which are gifted to visiting dignitaries.

Wood Turned Bowl

Artist:

Greg Campbell (b.1951)

Description:

Aspen Wood | Dimensions: 7"h x 9"d

Greg Campbell's work utilizes local fallen materials. He turns his pieces on a wood lathe using a variety of tools. If the wood he is working with is dry, he is able to turn the piece in one sitting. If the wood is wet, the piece is roughly shaped, hollowed out, and allowed to dry for four to eight weeks before the bowl can be completed. Campbell often leaves the voids of the wood untouched in his pieces for a natural look while others are filled with coffee grinds for a rustic look, or turquoise, malachite, and lapis for an elegant appearance. His bowls are known for the high-gloss finish which often requires twelve to fourteen coats of tongue oil applied by hand and then rubbed for the polished, glossy exterior. This process can take just as long, or even longer, than turning the bowl depending on its size and shape.

Turned Wood Bowl

Artist:

Greg Campbell (b.1951)

Description:

Ironwood (1996) | 8"h x 7"w

The Ironwood is a hardy legume tree that grows in the Sonoran Desert which is the only place in the world where it occurs. It is notable for its slow growth rate and is extremely dense. In fact, ironwood will sink in water. Often considered an old growth desert tree by scientists, some have been determined to be 800 years old and then some.

The wood for this bowl was harvested from a naturally fallen tree. Campbell shared that it was a difficult turn; wood density presents its own unique set of challenges. Malachite was used in the voids.

Mesquite Bowl with Turquoise Inlay

Artist:

Greg Campbell (b.1951)

Description:

Mesquite Wood (1995) | 9"h x 15"d

In many cases it is "the history of the wood that makes each piece all the more interesting" said Greg Campbell whose favorite woods to work with are mesquite, African sumac, olive, ironwood, and carob because of the rich colors and grains. Greg turns all his pieces on a wood lathe using a variety of cutting tools. Cracks or holes are never a problem. While some are left open in a natural state, others are filled with dried coffee grounds for a rustic appeal or bright nuggets of turquoise, malachite or lapis.

Campbell's bowls are recognizable for their undeniable beauty but are also recognized for his signature high-gloss finish. Twelve to fourteen coats of tongue oil are applied to each piece and each coat hand rubbed to create the final glossy appearance. Often more time is spent on the finish than in the initial cutting and hollowing.

Jacaranda Wood Bowl

Artist:

Greg Campbell (b.1951)

Cherry Wood Bowl

Artist:

Greg Campbell (b.1951)