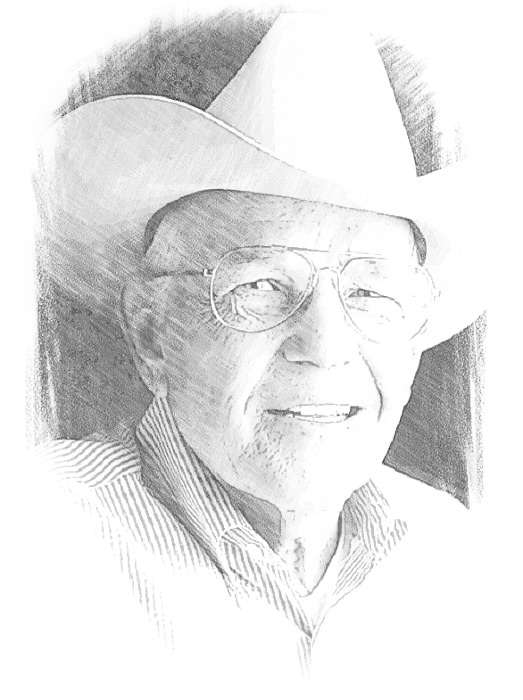 Grant Speed, CA
(1930-2011)
Grant Speed was born in San Antonio, Texas, and spent many of his formative years working as a cowboy.
The Cowboy Artists of America held its first exhibition in 1966 at the National Cowboy Hall of Fame, which is now known as the National Cowboy and Western Heritage Museum in Oklahoma City, Oklahoma. Speed was among the artists to show in that inaugural exhibition and in many ways embodied the very essence of the new organization's purpose and philosophy; the support of "cowboy artists." In the years since that first show, Grant has received countless awards and honors for his work.
After a stint in the Air Force, three years of missionary service, and graduation from Brigham Young University's program in animal science, Speed settled down to raise a family and teach school. After two years, he knew he was in the wrong job. Speed honed his artistic talents at night, on weekends, and whenever he could steal time away from his day job. He learned the process of bronze casting from the ground up because there were no foundries close by. Speed worked diligently in his pursuit of a career in art.
Speed's work captures the essence of the modern working cowboy with a style that he characterizes as "loose realism." His work is full of passion and enthusiasm for his subjects, the medium, and the process.
Source: Cowboy Artist of America
Free Spirit

Artist:

Grant Speed, CA (1930-2011)

Description:

Bronze (1971) | Dimensions:   10"h x 14"w x 11"d

Grant Speed was a master at developing specific characters in his bronze busts. The characters he sculpted seem to have stepped directly out of the pages of novels or historical studies. He also had the ability to put those characters into the context of a story illustrated by his small vignettes on the

base of the sculpture. "Free Spirit" is one such bronze. In this case, however, the vignette isn't as implicit as others. Here, the viewer has been enticed with creating the narrative. Speed provided the essentials; the free spirit astride his mount trailed

by two pack mules.

Scoutin' the Enemy

Artist:

Grant Speed, CA (1930-2011)

Description:

Bronze (1996) | Dimensions: 14"h x 9"w x 9"d; Edition #3 of 30

Grant Speed's "Scoutin' the Enemy" appears in the book entitled "Cowboy Artists of America" authored by Michael Duty and published by Greenwich Workshop in 2002. In it, Duty wrote: "The CAA held its first exhibition in 1966 at the National Cowboy & Western Heritage Museum. Speed was among the artists to show in that inaugural exhibition and, in many ways, he embodied the very essence of the new organization's purpose and philosophy-the support of "cowboy artists." Speed was born in San Antonio and spent many of his formative years working as a cowboy.

After a stint in the air force, three years of missionary service and graduation from Brigham Young University's program in animal science, Speed settled down to raise a family and teach school. After two years he knew he was in the wrong job. "I really wanted to be the world's best cowboy. Yet every time I got a chance to be around any kind of Western art, I couldn't stop reading about it, looking at it, and studying it." He decided that "I was going to give art everything I had in me." Speed honed his talents at night, weekends and whenever he could steal time away from his day job. He learned the process of bronze casting from the ground up because there were no foundries close by. Speed worked diligently in his pursuit of a career in art.

Speed's work captures the essence of the modern working cowboy with a style that he characterizes as "loose realism" His work is full of passion and enthusiasm for his subjects, the medium, and the process—although he readily admits that "sometimes I'd really rather be cowboying!""

Chilled to the Bone

Artist:

Grant Speed, CA (1930-2011)

Description:

Bronze (1993) | Dimensions: 13"h x 12"w x 12"d; Edition #21 of 30

Grant Speed's bronze busts exude his consummate skill at capturing the personalities and characters of his subjects. Some of his bronzes are really two works of art in one as the larger is often complemented by a small vignette that amplifies the story implied by the larger figure and/or its title. Here, in "Chilled to the Bone", the cowboy is cupping his hands as one does just before blowing a warm breath into them substantiating not only the title but the veracity of the moment.

A Heck of a Hand

Artist:

Grant Speed, CA (1930-2011)

Description:

Bronze (2004) | Dimensions: 13"h x 12"w x 10"d; Edition #20 of 30

Regardless of the avocation, it's always the dedication to family, friends, community and colleagues that sets her apart as "A Heck of a Hand". Thank you to all women who make history each and every day whether it's in or out of the home; nine times out of ten you're doing both … well done!

The Powder Monkey

Artist:

Grant Speed, CA (1930-2011)

Description:

Bronze (1978) | Dimensions: 13"h x 9"w x 8"d; Edition #10 of 10

Originally, the term "powder boy or powder monkey" was given to young seamen, often only a mere 12 to 14 years old, who were chosen for the job of transporting gunpowder in a ship's hold to the artillery pieces on the deck. Selected for the position due to their agility, speed and height; the shorter the boy the more easily they could move in the limited space between decks and could hide behind a ship's gunwale which kept them from being shot by the enemy. The position as well as the term stuck as more battles were fought on land. And when laying track for the transcontinental railroad began, the terrain and higher elevations often required blasting to either tunnel or level the ground where track was to be laid. Once gain the need for the physical attributes of agility, speed, and height were in demand and those that fit the job description were also called a "powder monkey".

Grant Speed's work captures the essence of his subjects with a style that he described as loose realism. As a keen observer of humanity and a student of history, Speed had a knack for recognizing characteristics that defined a person whether historic or modern. And though he created his subjects from his imagination, like a novelist or movie director, he gave each fictional character a depth of humanity that makes them credible. His work is full of passion and enthusiasm for his subjects, the medium, and the process. Many of his bronzes are really two works of art in one with the large bust complemented by a small vignette that amplifies the story implied by the larger figure.

The Powder Monkey

Artist:

Grant Speed, CA (1930-2011)

Description:

Bronze (1979) | Dimensions: 16"h x 14"w x 12"d; Edition #4 of 30

Originally, the term "powder boy or powder monkey" was given to young seamen, often only a mere 12 to 14 years old, who were chosen for the job of transporting gunpowder in a ship's hold to the artillery pieces on the deck. Selected for the position due to their agility, speed and height; the shorter the boy the more easily they could move in the limited space between decks and could hide behind a ship's gunwale which kept them from being shot by the enemy. The position as well as the term stuck as more battles were fought on land. And when laying track for the transcontinental railroad began, the terrain and higher elevations often required blasting to either tunnel or level the ground where track was to be laid. Once gain the need for the physical attributes of agility, speed, and height were in demand and those that fit the job description were also called a "powder monkey".

Grant Speed's work captures the essence of his subjects with a style that he described as loose realism. As a keen observer of humanity and a student of history, Speed had a knack for recognizing characteristics that defined a person whether historic or modern. And though he created his subjects from his imagination, like a novelist or movie director, he gave each fictional character a depth of humanity that makes them credible. His work is full of passion and enthusiasm for his subjects, the medium, and the process. Many of his bronzes are really two works of art in one with the large bust complemented by a small vignette that amplifies the story implied by the larger figure.

The Lone Defender

Artist:

Grant Speed, CA (1930-2011)

Description:

Bronze (1999) | 16 ¼"h x 7 ¼"w x 11"d; Edition #29 of 30

As the country developed and expanded westward, women were often present in the middle of a battle when villages, homesteads, and wagon trains came under attack by outlaws, Indians, and renegade military bands. Women often rode astride a saddle and in an emergency, whether wearing full or split skirts, might have had to get on a horse quickly and fight back.

Attackers would try to split up groups of defenders to make them easier to control, capture or kill. Under those extreme circumstances, many women showed great courage, fought well and won battles.

This lone defender is feminine, warm, gentle and sensitive. But when needed, she has the resolve to put her life in danger to meet the challenges of the frontier. When isolated she is intent and sternly determined not to be a victim in the fight and will do what she must to defend herself, her family and others.

Trouble Comin'

Artist:

Grant Speed, CA (1930-2011)

Description:

Bronze

A spirited colt or a filly isn't an anomaly, but rather the norm. They are filled with energy, exuberance, and playfulness; much like a toddler but with a whole lot more power. Grant Speed has captured the spirited animal perfectly in his bronze entitled "Trouble Comin'."

Whether equine, bovine or human, Speed was adept at conveying his subject's essence as evidenced in his body of work. One such heroically-sized sculpture does just that and it resides at the West Texas Walk of Fame in Lubbock, Texas. It is of none other than legendary rock 'n roll singer and songwriter Buddy Holly.

Almost Home from the War

Artist:

Grant Speed, CA (1930-2011)

Description:

Bronze (1977)| 12"h x 12"w x 8"d

In Grant Speed's bronze "Almost Home from the War" the smaller figure is a soldier returning home while the larger bust is of the soldier's spouse whom he is returning to. Reminding us to honor all those who have gallantly served at home and abroad, and we honor the sacrifices of their loved ones as well.

One Who Lived to Tell It

Artist:

Grant Speed, CA (1930-2011)

Description:

Bronze (1977) | 14"h x 10"w x 9"d; Edition #2 of 30

Sometimes titles reveal much about a work of art. In this case, "One Who Lived to Tell It" effectively ties into the story that this frontier character would surely have shared with others. Grant Speed's highly detailed and evocative sculpture allows the viewer to imagine just what that tale would be!

Squaw Man

Artist:

Grant Speed, CA (1930-2011)

Description:

Bronze (1974) | 10" x 12" x 14"; Edition #30 of 30

The Boss is a Lady

Artist:

Grant Speed, CA (1930-2011)

Description:

Bronze (1995) | 10" X 14" X 15.5"h

In a Howling Dust Storm

Artist:

Grant Speed, CA (1930-2011)

Description:

Bronze (1992) | 12" x 13" x 14"; Edition #21 of 30