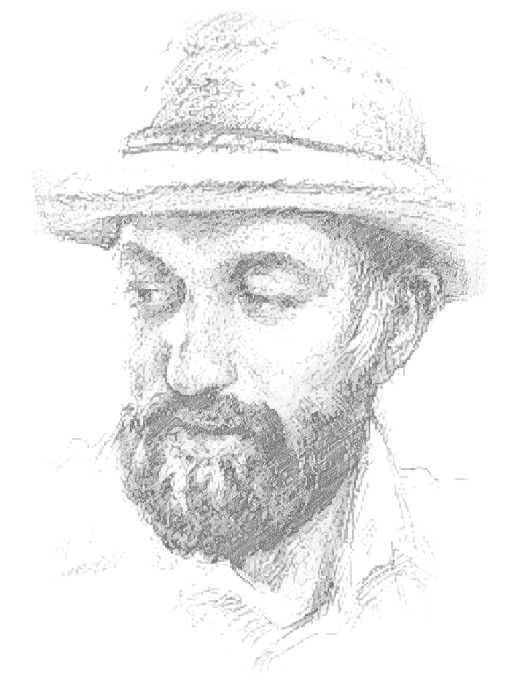 Ed Fraughton
Born and raised in Utah, Edward J. Fraughton became interested in art, especially sculpture, at an early age. He remembers carefully studying the design and form of his toy horses and soldiers when he was a child, finding that both sides of each figure were mirror images of each other with a seam line running between.
When he was in the fourth grade, he began drawing buildings and other objects he saw every day, winning the 1949 Milton Bradley Company's "America the Beautiful" Crayon Art Competition with a depiction of a local Victorian-era train station. He credits his teacher at Marsac Elementary in Park City, Alene Gibbons, with recognizing and fostering his talents. He also notes that his mother, Clara, and his stepfather, Charles "Zip" C. Nelson, encouraged his early artistic interests.
Following his childhood success, Fraughton attended the University of Utah to study civil engineering in hopes of becoming a sculptor of monumental works. He felt that taking classes in geometry, math and engineering would help him in the casting and armature building processes. While at the University, he also took classes in drawing and sculpture with Professor Ed Maryon and Dr. Avard Fairbanks and counts these men as influential in shaping his development as an artist.
Today Fraughton works to create sculpture that is both monumental in scale and that inspires its viewer to move around it, experiencing it from many different angles. He most often creates images based on wildlife and heroic historical subjects, and although he is talented at drawing, he prefers to remain a sculptor only.
About his work, he says, "My quest as a sculptor has been to sculpt a three-dimensional design. Sculpture should never be designed from a narrow point of view. The best sculpture makes you move around it. A painter directs your eye from one part of the picture to another, the sculptor surrounds it."
In addition to his many commissions throughout the United States, including the Mormon Battalion Monument in San Diego, California's Presidio Park, and the Spirit of Wyoming in Cheyenne, Fraughton is a founding member of the National Academy of Western Art and a longtime member of the National Sculpture Society and the Society of Animal Artists. He has exhibited throughout the United States at such venues as the White House in Washington, D.C., and at the Prix de West.
Source: Edward J. Fraughton
Where the Trail Ends

Artist:

Ed Fraughton

Description:

Bronze (1973) | Dimensions: 15"h x 29"w x 24"d

""Where Trails End" was the most significant single piece of my work in my early career as it introduced my work and my name into the collector market. Although a number of other works preceded this one, in 1973 it won the first Gold Medal for Sculpture in the then newly formed National Academy of Western Art (NAWA). This exhibit took place at the National Cowboy & Western Heritage Museum (Oklahoma City OK).

Many stories are associated with this work. In the beginning, people either loved or hated it. As an example, when the piece was first exhibited, two individuals commented as they walked past. The first said, "Boy, I'd hate to have to live with that thing in my house." The other responded, "Why?" To that, the first said, "It's just so cold, so depressing." Uninhibited with excitement, the second gestured wildly and growled, "Yea, but that's what is so great about it."

When Ronald Reagan was Governor of California, he saw the piece and fell in love with it. When he became President, a friend loaned him the bronze which the President kept in his private office during the eight years of his Presidency. I hope this piece speaks for itself."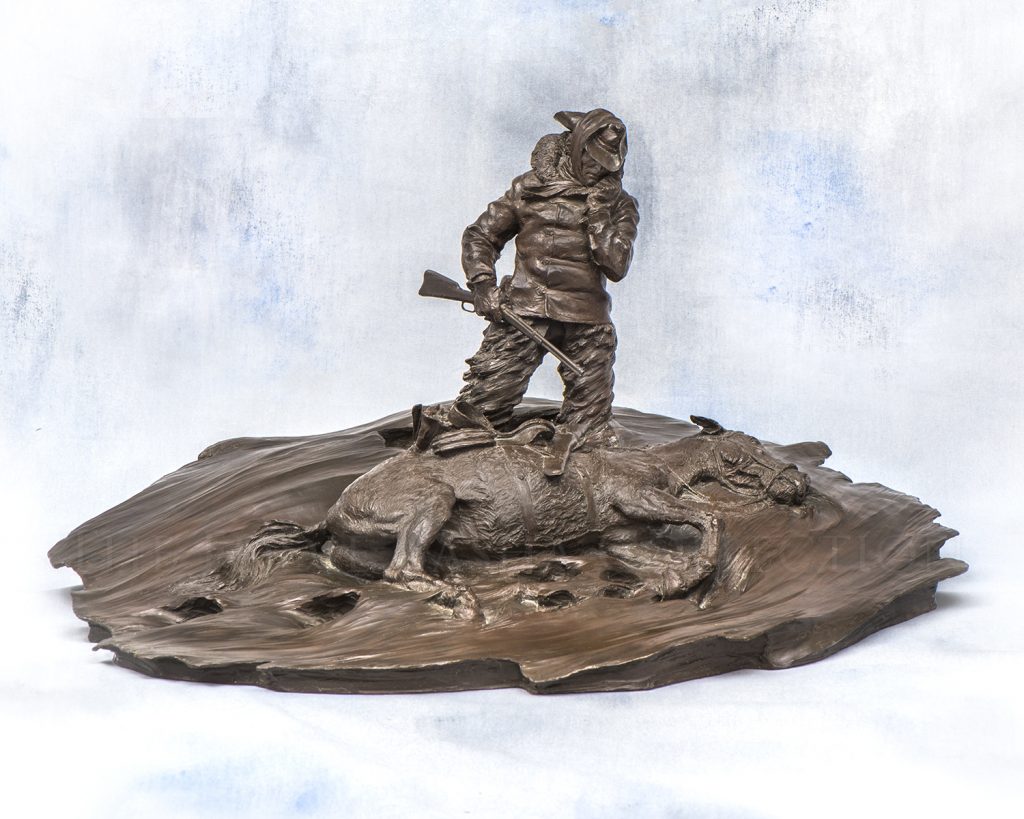 Bronze (1973) | Dimensions: 15"h x 29"w x 24"d

""Where Trails End" was the most significant single piece of my work in my early career as it introduced my work and my name into the collector market. Although a number of other works preceded this one, in 1973 it won the first Gold Medal for Sculpture in the then newly formed National Academy of Western Art (NAWA). This exhibit took place at the National Cowboy & Western Heritage Museum (Oklahoma City OK).



Many stories are associated with this work. In the beginning, people either loved or hated it. As an example, when the piece was first exhibited, two individuals commented as they walked past. The first said, "Boy, I'd hate to have to live with that thing in my house." The other responded, "Why?" To that, the first said, "It's just so cold, so depressing." Uninhibited with excitement, the second gestured wildly and growled, "Yea, but that's what is so great about it."



When Ronald Reagan was Governor of California, he saw the piece and fell in love with it. When he became President, a friend loaned him the bronze which the President kept in his private office during the eight years of his Presidency. I hope this piece speaks for itself."