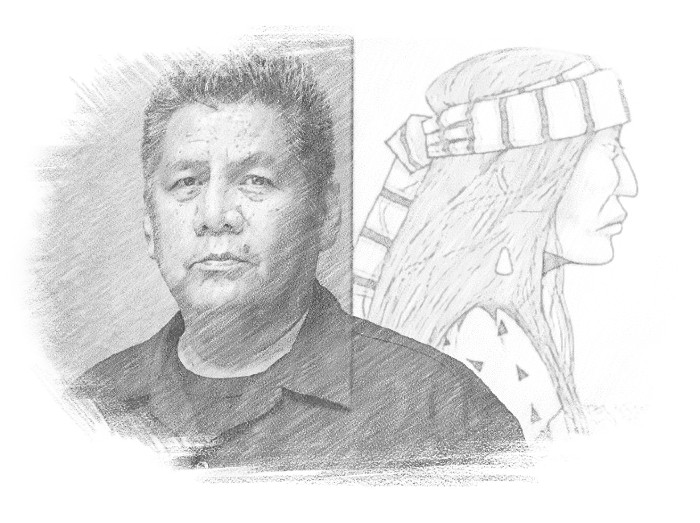 Douglas Miles
Douglas Miles was born and raised in Phoenix, Arizona, and currently lives on the San Carlos Apache Indian Reservation.  In addition to being a painter, Miles is also a poet and an actor.  Working mainly in ink, colored pencil and acrylic, he is known for his contemporary Apache depictions.  Influenced by the simple lines of Japanese animation art and wood block prints, Doug has applied it to his work.  Miles is one of a few nationally recognized Apache artists.
With themes that cover tradition as well as modernity, Miles focuses mostly on Apache warriors, dancers and musicians.  The warrior is an important image in Apache history and Miles believes that their greatness is not completely realized by our country and at times forgotten, even amongst the Apache. Through these images, he hopes to instill not only a sense of pride and empowerment, but to reignite that same leadership, strength and endurance exhibited by the remarkable Apache warriors.  Since youth typically respond to art that they can relate to, Miles sometimes adds the names of important chiefs and warriors to his work – as graffiti.  The graffiti element has accorded him an effective tool in his community outreach efforts.  He developed Apache Skateboards, a program designed to support the athleticism of skateboarding that emulates the strength, endurance and tenacity of warriors.  Since its original inception, the program has expanded beyond athleticism to include the arts, education, political awareness and empowerment.    
Miles' images musicians and dancers are a reflection of his love of music.  He studies album cover art and movie posters since they have an immediate impact on the viewer, also one of his goals.  He showcases the significance of music in Apache culture through song, instrument, dance and color.   
Doug also likes to portray youth in today's garb. "It's young men and women coming of age, looking for a place and identity in the world."  And his large scale, outdoor murals depicting a regional community's identity or his continuing empowerment message of American Indians have proliferated beyond Arizona.   
Douglas Miles' work can be found in museums and private collections worldwide.
Baby and Blanket

Artist:

Douglas Miles (b. 1963)

Description:

Prismacolor, Pen & Ink, Acrylic on Paper (1997) | Image Size: 21"h x 15"w; Framed Size: 33"h x 25 ½"w

Cradleboards, most often were used by indigenous peoples, provided protection for the infant and freed up the mother's hands so that she might continue to perform her daily tasks. While some practices are culturally specific such as the use of a cradleboard, gifting a blanket in honor of a birth is quite universal.

The Sound of a Heart

Artist:

Douglas Miles (b. 1963)

Description:

Prismacolor, pen & ink, acrylic on paper (1996) | Image Size: 18"h x 26"w; Framed Size: 29 ¼"h X 36 ¼"w

The sounds of peace come when the troubled sounds of heart and soul have arrested and recuperated. It's not always easy nor permanent; after all we are works in progress.

In May 2022, a month after the "Desert Rider" exhibition opened at the Phoenix Art Museum (April 22-Sept. 18, 2022), Southwest Contemporary Magazine's article "Work in Progress with Douglas Miles" further explains where Miles is at in life, his career, his community service efforts on the San Carlos Apache Indian Reservation, and his commitment to social justice reforms and calling out misconceptions about Indigenous cultures and contemporary life.

The Sound of Peace

Artist:

Douglas Miles (b. 1963)

Description:

Prismacolor, pen & ink, acrylic on paper (1997) | Image Size: Image Size: 30"h x 20"w; Framed Size: 40 ¼"h x 30 ¼"w

The Sound of a Soul

Artist:

Douglas Miles (b. 1963)

Description:

Prismacolor, pen & ink, acrylic on paper (1997) | Image Size: 18"h x 26"w; Framed Size: 29 ¼"h x 36 ¼"w

Apache Brothers

Artist:

Douglas Miles (b. 1963)

Description:

Prismacolor, pen & ink; acrylic on paper (1996) | Image Size: 27"h x 22"w; Framed Size: 34 1/8"h x 29 1/8"w

For several years, Miles scope as well as body of work has expanded exponentially including film making, large scale murals, photography, and outreach efforts with an emphasis placed on empowerment. "The warrior is an important image in Apache history and their greatness is at times forgotten, even amongst the Apache. I hope to reignite the strength, endurance, leadership and tenacity of the warriors of the past thru art, education and political awareness in all communities," shared Miles.

"Apache Brothers" in prismacolor by Doug Miles took home the First Place Ribbon in the Class III-Division A-Category 1802 at the 75th Annual Santa Fe Indian Market in August 1996. The original masterwork is displayed at The EBC while a reproduction on canvas is displayed at the Bashas' Store in Whiteriver, Arizona.

He'z Gaan Dancin II

Artist:

Douglas Miles (b. 1963)

Description:

Prismacolor, pen & ink, acrylic on paper (1994) | Image Size: 28"h X 20"w; Framed Size: 39 ¼"h x 30 ¼"w

We're still celebrating National Native American Heritage Month

today with Apache artist Douglas Miles' "He'z Gaan Dancin II"…we're lovin' the play on words.

Apache Warriors

Artist:

Douglas Miles (b. 1963)

Description:

Pencil (1999) | Image Size: 29 ¼"h x 21 ¼"w; Framed Size: 43"h x 35"w

Apache Warriors

Artist:

Douglas Miles (b. 1963)

Description:

Pencil (1999) | Image Size: 29 ¼"h x 21 ¼"w; Framed Size: 43"h x 35"w

The pair of Apache warrior pencil drawings by Douglas Miles flank The Eddie Basha Collection gallery entrance. We like to think they are our protectors.

Apache Music

Artist:

Douglas Miles (b. 1963)

Description:

Prismacolor (1994) | Image Size: 26"h x 20"w; Framed Size: 32 ¼"h x 25 ¼"w

The languages of art and music are universal, complementary and expressed in myriad ways.

Four Apache Crown Dancers

Artist:

Douglas Miles (b. 1963)

Three Modern Apache

Artist:

Douglas Miles (b. 1963)

Mural

Artist:

Douglas Miles (b. 1963)