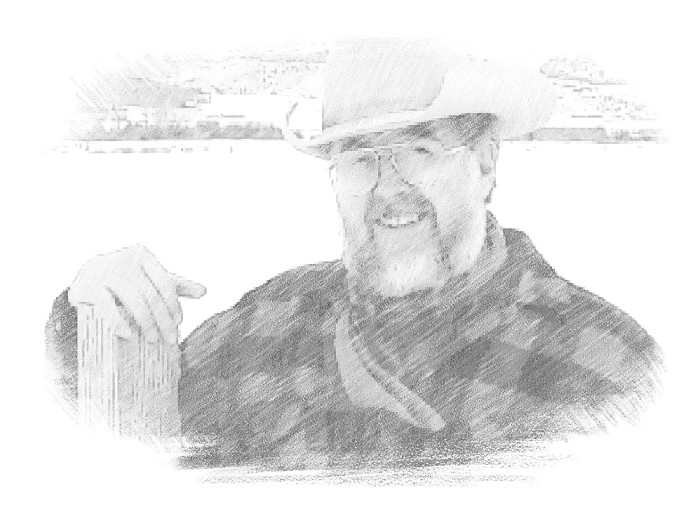 Clark Kelley Price, CA
(b. 1945)
Clark K. Price was born in Idaho Falls, Idaho in 1945. As a child he loved to draw and even his earliest artistic efforts told a story. His parents, Rex and Kathryn Price, recognized his talent and encouraged him to use it. He received his formal education from Ricks College and Brigham Young University, with a Bachelor of Arts degree in oil painting. His love of the West, both modern and historical, and his life experiences have been his greatest resources in developing his talent.
He spent his early years living in a log cabin that his parents had built in Montana. Surrounded by nature, Clark developed an appreciation for the land, as well as an ability to observe the kinds of details many overlook. He has been able to call upon his observations and experiences to create the art for which he has become known.
Clark worked on various ranches since his teenage years, giving him a feel for and an appreciation of the cowboy life. His experiences with his own horses during the past 30 years, packing and hunting in the mountains of Idaho and Wyoming, add to the authentic flavor of his work.
Each of Clark's paintings tell a unique story and his work is often compared to that of master Western artists.
He has participated in the Jackson Hole Art Auction and the C.M. Russell Art Auction, as well as the Masters of the American West Fine Art Exhibition and Sale at the Autry National Center. Clark has twice been selected for the Arts for the Parks Top 100 in Jackson, Wyoming, winning the historical award one year. His art also has appeared in several books and magazines.
Since 1973 Clark has been a full-time artist and his work can be found in private collections in the United States and abroad. He is represented by Trailside Galleries in Jackson, Wyoming, and Scottsdale, Arizona. He and his wife, Irene, raised seven children. Clark resides in Star Valley, Wyoming.
Source: Cowboy Artists of America
The Smell O'Trouble

Artist:

Clark Kelley Price, CA (b. 1945)

Description:

Oil (2009) | Image Size: 24"h x 36"w; Framed Size: 34 5/8"h x 46 3/4"w

If engagement is the heART of storytelling, Clark Kelley Price doesn't disappoint. He has affected that which comes naturally to us all… our senses of sight, touch, hearing, taste and smell.

As he inconspicuously waters his horse in this bustling town, the watchful eye of the leery lawman cautiously gazes upon the three riders entering behind the Wells Fargo Stage, especially when he observes their sideway glances as they pass by the bank. While the cooler tones of the shadowed foreground permit us to safely scrutinize the newcomers behind the sheriff's protection, the bright sunlight accentuating the warm colors establishes the hot spot for our attention and "The Smell O' Trouble."

Not Perty, But a Catch

Artist:

Clark Kelley Price, CA (b. 1945)

Description:

Oil | Image Size: 18"h x 24"w; Framed Size: 25 ¾"h x 31 ¾"w

Clark Kelley Price is dedicated to both the reality and idea of the American West. Raised in an Idaho cabin that his parents built, he has long been a student of western history. Painting since 1973, Clark was elected to the Cowboy Artists of America in 2004. He is a Brigham Young University graduate.

Clark Kelley Price shows his skill in depicting a popular motif in western art, cowboys roping steers. Here, two cowboys are chasing cows across a rough, sage and grass covered terrain. One of the cowboys is shown mid-catch, an action that is captured in bright sunlight. The scene is full of engagement and drama that highlights the fast and sometimes dangerous work cowboys are faced with on a daily basis. Price handles all of the various elements of the painting, from the landscape to the lighting, to the action and the subjects with confidence and dexterity.

Home are the Hunters

Artist:

Clark Kelley Price, CA (b. 1945)

Description:

Oil | Image Size: 18"h x 24"w; Framed Size: 27"h x 33 ½"w

"Clark Kelley Price is a traditional oil painter of cowboys, wildlife, early Western trappers and Indians. He was raised in Montana and Idaho where he was often around the elk, deer and moose that are found in many of his works. He states, "I've always loved to draw since my earliest recollections. Growing up in the West, my subjects were often wild animals, horses and cowboys. I first remember seeing the paintings of Charlie Russell in a big book in an Idaho Falls bookstore when I was about 13 years old and I was mesmerized the works. That's when I fell in love with Western Art." Price was also inspired by Remington, Harold Van Schmit, John Clymer, Charlie Dye, George Phippen, Joe Beeler and Bill."

In addition to being skilled in the physical aspects of drawing, composition, color sense and perspective, he brings to his paintings another more elusive ingredient. This vital ingredient comes from his heart and his mind, rather than from his eye or his hand. It has to do with his feeling and dedication to the spirit of the Old West. He says, "Detail is relatively important to me, but is secondary to the 'mood.' Life and circumstances create so many moods that I am captivated by." Price is also fascinated by "the way light and shadow patterns occur in various conditions in nature," challenging him to capture the essence of it."

Cold Wet Back

Artist:

Clark Kelley Price, CA (b. 1945)

Description:

Oil | Image Size: 16"h x 20"w; Framed Size: 23.25"h x 27.5"w

This brightly colored and sunlit cowboy in his yellow slicker shown saddling his horse as rain clouds roll across the sky is well done in all facets. The cowboy and horse positioned in the center of the canvas command our attention. Small details such as the white breath of both horse and rider, the wind blowing the horse's tail and the verdant landscape add to its authenticity in what appears to be a cold, wet day.