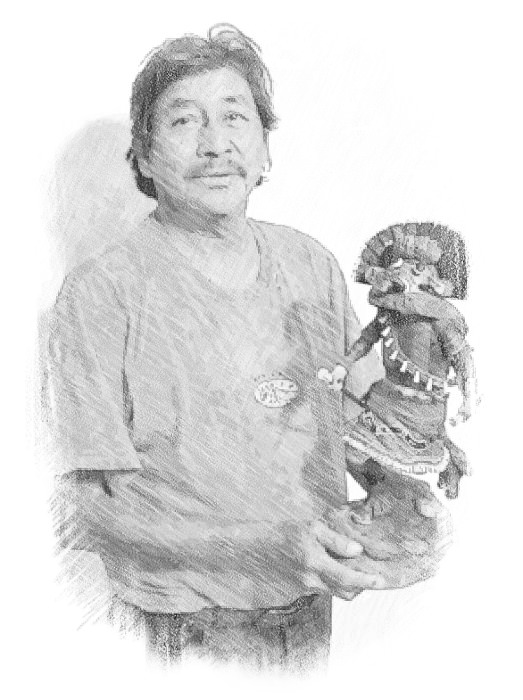 Cecil Calnimptewa, Jr.
(b. 1950)
Residence: Tuba City, Arizona
Cecil Calnimptewa is a katsina carver who gives freely of his knowledge, skill and time to anyone who respects these fine qualities in him.  A master teacher who for some years has guided his relatives, extended family, friends and those interested in learning the skills and techniques necessary for the genre.  This includes the use of power tools, the X-Acto knife, stains and oil paints and disseminating his style of realism in body structure and action. However, every one of his disciples is also provided the necessary tools to extrapolate from these basics in order to develop his or her particular style.  Cecil's, on the other hand, remains uniquely his own and any keen observer can recognize his dolls immediately. His carving style is particularly expressive.
Cecil's technique has changed considerably over the years.  Until 1975, he used the traditionally applied white wash under acrylic paints.  However, when Bruce McGee, third generation Indian art trader and currently VP of Heard Museum Retail Sales, encouraged him to carve the feathers on Kwaakatsina (Eagle) katsina in lieu of real feathers, Cecil switched to a wood preserver under the acrylic paints.  On other dolls, except for his Kwaakatsina dolls, Cecil continued the use of applying feathers of non-endangered bird species, yarns, cloth and small metal balls until 1980.  Then, again encouraged by Bruce McGee, he began carving the feathers, clothing and other paraphernalia directly into the wood.  He soon mastered this challenge and went on to create very realistic representations of katsinam. He also went from using preserver to a true stain under the paints but found that water-based acrylics do not adhere well to an oil-based stain.  In 1982 he solved the problem by switching to oil paints.  This method with its extended drying period hindered the process.  Alkyd, an oil paint, came on the market in 1983 and was welcomed by Cecil and many other carvers.  In 1987, Dennis Tewa (d. 2013), his cousin and carver, made Cecil aware of yet another German made oil paint that could be diluted with water, was easier to apply, dried faster and adhered well to the oil-based stain underneath.
A few years following, Cecil experimented with a dremel tool that had the potential to speed up the process considerably.  The dremel tool had found its way into kachina-doll carving before 1982, but it was used only to make fine lines on bird feathers.  Cecil extended its use into a greater variety of applications and now surpasses any other carver in handling it.
Cecil is a master in the surface treatment of wood, creating a multitude of different textures that give realistic appearance and feel.  All of his katsinam are exquisitely and expertly sculpted.  He has received numerous honors, awards and recognition throughout his career and his masterworks can be found in museums and institutions worldwide and in private collections alike.
Unable to carve for an extended period of time, Cecil utilized and explored the depths of his culture and practices, and embarked upon a series of colored-pencil drawn images documenting as many of the over 400 katsinam that are recognized by the Hopi.
Unknown Title

Artist:

Cecil Calnimptewa, Jr. (b. 1950)

Description:

Colored Pencil | Image Size: 14"h x 11"w; Framed Size: 19"h x 15 1/2"w

More so known for his Hopi katsina carvings, Cecil Calnimptewa has blessed us with over 100 of his drawings. The timing seemed just right to share this drawing of a flag waving katsina dancer.

Koyona (Turkey) Katsina

Artist:

Cecil Calnimptewa, Jr. (b. 1950)

Description:

Cottonwood Tree Root | Dimensions:  13"h x 18"w x 10"d

The Koyona or Turkey katsina hails from the Hopi Tribe's First Mesa and is somewhat of a rarity as it only dances at night in the kiva with other birds

or in the Spring during the Mixed Dances. The Hopi people have learned hunting and healing skills from animals; hence they are also thought of as advisors.

Cecil Calnimptewa's Koyona appears on page 85 of the book entitled "The Kachina Dolls of Cecil Calnimptewa: Their Power – Their Splendor" by Theda Bassman.

White Bear "Hon" Katsina

Artist:

Cecil Calnimptewa, Jr. (b. 1950)

Description:

Cottonwood Tree Root | Dimensions: 17"h x 8"w x 7"d

The "Hon" or bear katsina typically appear during the Spring at the Soyohim or Mixed Dances. It is thought of as a great warrior with the capacity to cure illnesses; a bear's claw is a symbol of its power and strength. Its most distinguishing feature is its color.   

Here, Cecil Calnimptewa featured a white bear with two sashes adorned with jingle cones like those adorning the dresses worn by participants at a Jingle Dance. A Jingle Dance is intended as a prayer for healing purposes.

Wupomo (Long-billed katsina drawing)

Artist:

Cecil Calnimptewa, Jr. (b. 1950)

Description:

Colored Pencil | Image Size: 14"h x 11"w; Framed Size: 19"h x 15 1/2"w

The Wupomo katsina stands guard at the kiva during Hopi secret ceremonies. In 1991, Cecil Calnimptewa won 1st Place at Santa Fe Indian Market for this cottonwood tree root carving. A photograph of it is depicted in the book entitled "The Kachina Dolls of Cecil Calnimptewa – Their Power – Their Splendor" by Theda Bassman on page 76. Subsequently, Calnimptewa drew the image of the guard in colored pencil. By pairing the two depictions in the image shown here, Calnimptewa's artistic depth is highlighted.

Crow Bride

Artist:

Cecil Calnimptewa, Jr. (b. 1950)

Description:

Cottonwood Tree Root | Katsina: 18"h x 8"w x 6"d

Colored Pencil (2006) | Drawing: Image Size: 14"h x 11"w; Framed Size: 19"h x 15 1/2"w

The multi-talented Hopi artist Cecil Calnimptewa has portrayed the Crow Bride katsina in two mediums; a three dimensional carving as well as a colored pencil illustration.

Often confused, the Angwushahai-i (Crow Bride) and Angwusnasomtaqa (Crow Mother) are technically the same katsina, but serve different functions within the Hopi culture. Either way, she is a figure of great dignity.

As Crow Bride, she performs a role apart from her appearance as the Crow Mother. Legend has it that when appearing as Crow Bride she is representative of her journey as a bride and that of a married woman. When she appears at the second dawn east of the village, she moves slowly toward town bearing in her hands a large tray of corn sprouts or meal. Upon entering the village, she pauses and begins to sing in a subdued voice. Once she finishes, she moves calmly onward to another point within the village and again pauses to repeat her performance. At each stop, women of the village come forward to take from her tray and cast a small portion of its contents upon her. Crow Bride's slow progress through the village eventually brings her at full dawn to the place where the kiva chiefs await her. Following the interaction, as Crow Bride makes her way out of the village, she does so metaphorically towards her home in the San Francisco Peaks.

The Hunter and the Bear

Artist:

Cecil Calnimptewa, Jr. (b. 1950)

Description:

Cottonwood Tree Root (1991) | Dimensions: 17"h x 16"w x 15"d

"The Hunter and the Bear" by world renowned Hopi carver, Cecil Calnimptewa, is but just one of the many katsinam the EBC is privileged to share with you. This particular piece won Best of Class, Best of Division and First Place honors at the 1991 Santa Fe Indian Market. The left-handed katsina is called "Suy-ang-e-vif" in the Hopi culture.

In addition, an image of this katsina is also depicted on page 79 of the book entitled "The Kachina Dolls of Cecil Calnimptewa – Their Power – Their Splendor" by Theda Bassman. In its introduction, Bassman explained: "The Hopi live in twelve villages on arid mesas in Northern Arizona. The Hopi believe that they were the first inhabitants of the earth, and are deeply steeped in their religion and traditions. Their spirits, the katsina, come into their villages to perform dances, while making requests to the Gods for rain for their crops and for a better, peaceful world.

From July to February, the katsinam live in the San Francisco Peaks near Flagstaff, Arizona. During the rest of the year they live in the villages and perform dances. The katsinam are not only the spirits of the Hopi but also the intermediaries between the Gods and man.

The katsinam represent the spirits, the dancers represent the katsinam, and the dolls depict what the katsinam look like. The masked dancers believe they assume the spirit of the katsinam when they take on the costume and the dance of the katsina. There are over 300 known katsinam, although occasionally new ones are added and old ones are dropped."

Sun Katsina (Tawa Katsina)

Artist:

Cecil Calnimptewa, Jr. (b. 1950)

Description:

Cottonwood Tree Root | Dimensions: 26"h x 13"w x 12"d

The Tawa or Sunface Katsina is the representation of the sun's spirit as well as hope for sheltering the elderly, a bright future for the young and the sun's light and warmth which is essential for crop growth. The Hopi also use Tawa as a guide during planting season of their life-sustaining crops of corn, beans, melons, squash and others … for without the light and warmth of the sun's rays, all would perish.

Standing on rooftops, Tawa appears with the Morning Singer to welcome the sun rising above the horizon during winter dance ceremonies praying for the Sun's return and during the Mixed Dances celebrating its light and warmth.

Cecil Calnimptewa's carved Tawa's interior face represents the sun's surface and the feathers its rays. Carrying a gourd rattle in his right hand and squash blossom in his left, Tawa wears a beautifully embroidered sash around the waist, bell wraps just below the knee and traditional beaded moccasins.

Mudhead Warrior

Artist:

Cecil Calnimptewa, Jr. (b. 1950)

Description:

Katsina/Cottonwood Root | Dimensions: 19"h x 8"w x 8"d

Often appearing with the clowns, the Warrior Mudhead's (Kipok Koyemsi) purpose at ceremonial gatherings is to hunt the clowns or threaten others for their misbehavior. The first part of its Hopi name, Kipok, translates as "go to battle" or "attacking someone". The Warrior Mudhead have also served in other capacities such as announcers, directors, messengers and tricksters.

Mudhead Warrior

Artist:

Cecil Calnimptewa, Jr. (b. 1950)

Description:

Drawing/Colored Pencil | Image Size: 14"h x 11"w; Framed Size: 19"h x 15 1/2"w

Often appearing with the clowns, the Warrior Mudhead's (Kipok Koyemsi) purpose at ceremonial gatherings is to hunt the clowns or threaten others for their misbehavior. The first part of its Hopi name, Kipok, translates as "go to battle" or "attacking someone". The Warrior Mudhead have also served in other capacities such as announcers, directors, messengers and tricksters.

Lovers Katsina

Artist:

Cecil Calnimptewa, Jr. (b. 1950)

Description:

Cottonwood Root | Dimensions: 14"h x 10"w x 7"d

Hopi style of Auguste Rodin's "The Kiss" - imitation is the sincerest form of flattery!

The Black Ogre's Uncle – Tahaum Soyoka

Artist:

Cecil Calnimptewa, Jr. (b. 1950)

Description:

Katsina/Cottonwood Root | Dimensions: 17"h x 8"w x 7"d

The uncles of the ogre family katsinam teach and enforce good behavior among the children. In the Hopi culture they represent spiritual beings and perform as dancers at annual ceremonies. Typically they appear with large, long snouts and have a hunting bow in one hand while the other carries a saw or knife. Often a hinged mask will make a clacking sound as the katsinam dance about. During the midwinter bean planting ceremony they often visit homes with children demanding food gifts and threaten to return and kidnap or eat the children if the gift is disappointing or the children misbehave. They return at the bean dance ceremony to once again enforce the lessons of good behavior; however, they are subjugated by ceremony's end and return to their caves until the next season.

Blue Corn Maiden (Sakwap Mana)

Artist:

Cecil Calnimptewa, Jr. (b. 1950)

Description:

Cottonwood Root | Dimensions: 14"h x 7"w x 7"d

The legend of Blue Corn Maiden, Sakwap Mana, is that she was the most attractive of the corn maiden sisters. She was loved for her beauty, her spirit, her generosity and for her kindness in providing the corn she brought year round to the pueblo people.

While out gathering firewood one chilly winter's day, she met Winter Katsina who brings the winter to earth. He fell in love with her instantly. He invited her to his home where he then made her a prisoner by blocking the exits with ice, snow and the cold. And though Winter K. was kind to Blue Corn Maiden, she longed to be back amongst the pueblo people.

While Winter K. was out making snow and cold upon the land, Blue Corn Maiden partially unblocked the entryway and immediately began looking for the food and plants she was fond of distributing to the people. However, all she found beneath the snow and the elements were four blades of yucca which she brought back with her to Winter K's home and immediately built a fire. The fire's warmth melted the snow sufficiently so Summer Katsina could enter. He brought with him fresh corn and several yucca blades. Unfortunately, Winter K. also returned wielding an icicle as if it were a knife and an ax-like ice ball. The Katsina, at odds with each other, blew cold and warm air respectively.

When Winter raised his icicle, Summer raised his yucca bundle which caught fire and melted the ice. It was clear the two needed to make peace and resolve their differences. It was agreed that during half the year, the spring and summer months, Blue Corn Maiden would live amongst the pueblo people distributing her corn. And during the second half of the year, fall and winter, she would return to Winter Katsina.

When Blue Corn Maiden returned to the pueblo for the first time, she was heralded as the beacon of springtime.

It is said that once spring has already come and a late winter's storm pounds the earth, it only happens because Winter Katsina is showing his irritation that Blue Corn Maiden has left his dwelling for her six month sabbatical.

Early Morning Singer

Artist:

Cecil Calnimptewa, Jr. (b. 1950)

Description:

Cottonwood Tree Root (Katsina) | 17"h x 9"w x 9"d

At the Bean Planting Festival or Powamu Ceremony typically held in late January or early February, the Early Morning Singer Katsina usually appear holding spruce trees and ringing bells; villagers are awakened by their song. During the main ceremony procession, the Early Morning Singers often stand aside in pairs. And as the day and ceremony progresses, they will lead other katsina in song and occasionally dance.

Once again Hopi katsina carver Cecil Calnimptewa's artistic, visual and cultural insights are at their best!

Eagle "Kwa" and Mud Head Clown "Koyemsi"

Artist:

Cecil Calnimptewa, Jr. (b. 1950)

Description:

Cottonwood Tree Root (Kachina) | 18"h x 26"w

In the book "The Kachina Dolls of Cecil Calnimptewa: Their Power – Their Splendor," Theda Bassman wrote: "The Hopi Indians live in twelve villages on arid mesas in Northern Arizona. The Hopi believe that they were the first inhabitants of the earth, and are deeply steeped in their religion and traditions. Their spirits, the Kachinas, come into their villages to perform dances, while making requests to the Gods for rain for their crops and for a better, peaceful world.

From July to February, the Kachinas live in the San Francisco Peaks near Flagstaff. During the rest of the year they live in the villages and perform dances. The Kachinas are not only the spirits of the Hopi, but also the intermediaries between the Gods and man. The Kachinas represent the spirits, the dancers represent the Kachinas, and the dolls depict what the Kachinas look like. When taking on the costume and the dance, the masked dancers believe they assume the spirit of the Kachinas."

Two Salakos, Cumulus Cloud & Zuni

Artist:

Cecil Calnimptewa, Jr. (b. 1950)

Description:

Cottonwood Tree Root (Hopi Katsina) | 10" x 11" x 27"

Many of Cecil Calnimptewa's carving skills are revealed in his sculptures particularly in his ability to posture and position katsina dancers accurately reflecting intricate movement. An inventive artist whose work also reveals the depth of his knowledge of Hopi culture and religion. Normally carving using the root of the cottonwood tree, Cecil pays particular attention to the finer details such as feathers which he considers to be one of his areas of expertise. His work draws upon traditional methods, but also brings an added dimension and sculptural quality especially when creating very large and complicated carvings such as seen here in "Two Salakos." The award winning art of Cecil Calnimptewa can be found in numerous private collections worldwide, at the Heard Museum and at the Museum of Northern Arizona.

Piggyback Clowns

Artist:

Cecil Calnimptewa, Jr. (b. 1950)

Description:

Hopi Katsina | 6"d x 11"h x 12"w

Saviki

Artist:

Cecil Calnimptewa, Jr. (b. 1950)

Saviki (Drawing)

Artist:

Cecil Calnimptewa, Jr. (b. 1950)

Eagle (Kwaakatsina) Katsina and Two Mud Head Clowns

Artist:

Cecil Calnimptewa, Jr. (b. 1950)

Description:

Cottonwood Tree Root (Hopi Katsina) | 20" x 21" x 25"