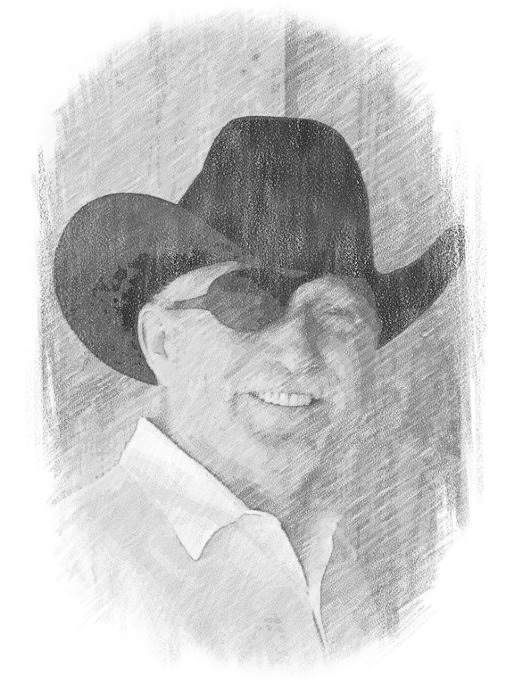 Bill Owen, CA
(1942 – 2013)
Bill Owen, born and raised in Arizona, his mother an artist — his father a cowboy, it isn't any wonder that he became a legendary member of the Cowboy Artists of America in 1973 and served as its President three times and earned numerous medals and awards.  A good day of leather, dust and a herd was all the inspiration he needed.  When he wasn't in the saddle or mending fences, there was a paint brush in his hand.
Bill's work was exhibited at the Whitney Museum in Cody, WY, the Grand Palais in Paris, France, and at the Western Art Show in Beijing, China. In 1993 he became a member and staff artist of Rancheros Visitadores and was awarded the Frederic Remington Award for Artistic Merit by the Cowboy Hall of Fame. By 1996, the prestigious Gilcrease Museum in Tulsa, OK, honored Bill as its Rendezvous Artist.  And, in 2003, at the Prix de West Invitational Exhibition & Sale he was honored as the first recipient of the "Express Ranches Great American Cowboy Award."
While practicing for a rodeo in 1989, Bill survived a freak accident which resulted in the loss of sight in his right eye.  It affected his depth perception and forced him to relinquish sculpting. He didn't allow himself to consider the loss a handicap, but greatly missed the medium for thirteen years.  His grit and tenacity paid off, and he was able to successfully resume his craft in 2002.
For all of Bill's artistic achievements, he was most proud of The Arizona Cowpuncher's Scholarship Organization he founded in 1995 which provided educational scholarships for individuals from Arizona's ranching communities.
Bill's brand was his calling card… "the Cowboy Artist" …and he lived the life he painted.
Saddle

Artist:

Bill Owen, CA (1942 - 2013)

Description:

Bronze (1983) | Dimensions:  5"h x 12"w x 8"d; Edition #9 of 100

Relatively small bronzes such as this one

showing a traditional western saddle have proven to be popular with collectors, especially those that show intricate patterns and designs that would have been tooled into the leather. Cowboy Artists of America Member Bill Owen has done a number of varying

versions of the subject. 

Unknown Title

Artist:

Bill Owen, CA (1942 - 2013)

Description:

Watercolor (2003) | Image Size: 8"h x 6 ½"w; Framed Size: 17"h x 14 ¾"w  

Here, Cowboy Artist of America Member Bill Owen shows his knowledge of horseflesh with a skillfully rendered watercolor study.

Sleepy Calf

Artist:

Bill Owen, CA (1942 - 2013)

Description:

Bronze (1974) | Dimensions: 11"h x 10"w x 9"d; Edition #7 of 30

The same sort of everyday ranching scenes that he painted; Bill Owen often sculpted them. He truly loved the ranching lifestyle in all its aspects, from its people to the animals.

Unknown Title

Artist:

Bill Owen, CA (1942 - 2013)

Description:

Pencil | Image Size: 20"h x 15"w; Framed Size: 23 ½"h x 20 ½"w

Bill Owen was at ease around working cowboys because he understood their lives, was familiar with their work, and in general identified with them because he was cut from the same cloth. As a young man, he earned his living working on ranches and took art classes evenings and weekends and was mentored by members of the Cowboy Artists of America prior to Bill's own entry into the prestigious organization.

Owen's drawings like this one reflect that familiarity and illustrates his ability to capture individual personalities, mannerisms, physical attributes and quite uniquely the friendship and camaraderie that exists between the two men.

The Anvil

Artist:

Bill Owen, CA (1942 - 2013)

Description:

Bronze (1983) | Dimensions: 6"h x 6"w x 4"d; Edition #10 of 100

All facets of ranch life appealed to Bill Owen in terms of subject matter. He was particularly interested in the many different tools that a cowboy or ranch hand had to master in order to perform their work. In this bronze he focused on an anvil and the tools used for making and or repairing horseshoes, branding irons, and other items.

Sitting Bull

Artist:

Bill Owen, CA (1942 - 2013)

Description:

Bronze (1971) | Dimensions: 13"h x 6"w x 6"d; Edition #7 of 25

Indians and indigenous culture has always been central to the story of North America. Here, Bill Owen pays homage to Sitting Bull (1831-1890), a proud, tenacious and fierce leader who unified the Sioux tribes of the Great Plains in its efforts to fend off the forceful removal of native tribes from their land. To read a summary of Sitting Bull's contributions to the effort as well as a brief bio, the following history channel link is provided: https://www.history.com/topics/native-american-history/sitting-bull

Unknown Title

Artist:

Bill Owen, CA (1942 - 2013)

Description:

Oil (1994) | Image Size: 14"h x 11"w; Framed Size: 29"h x 24"w

Cowboy Artists of America Member, Bill Owen, was keenly aware that cowboys were required to work in all sorts of weather and had to adapt to whatever weather conditions presented themselves. Here a cowboy is pictured wearing a bright yellow slicker that often is kept behind the cowboy's saddle. It was as much of a necessary tool as a lariat or saddle. In this masterwork, it provides a focal point for the painting with a splash of bright color and contrasts sharply with the stormy background.

Blood, Sweat & Burning Hair

Artist:

Bill Owen, CA (1942 - 2013)

Description:

Oil (1973) | Image Size: 40"h x 30"w; Framed Size: 49"h x 40"w

Branding cattle is not only arduous work, but it also requires teamwork and precision. Today there are alternative methods to the traditional hot iron form once used and it remains an integral part of cattle ranching especially when a herd grazes on an open range or on a common parcel.

Bill Owen uses a low foreground to concentrate the viewer's eye on the action of the branding scene. The scattered clouds against a blue sky that occupies two thirds of the upper canvas contrasts with the dust and dirt of the corral while the windmill points the viewer's eye back toward the action. Owen painted this piece in the same year he became a member of the Cowboy Artists of America.

When the Rope Tightens

Artist:

Bill Owen, CA (1942 - 2013)

Description:

Oil Painting (1973) | Image Size: 24"h x 36"w; Framed Size: 34"h x 46"w

Two cowhands working in tandem to secure a cow is a subject that Bill Owen knew very well. He was an experienced and skilled roper and was all too well aware of the dangers inherent in this type of work. He had, in fact, lost an eye because of a roping accident.

While Owen's personal experience with cattle work informs the authenticity of this painting, it is his skill with a paint brush that gives the scene energy and drama. The cowboys and cow are bathed in the orange and yellow glow of a dust cloud that has been kicked up by their activities. The dust catches the bright afternoon sunlight and diffuses it to form a pocket in the center of the painting that envelops the action. Having roped the steer, one of the cowboys rides toward the viewer toward a darker area of the canvas. His horse is digging into the ground as the rope around the cow tightens. The action of the scene is suspended in a single moment in time. The cowboys and the cow are all caught in a drama that Owen and other cowhands either saw played out on numerous occasions or actively participated. For the painting's viewer, it is an exciting scene of action and tension, which is quite literally underscored by the tightening of the rope. Owen has used a bright palette of yellows and browns to perfectly capture the time of day and the feel of the surrounding landscape.

Cowboss Scattering the Hands

Artist:

Bill Owen, CA (1942 - 2013)

Description:

Oil (1996) | Image Size: 38"h x 48"w; Framed Size: 45"h x 55"w

Under a brightening sky that is streaked with the brilliant pinks of a sunrise, the wranglers, ready to begin their day, girdle the cowboss mounted on a white horse. By having each of the cowboys' horses face him and the pink clouds above forming a triangle, his position of importance is further accentuated. It is a moment of quiet anticipation before the beginning of a long day.

This large masterwork of several cowhands receiving their instructions for the day is the quintessential Bill Owen painting. The subject, the life of the working cowboy on a modern ranch, is one that Owen painted often but with interesting and varying characteristics. Here he has perfectly captured the mood of the morning, the beauty of the western sky, and the authenticity of the assembled hands. Each detail of clothing and gear adds a sense of reality to the painting. This was Bill Owen's domain, and he painted it with skill and empathy.

"Cowboss Scattering the Hands" made its debut at the Rendezvous Exhibition 1996, Gilcrease Museum (Tulsa, OK) and was subsequently exhibited at the Cowboy Artists of America 50th Anniversary Reunion & Exhibition 2015, Booth Museum (Cartersville, GA). It was also selected and made the front cover of the book entitled "Cowboy Artists of America" authored by Michael Duty and published by Greenwich Workshop in 2002.

Unknown Title

Artist:

Bill Owen, CA (1942 - 2013)

Description:

Bronze | Dimensions: 5"h x 12"w x 7"d; Edition #8 of 100

Early Morning on the CO Bar

Artist:

Bill Owen, CA (1942 - 2013)

Description:

Oil (2002) | Image Size: 40"h x 30"w; Framed Size: 48"h x 38"w

Bill Owen masterfully creates the perfect setting for three cowhands preparing to face the day. The three are gathered at day break when the surrounding landscape is still bathed in the colors of a brilliant sunrise. Owen saw that sort of sunrise many times over his career as both artist and rancher. With an intimate knowledge of the daily routines of ranch work, Owen was able to set the stage for an ensuing day of hard work like other CAA artists. Here his colors, both vivid and muted, saturate the canvas and accentuate the three figures, each of whom is presented as a distinct individual. Owen knew these people well and respected the life they lived. In paintings such as this one, he was able to capture the essence of the moment and also convey a sense of timelessness.

This masterwork made its debut at the 37th Annual Cowboy Artists of America Exhibition & Sale in 2002 at the Phoenix Art Museum.

Branding with a Cinch Ring

Artist:

Bill Owen, CA (1942 - 2013)

Description:

Oil Painting (1986) | Dimensions: Image Size: 24"h x 30"w; Framed Size: 33"h x 39"w

In the 21st Annual Cowboy Artists of America Exhibition & Sale 1986 Catalog, Bill Owen provided the following description for his oil painting: "The sprawling, wild mountains of southeastern Arizona are the setting for this depiction of range branding. There are many ranches where no formal roundup is ever conducted. Instead, the cowboys carry lightweight equipment that allows them to brand whenever they come across a long-eared calf in the back country. The cinch ring is a useful piece because it's small and relatively flexible. I enjoy capturing these sorts of commonplace cowboy jobs on canvas."

Two things frequently inform Owen's paintings, his knowledge of the myriad tasks that modern cowboys have to perform and the beauty of the Arizona landscape—here both are on display.

Owen has placed his main action to the left of center as a way of adding visual interest.

Endangered Species

Artist:

Bill Owen, CA (1942 - 2013)

Description:

Oil (1987) | Image Size: 26"h x 38"w; Framed Size: 37"h x 49"w

Bill Owen was keenly aware that the life of the modern cowboy, and in fact modern ranch life in general, was rapidly changing. The old ways of cowboys working on open ranges had long since vanished when this painting was done, but many of the tasks performed by cowhands were still part of the everyday life of working a ranch. Here, two "endangered species" prepare to move a cow down from high country. One cowboy uses a rock for support as he's glassing the countryside, while the other tends to the horses. Owen has effectively captured both the close up—the texture and color of the boulder, and the far away, the blue grey distant mountains. Once again, he highlights in a single scene one of the many diverse facets of managing a ranch.

Noon Change on a Big Outfit

Artist:

Bill Owen, CA (1942 - 2013)

Description:

Oil (1996) | Image Size: 48"h x 60"w; Framed Size: 58"h x 71"w

While the subject and title of this painting focus on the two primary figures, a cowboy saddling a new mount, the overall effect of the painting is to show the scope of a large ranch operation. The cowboy is in the foreground; in the middle ground is a large remuda, and beyond that in the background a large herd of cattle. Those three focal points which diminish in size as the viewer's eye travels from the foreground to the background give an illusion of a vast space. A deep blue and seemingly endless sky enhances the idea of a large territory. The title of the painting tells us that this ranch is a "big outfit", but its composition amplifies that concept.

Calf

Artist:

Bill Owen, CA (1942 - 2013)

Description:

Oil (1999) | Image Size: 5"h x 7"w; Framed Size: 11 ½"h x 13 ½"w

This small portrait of a calf shows Owen's ability to capture the essence of his subject, even when that subject is not a person. The calf is presented against an early morning blue sky that is speckled with pink clouds reflecting the sunrise. The calf's presence is enhanced by an aura of glancing sunlight that seems to heighten its natural coloring.

Unknown Title

Artist:

Bill Owen, CA (1942 - 2013)

Description:

Oil (2004) | Image Size: 8"h x 6"w; Framed Size: 13 ¼"h x 11 ¼"w

A small oil of a spotted cow— a quick study by one who knows the breed well.

Worn Out Rope

Artist:

Bill Owen, CA (1942 - 2013)

Description:

Oil (1973) | Image Size: 24"h x 30"w; Framed Size: 31"h x 37"w

Having spent much of his life working on ranches, Bill Owen knew the everyday life of a cowboy and he was adept at presenting that work in a compelling and visually appealing fashion. This scene of a cowboy roping a steer is evidence of that talent.

We see the frayed rope just after the cowboy had successfully tossed his lariat, and we can easily anticipate the next scene in this contest. The painting effectively uses a muted palette of browns, oranges and greens to give it a realistic feel.

Rounding up the Yearlings

Artist:

Bill Owen, CA (1942 - 2013)

Description:

Oil (2004) | Image Size: 24"h x 48"w; Framed Size: 32 3/8"h x 56 1/4"w

"Rounding Up the Yearlings" is a dramatic, multi-colored landscape topped by a cloud-filled and equally colorful sky that truly delivers panorama in spades. And the orange cloud of dust kicked up by the horse and rider as they make their way across the canvas enhances not only the movement and action being conveyed but makes an indelible impression.

The yearlings are shown moving directly toward the viewer and then to the left enriching the scene's action. While many Cowboy Artist of America Member's, Bill Owen, ranching representations anticipate action, this one places the viewer directly into an episode of fluid movement.

Bull

Artist:

Bill Owen, CA (1942 - 2013)

Description:

Watercolor (2006) | Image Size: 10"h x 9"w; Framed Size: 16 5/8"h x 15 7/8"w

Noon Change

Artist:

Bill Owen, CA (1942 - 2013)

Description:

Oil (1979) | Image Size: 24"h x 36"w; Framed Size: 33 5/8"h x 45 5/8"w

The life of the modern cowboy can be a hard one filled with long hours of work in the saddle. Equally, it can be as tough for horses who must spend long hours on the range. To ensure that a cowboy's mount will be fresh and prepared for the tasks at hand, they often change horses at midday. And in Bill Owen's "Noon Change" cowhands are engaged in the process of doing just that.

Captured under a blue, cloud-filled sky, we are reminded of the many tasks a cowboy faces each day and the methods used to assure that his work is done effectively.

Cool Thoughts

Artist:

Bill Owen, CA (1942 - 2013)

Description:

Pencil (1973) | Image Size: 12"h x 9"w; Framed Size: 16 ¾"h x 13 ¾"w

"Cool Thoughts" is another rare Bill Owen historical Indian portrait. In this drawing, Owen presents a Plains Indian warrior wearing a headdress. The weathered face of the Indian looks directly at the viewer and occupies most of the space of the painting. Owen focuses on the man himself and not accoutrements, such as the headdress, which is only partially shown. The pencil drawing was done early in the artist's career, prior to his induction into the Cowboy Artists of America.

Cavalry Scout

Artist:

Bill Owen, CA (1942 - 2013)

Description:

Pencil/Pastel (1973) | Image Size: 12"h x 9"w; Framed Size: 16 5/8"h x 13 5/8"w

"Cavalry Scout" is an early and atypical Bill Owen piece. Unlike many of his contemporaries in the Western art genre, Bill Owen rarely portrayed Native American subjects or images that reflected historical content. In this well-executed portrait of an Indian Scout with his face turned directly toward the viewer, he successfully captured the personality of his subject and gives the viewer insight into the man's character. While he did not continue in this subject vein and primarily focused on contemporary ranch life, he most definitively possessed the talent to work in this arena.

Bullhead Tank

Artist:

Bill Owen, CA (1942 - 2013)

Description:

Oil (1981) | Image Size: 24"h x 36"w;

Framed Size: 34 ½"h x 46 ½"w

In the west, water is an ever present issue particularly for ranchers who are dependent upon a steady supply to keep their cattle alive. Many ranchers rely on stock tanks to store and water their herd. Here, Owen depicted lingering drought conditions; note the layers of water line recessions complete with a muddy ring. By using a palette consisting mostly of browns and tans, the dry condition was accentuated. The attending wranglers were placed under a hazy sky partially obscured by a cloud of dust kicked up by the approaching cattle. The implication left by the image is that in the not too distant future the tank will simply be a depression in the land.

Having a Cool One

Artist:

Bill Owen, CA (1942 - 2013)

Description:

Oil (1991)| Image Size: 30"h x 40"w; Framed Size: 40"h x 50"w

Bill Owen excelled at realistically capturing scenes of everyday modern ranching while executing extraordinary landscape imagery. "Having a Cool One" is a prime example of his insider working rancher knowledge who sincerely appreciated the beauty of nature.

Effectively horizontally bisected, the lower half of the canvas is devoted to a quiet scene of a cowboy looking after a string of horses stopped to take a long drink of cool water while the top portion of the canvas flaunts a vividly colored sky complete with a full array of clouds reflecting the pink glow of the setting sun.

Moving the Remuda

Artist:

Bill Owen, CA (1942 - 2013)

Description:

Oil (1996) | Image Size: 22"h x 36"w; Framed Size: 36"h x 50"w

By backlighting the scene with a burst of sunlight seen through the haze of dust, the ordinary task of moving a remuda from one pasture to another is imbued it with both drama and beauty. Without the lighting, the scene would be far less compelling; with it, Bill Owen has created a very striking memorable and image.

This masterwork made its debut at the 31st Annual Cowboy Artists of America Exhibition & Sale in 1996 at the Phoenix Art Museum.

Charro

Artist:

Bill Owen, CA (1942 - 2013)

Description:

Bronze (1983) | Dimensions: 27"h x 13"w x 9"d; Edition #4 of 40

A traditional horseman from Mexico is typically referred to as a "Charro" versus a vaquero, a cowboy, or ranchero, a rancher. Though there are similarities between all three, they differ in culture, etiquette, mannerisms, clothing, and tradition.

A charro's clothing typically is comprised of a closely fitted suit, chaps, boots and wide brim sombrero. The suit, though decorative, is practical in that it fits snugly to prevent cloth from flapping or getting caught in a steer's horns. Their boots, worn with spurs, were structured so as to prevent feet from slipping through stirrups. At one time charros participated in competitions pitting one hacienda against those neighboring. Modern day competitions, charreada or charrería, consist of nine scoring events and are based on style and execution, not against the clock. The events encompass reining, heeling, steer tailing, bull riding, team roping, wild mare bareback skills, forefooting both off and on horseback, and concludes with the El Paso de la Muerte, or Pass of Death. The latter of which begins with a charro bareback riding with reins who then leaps from his own horse to that of an unbroken horse without reins and rides it until it stops bucking.

Owen's "Charro" made its debut at the 18th Annual Cowboy Artists of America Show & Sale in 1983 held at the Phoenix Art Museum.

His Band of Mares

Artist:

Bill Owen, CA (1942 - 2013)

Description:

Oil (2005) | Image Size: 24"h x 48"w; Framed Size: 36"h x 60"w

II Perils of the Range

Artist:

Bill Owen, CA (1942 - 2013)

I Perils of the Range

Artist:

Bill Owen, CA (1942 - 2013)