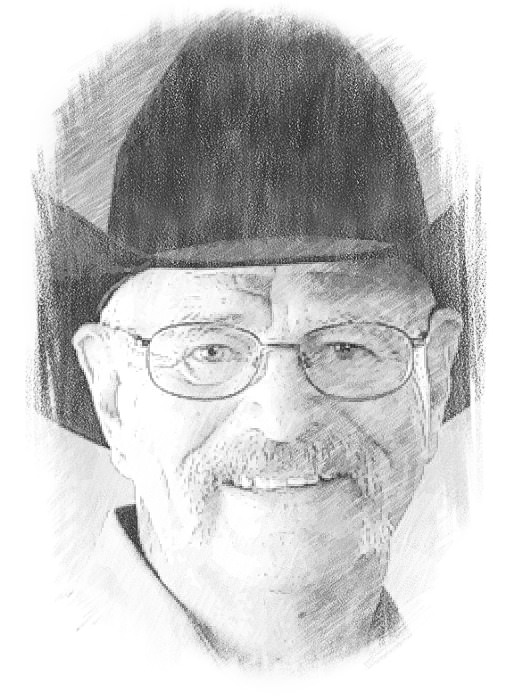 Bill Nebeker, CA
(b.1942)
Living on the Long Meadow Ranch near Prescott, Arizona as a young boy, Bill watched his working cowboy father, and Bill's imagination was filled with visions of horses, cattle, roundups and brandings, which he has spent almost 50 years bringing back to life in his sculptures. Whether portraying cowboys working cattle, cutting or roping horses, wildlife or many Native American tribal cultures, viewers smell, feel and sense the emotions the historic stories Nebeker retells.
Widely recognized as one of the prominent sculptors of the horse and cowboy, that personal legacy from his father, and his working experiences with cowboys, gives his sculptures the true flavor of life in the Old West, and in today's ranching community.
Celebrating his 37th year with the Cowboy Artists of America, Nebeker is thrilled to be returning to the renowned National Cowboy & Western Heritage Museum, along-side his friends and fellow artists, the Traditional Cowboy Arts Association.
Bill's latest honor was being named the 2014 Grand Marshal for Prescott's World's Oldest Rodeo & Frontier Days Parade on July 4 during his hometown's Sesquicentennial birthday year. In Bill's quiet, unassuming way his bronzes have forever secured the history and culture, the recognition and importance of the cowboy and ranching community in and around Prescott.
Source: Cowboy Artists of America
Invoking The Buffalo Spirit

Artist:

Bill Nebeker, CA (b.1942)

Description:

Bronze (2001) | Dimensions: 12"h x 11"w x 8"d; Edition #12 of 30

Bison and Buffalo! Early American settlers called bison "bufello" due to similarities between the species and the name stuck. However, bison are found in North America while the two main buffalo types are found in Africa and Asia.

Bison were the sustenance of the American Indian. They were an integral part of their history, culture, ceremonials, and way of life. Bison were more than a major food source, the American Indian made clothing and tipis from the hides, soap from the fat, jewelry and weapons could be fashioned from teeth and horns, tools could be made from hooves and needles crafted from bone. Many social behaviors were learned and adapted from bison such as physical activity, equality of gender, using resources wisely, breastfeeding their young and the value of young and old alike. The bison were and remain today a spiritual reminder to American Indians of how they once lived harmoniously with nature and free.

Cowboy Artists of America Member Bill Nebeker's bronze "Invoking the Buffalo Spirit" shows a Pawnee seeking the blessing from the buffalo spirits for a successful hunt.

I Will Tell of the Hunt

Artist:

Bill Nebeker, CA (b.1942)

Description:

Bronze | Dimensions: 9 ½"h x 8"w x 7"d; Edition #5 of 30

Gathering in their lodges around a warm fire, the warriors relive their excitement of the hunt as they tell the women, children and elders about that day's adventure … whose bow shot the swiftest arrows, which horse galloped the fastest, how brave the young warriors were and whose aim missed the target. Their stories were retold over and over again.

The oral tradition of passing down stories to subsequent generations consisting of examples of bravery, honor, spiritual beliefs and customs has fashioned a tribal history that is not dependent upon the written word. This custom is still practiced in many tribal societies today to ensure the perpetuity, possibilities, prosperity and pride of its People.

Bill Nebeker is often associated with sculptures of cowboys, historic and contemporary, but he is also equally adept at depicting American Indians from various historical eras often choosing to portray subjects performing spiritual blessings or prayers, handing down oral traditions that inform and encapsulate the fabric of history.

Takin' it Easy

Artist:

Bill Nebeker, CA (b.1942)

Description:

Bronze (1973) | Dimensions: 10"h x 14"w x 9"d; Edition #10 of 10

Modern ranch work involves long hours, hard work, and a fair amount of danger. But it also includes those times as is portrayed in this bronze when a cowboy can take a well-deserved break.

Join us in congratulating Bill Nebeker on the monument-sized, Highway 89 roundabout installation of his piece entitled "If Horses Could Talk" in Prescott, Arizona, in 2020. And it looks like he's not "takin' it easy" anytime soon as he's already begun work on another for the Prescott Courthouse Plaza for the Yavapai County Fallen Officer memorial "Lest We Forget".

Evening Serenade

Artist:

Bill Nebeker, CA (b.1942)

Description:

Bronze Bookends | Left: 6 ¼"h x 5 ¾"w x 6"d; Right: 9"h x 5 1/2"w x 6 1/2"d

Edition #1 of 50

These bookends make effective counterparts to one another as they tell the story of a young brave playing a serenade on his flute. While the flute player occupies one bronze, the other is devoted to a young maiden wistfully listening to the melody meant only for her.

Day's End

Artist:

Bill Nebeker, CA (b.1942)

Description:

Bronze (1972) | Edition #6 of 8; 11 ¼"h x 14 5/8"w x 8 ½"d

Bill Nebeker's "Day's End" was sculpted prior to his becoming a member of the Cowboy Artists of America. Early on, Bill worked at a foundry by day and honed his sculpting talents evenings and weekends. And what a fine job he has done! Bill has won numerous honors and awards throughout his career as a professional fine artist, has been featured in numerous magazines and publications, continues to be commissioned as the sculptor of choice for monumental installations and his work is included in some of the most prestigious private and public collections around.

Dog Day Afternoon

Artist:

Bill Nebeker, CA (b.1942)

Description:

Bronze (1997) | 3"h x 11"w; Edition #10 of 30

Will Listen No More

Artist:

Bill Nebeker, CA (b.1942)

Description:

Bronze (1997) | Dimensions: 22 ¼"h x 11"w x 6"d; Edition #5 of 25

As settlers pushed the boundaries of the frontier farther onto Indian lands, many treaties were made between American Indian tribes and the government; almost all of which were broken as settlers pressed on. Government agents and US Cavalry officers held many meetings with elders and chiefs in an effort to reestablish trust and always with another pledge to honor its latest treaty. Routinely those pledges and treaties were broken and the trust faded.

As an unseen officer attempts to convince this proud and honor-bound Indian to trust the Great White Chief in Washington yet again, he will have none of it … the lies, the disrespect, the degradation, and humiliation … he postures and "Will Listen No More".

Flowers For My Wagon Widow

Artist:

Bill Nebeker, CA (b.1942)

Description:

Bronze (1982)