PRESS RELEASE
For immediate release
Images available here https://bonhams.box.com/s/u00usjzaatu1t8zktidqskisbgv1a4tz
September 12, 2019
BONHAMS TO OFFER THE EDDIE BASHA COLLECTION:
A SELECTION OF WESTERN AMERICAN ART
NOVEMBER 25 AT BONHAMS LOS ANGELES
Masterworks from one of the largest private collections of contemporary Western American Art in the world 

Worldwide exhibition cities include Jackson Hole, Munich, Hong Kong, Oklahoma City, and New York

Featured artists include Joe Beeler, John Clymer, Martin Grelle, Tom Lovell, and Howard Terpning, among others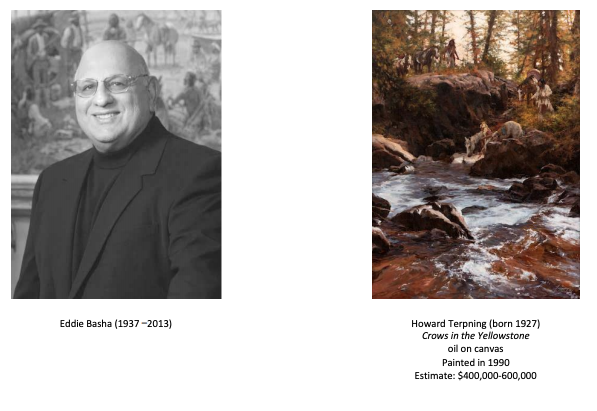 Los Angeles – Bonhams is honored to announce the sale of select works from The Eddie Basha Collection: A Selection of Western American Art on November 25 at Bonhams Los Angeles. The carefully curated sale represents key artists in the collection acquired over four decades and reflects the strong bonds of friendship that developed between the artists and Eddie Basha during his lifetime. The collection is distinguished for its dedication to members of the Cowboy Artists of America (known as the CAA) and their tenet 'to authentically preserve and perpetuate the history and culture of the West in fine art.' The sale will curatorially strengthen and support the existing permanent collection and further the legacy of the CAA and Eddie Basha abroad.
"Eddie always wanted as many people as possible to experience the American West, its rich history and the many cultures through the art he collected. He would be extremely proud to know that his passion for art, for the history of the west, for its land and its people were to be shared in both Asia and Germany," said Nadine Mathis Basha, on behalf of the Basha family.
Eddie was a devoted collector, friend, and one of the foremost supporters of contemporary Western American Art. To celebrate this exceptional collection, Bonhams is touring highlights from the auction worldwide, beginning September 12 at the Jackson Hole Fine Art Fair in Wyoming. A selection of works will then travel to Germany, Hong Kong, Oklahoma, and New York leading up to the auction at Bonhams Los Angeles.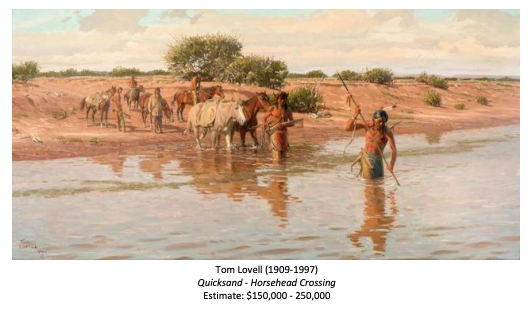 Edward Najeeb Basha Jr. (1937–2013)
Known to his family, friends and Arizonans statewide as Eddie, he was the Chairman and CEO of Bashas', a family-owned grocery store chain. Originally from Lebanon, the Basha family moved from New York City to Arizona in 1910. Eddie assumed the leadership mantle of the family business after his father's passing in 1968. He successfully expanded a once modest operation into a grocery chain that continues to thrive today with 115 sites statewide, including locations on the Navajo, Tohono O'odham, White Mountain Apache and San Carlos Apache Nations.
Eddie's Aunt Zelma inspired him to appreciate and support the arts. From 1971 until 2013, he personally assembled an unparalleled collection which includes over 3,000 pieces of Contemporary Western American and American Indian masterworks encompassing a broad spectrum of mediums. Also included is an extensive basket collection featuring extraordinary representations from the Apache, Chemehuevi, Mission, Pima, Yavapai, Yokuts and other American Indian Nations of the southwest. Many pinnacle Western American artists are represented, most of whom either were or are members of the prestigious Cowboy Artists of America including the four founding members Joe Beeler, Charlie Dye, John Hampton, George Phippen, John Clymer, Martin Grelle, Tom Lovell, Jim Reynolds, Howard Terpning, Melvin Warren and many, many more. In his Aunt's honor, Eddie established the Zelma Basha Salmeri Gallery of Western American & American Indian Art in 1992. Since its inception, The Eddie Basha Collection remains open to the public, complimentary admission, Monday thru Friday, 9:00am-4:00pm, at the Bashas' headquarters in Chandler, Arizona, the site of the first Bashas' location. For more information about Eddie Basha and The Eddie Basha Collection, please visit EddieBashaCollection.com.
Highlights of the Sale

Works by current and past members of the Cowboy Artists of America lead the sale including John Ford Clymer's The White Buffalo, oil on canvas, painted in 1972 (estimate: $150,000-250,000); Warriors by Martin Grelle, painted in 1996 (estimate: $200,000-300,000); Tom Lovell's Quicksand – Horsehead Crossing, oil on Masonite, painted in 1976 (estimate: $150,000-250,000); and Howard Terpning's, Crows in the Yellowstone, 1990 (estimate: $400,000-600,000).
Tour Dates and Locations:
Jackson Hole, Wyoming- Snow King Events Center, September 12-15

Bonhams Munich, Germany- October 14-18

Bonhams Hong Kong- October 10-14

Oklahoma City, Oklahoma- November (TBD)

Bonhams New York- November 13-19

Bonhams Los Angeles- November 22-25
Further details of The Eddie Basha Collection will be announced in October 2019.
###
Enquiries
For further information and images call Sung-Hee Kim on +1 917-206-1692, or email sunghee.kim@bonhams.com.
NOTES FOR EDITORS
Bonhams, founded in 1793, is one of the world's largest and most renowned auctioneers, offering fine art and antiques, motor cars and jewelry. The main salerooms are in London, New York, Los Angeles and Hong Kong, with auctions also held in Knightsbridge, Edinburgh, Paris, San Francisco and Sydney. With a worldwide network of offices and regional representatives in 22 countries, Bonhams offers advice and valuation services in 60 specialist areas. For a full list of forthcoming auctions, plus details of Bonhams specialist departments, please visit bonhams.com.