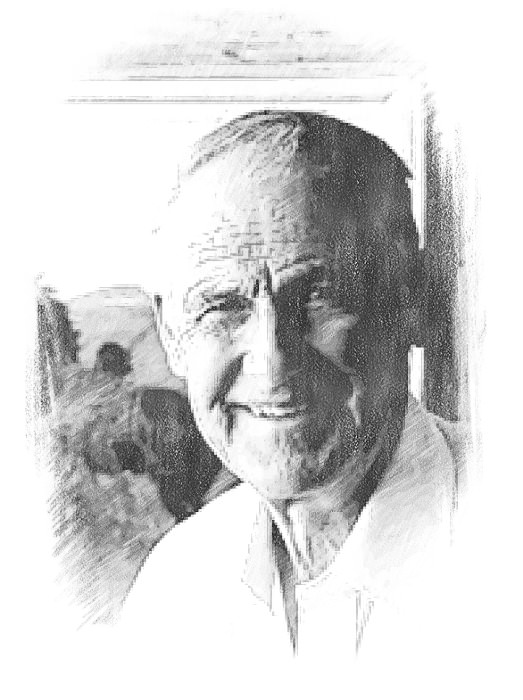 Tom Lovell, CA
(1909-1997)
A Native American finds a Raggedy Ann doll on a lonely Western road. A settler is teaching his gingham dressed wife how to shoot a rifle. Three Indians warm their hands over the chimney of a snow buried cabin. These are just three of the dramatic stories that Tom Lovell told through his artwork. Lovell's attention to detail is unmatched, and he was seldom able to complete more than a dozen paintings a year. His peers consider him one of the deans of Western art.
Lovell was born in New York City in 1909. He was the Valedictorian of his high school class; and at the graduation ceremony spoke on the "ill treatment of the American Indian by the U. S. Government." He received a bachelor of fine arts from Syracuse University in 1931. For thirty-nine years, Lovell worked as a freelance illustrator for magazines such as Colliers, McCalls, National Geographic, Life, and the Saturday Evening Post. He was as famous for his Western art as for his stirring images of Civil War battles, which were considered so definitive that they were telecast as part of an acclaimed public television documentary and published in the accompanying best-selling book.
Lovell considered himself a "storyteller with a brush, a custodian of the past." "I try to place myself back in time and imagine situations that would make interesting and appealing pictures. I am intent on producing paintings that relate to the human experience and our Western heritage."
In 1974, Lovell was elected to the Society of Illustrators Hall of Fame and was later named a Hall of Fame Laureate. In 1975, he and his family moved to Santa Fe, New Mexico, and he was elected to the Cowboy Artists of America the same year. In 1992, both the National Academy of Western Art and the National Cowboy Hall of Fame honored Lovell with a Lifetime Achievement Award and a prestigious one man retrospective show. He was the first artist to ever win the Prix de West – the National Academy of Western Art's highest honor – twice.
Source: Cowboy Artists of America
The Lost Rag Doll

Artist:

Tom Lovell, CA (1909-1997)

Description:

Oil (1989) | Image Size: 24"h x 36"w; Framed Size: 36"h x 48"w

Wagon tracks had become a permanent feature of the prairie landscape in the 1840's as increasing numbers of white immigrants traveled the Oregon Trail. From the shelter of the hills, Indians observed the exodus and wondered where the people came from and where they were headed. In the lodges of the chiefs, old men sat around council fires and talked of the white trespassers who were disturbing the buffalo.

Near Independence Rock, a Cheyenne brave rode down to investigate a bright spot of color beside the dusty track. He found a child's doll, a plaything not so different from one made of buckskin that belonged to his own daughter. He thought that maybe the prairie travelers were not a truly terrible people as some said; cold hearts would not make redheaded dolls for little girls to play with. Perhaps the warnings of the shaman had been wrong and the wagons would continue to pass in peace.

Quicksand – Horsehead Crossing

Artist:

Tom Lovell, CA (1909-1997)

Description:

Oil (1976) | Image Size: 20"h x 40"w; Framed Size: 30h x 51w

A Comanche party is seen at the famous Horsehead Crossing of the Pecos River, south of Odessa, Texas, one of the most important sites in the Old West. It was here that the majority of those crossing West Texas forded the river. It was made treacherous at times by quicksand, especially at low water. The Comanche leader moves carefully, testing the bottom with the butt of his lance. The time is about 1850, and the white mans' wagons had already left their mark. The name of the crossing was derived from the skulls of horses and mules that died sometimes due to the river current irregularities, its muddy bank, the quicksand and/or drinking bad water after having travelled approximately 75 miles of desert terrain from the last water source.

Cattle herds didn't begin crossing the ford until the 1860s and one iconic drive was venerated in a western novel in 1985 by the famous author Larry McMurtry , "Lonesome Dove." In 1989 it was adapted as a television mini-series of the same name. The lead characters were played by Tommy Lee Jones and Robert Duvall.

The Texas Centennial Commission placed a historical marker at the site in 1936.

Tom Lovell proved in many of his paintings, including "Quicksand, Horsehead Crossing" (1976), that he was a master at depicting water realistically and capturing its many nuances. By devoting half of the canvas to the stream, the reflective qualities of the water and expertly depicted ripples that formed as the party crossed the stream further the viewer's sense of what the warriors see and feel. As the Comanche travel toward the viewer in the foreground, the desert landscape behind of scrub trees and sage fades away to meet the cloud-filled, pale blue sky. The viewer's eye can take in the whole landscape at once, but his attention is focused on the lead cautiously making his way across the stream to solid ground. As always, Lovell's details of dress, weaponry, and the saddles and blankets are painted with historical accuracy and authentic detail.

Lakota, Tuft of Grass

Artist:

Tom Lovell, CA (1909-1997)

Description:

Charcoal (1996) | Image Size: 18"h x 24"w; Framed Size: 24 ¾"h x 30 7/8"w

No Room at the Inn

Artist:

Tom Lovell, CA (1909-1997)

Description:

Oil (1996) | Image Size: 34"h x 26"w; Framed Size: 44 ½"h x 37"w

It is early morning in a Nez Perce camp with a dust of snow on the ground. A wisp of smoke tells that one family is awake and a lonesome sorrel pony has pulled his picket pin and walked over to push at the teepee flap for attention. A young mother and small boy appear and petting begins a happy day; not the first time nor the last. This narrative was provided by the artist in long hand and appears on the reverse side of the painting.

First Horses for the Brulé Sioux

Artist:

Tom Lovell, CA (1909-1997)

Description:

Oil (1995) | Image Size: 20"h x 36"w

During the 1770's, a small party of young #Sioux made a trading journey to the Southland and saw horses for the first time. They exchanged all their trade goods for several of the wonderful creatures and took turns riding and running alongside on their way home. Old ladies and family members mocked their sunburned thighs, earning them the name Brulé Cuisse, French for sunburned thighs. The name stuck and the introduction of the horse to the Sioux changed lives forever.

Tom Lovell unveiled this piece at the 1995 Prix de West Exhibition held at the National Cowboy & Western Heritage Museum in Oklahoma City, Oklahoma.

Pony Tracks & Empty Saddles

Artist:

Tom Lovell, CA (1909-1997)

Description:

Oil (1983) | Image Size: 40"h x 32"w; Framed Size: 51"h x 43"w

"Ambush is as old as warfare itself. A party of Western Apaches, having been trailed for several days, lays the groundwork for an ambush. Keeping their ponies at a slow walk, more than half of the men will climb onto slick rock leaving no trace of their dismounting. They will lie in wait and open fire on their unsuspecting pursuers. Once more the element of surprise will take its toll." – Tom Lovell on his work Pony Tracks & Empty Saddles (1983)

Pony Tracks & Empty Saddles

Artist:

Tom Lovell, CA (1909-1997)

Description:

Pencil Study (1982) | Image Size: 40"h x 31"w; Framed Size: 48"h x 39"w

In the book entitled "The Art of Tom Lovell: An Invitation To History", published by Greenwich Workshop in 1993, authored by Don Hedgpeth and Walt Reed, an image of this painting appears as does the following narrative: "The element of surprise was a major weapon in the arsenal of the Apache. They struck their enemies in lightning-swift raids and withdrew as suddenly. If pursued, they prepared ambushes in narrow, rocky canyons to deal a second deadly blow. In this scene, the rear guard has reported such a pursuing force. Some warriors drop off at strategic points along the canyon, while others continue on with the horses, leaving tracks which will make it appear that the raiders are still in retreat. The enemy of the Apache would learn to fear places like this where steep rock walls blocked out the sun and death waited in the shadows. One such place came to be known as Apache Pass, a narrow six-mile-long canyon between the Dragoon and Chiricahua Mountains in southeastern Arizona. Spaniards, Mexicans and Americans learned about guerrilla warfare, the hard way, on the dim trail that led through Apache Pass."

The Recruiter

Artist:

Tom Lovell, CA (1909-1997)

Description:

Oil (1974) | Image Size: 22"h x 40"w; Framed Size: 32"h x 49"w

The Deceiver

Artist:

Tom Lovell, CA (1909-1997)

Description:

Oil (1976) | Image Size: 20"h x 36"w; Framed Size: 29"h x 45"w

The Mud Owl's Warning

Artist:

Tom Lovell, CA (1909-1997)

Description:

Oil (1975) | Image Size: 23"h x 41"w; Framed Size: 32"h x 50"w

Captain Clark's Air Gun

Artist:

Tom Lovell, CA (1909-1997)

Comanche Moon

Artist:

Tom Lovell, CA (1909-1997)

Throat Spray M1

Artist:

Tom Lovell, CA (1909-1997)

Description:

Pencil Study | 24" x 28"

Working side by side in dungarees, Tom Lovell and John Clymer often used each other as models. This idea came from boot camp experience at Parris Island where, with 80 men in a barracks, if anyone caught a cold, everyone shared it. Tom made it the subject of a Leatherneck cover, and John obligingly posed for this painting.