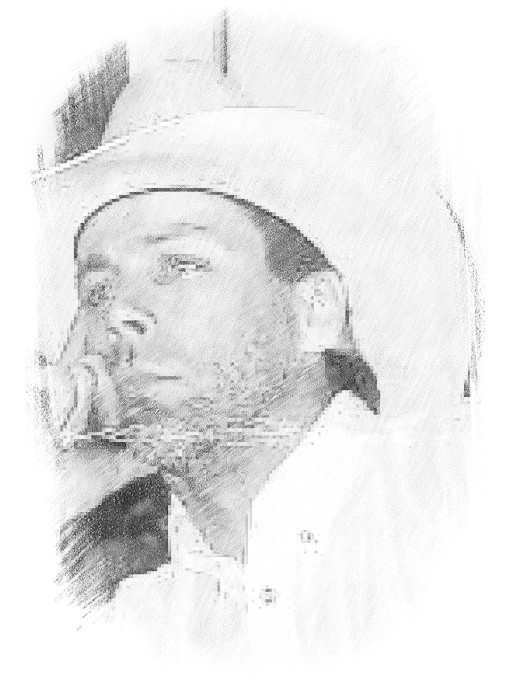 Mark Martensen
(b. 1958)
Mark Martensen was born July 8, 1958. He has always had a simple approach to life and art, most refer to it as the "Cowboy Code." As a young boy, western themed movies and novels were his favorites and seemed to reinforce the principals his father taught him. However, it was the excitement, history and adventure that captivated him then and remains so today. His paintings and sculptures are his way of sharing that passion.
As a boy, Mark's artistic talents took shape when his grandmother gave him his first paint set. Even then, all Mark seemed to paint was cowboys and horses. In his late teens and early twenties, Mark used his artistic talent in a variety of ways ranging from airbrushing surfboards and guitars to award winning cake decoration. Soon his focus returned to what he enjoyed most in his youth; cowboys, Indians and the landscapes of the West. A natural born artist, Mark quickly developed a photo realistic style working first in pastels and branching out into oil painting by the early 1980's. His earliest oils in soft tones and warm colors were characterized as slightly loose. By the mid-nineties, Martensen embraced sculpture and it has since become a major component of his repertoire. Mark believes sculpting honed his sense of scale and enriched his painting abilities as well.
"After 20 years as a professional painter you are always learning and growing, but I do feel I found a much better balance in my representation of real subjects using a confident brush in a thicker more painterly style and a strong yet natural color pallet."
As an early professional painter, Mark Martensen listed Olaf Wieghorst as one of his major art influences; he was a national hero living in Marks backyard. In fact, Mark was asked to create a poster for one of the very first western art exhibitions he participated in. To no one's surprise that poster included his hero, Olaf Wieghorst. Frederick Remington and Charles M. Russell have always held places on that inspiration list, but since Mark included Cowboy Artists James Reynolds and Howard Terpning among the greatest influencers.
In a 2001 Whitehouse ceremony, Martensen presented a bronze sculpture to President Bush in the Oval Office. The bronze depicted a cowboy jumping through the noose of a lasso; a trick called the "Texas Skip" is also the title of the piece. In 2002, Mark was commissioned to create a monument bronze as a memorial for the attacks on 9/11. It proudly stands in Chula Vista, CA.
Mark has participated in many exhibitions earning him numerous accolades, honors and awards.  He has also been featured in multiple publications and has joined the collegial ranks of artists whose work has been included in private as well as public collections.
Geronimo and the Holdouts

Artist:

Mark Martensen (b. 1958)

Description:

Oil | Geronimo (center portrait): 12"h x 10"w; Holdouts: 10"h x 8"w

The legendary stories, triumphs and tribulations alike, of the mighty warriors who fought courageously and with conviction have been heralded from coast to coast. And Martensen's admiration for their code, honor and cause is obvious in his portrait work of "Geronimo and the Holdouts."

Mark's inspiration in art and in life come from the western movies and novels he watched and read in his youth, the "Cowboy Code" he learned of and the principals his father taught him. He remains a student of life, history and keeping it real.