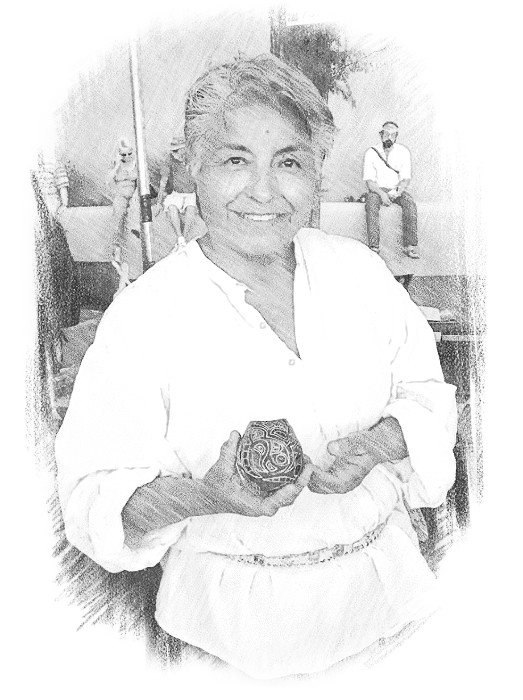 Jody Folwell
Jody Folwell has long been one of the important innovators in Pueblo pottery. She is a daughter of Rose Naranjo and the mother of potters Polly Rose Folwell and Susan Folwell. Her pottery can be found in museums around the country and her work has been featured in numerous books, including "The Art of Clay" and "Legacy of Generations". Her revolutionary work of the 1970's changed the surface of Santa Clara pottery with her distinctive firings, use of various clay slips and utilizing non-traditional design elements.  Creative patina and a wide variety of subject matter in her designs, not only follow elements of traditional Pueblo subjects but reach out to current events of the world.  Today, Jody continues to evolve in her art and each piece brings together different aspects of her long history of making pottery.
Source: King Galleries
/untitled

Artist:

Jody Folwell

Description:

Sienna Pot | 10"h x 9"d

Highly successful and innovative Santa Clara potter, Jody Folwell, began creating pots in the 1970s. While respecting Santa Clara pottery traditions, Folwell adds her own contemporary and creative style by utilizing distinctive firings, a variety of clay slips and incorporating non-traditional design elements that are often reflective of current events.

In this sienna pot, the highly-polished sloping rim is reminiscent of a glistening mountain on the horizon that gives way to an expansive valley. And as your eye descends, a more austere perspective emerges as the color and polished surface fade. Conceptualizing a three-dimensional landscape metaphor is brilliant, but executing it is genius.