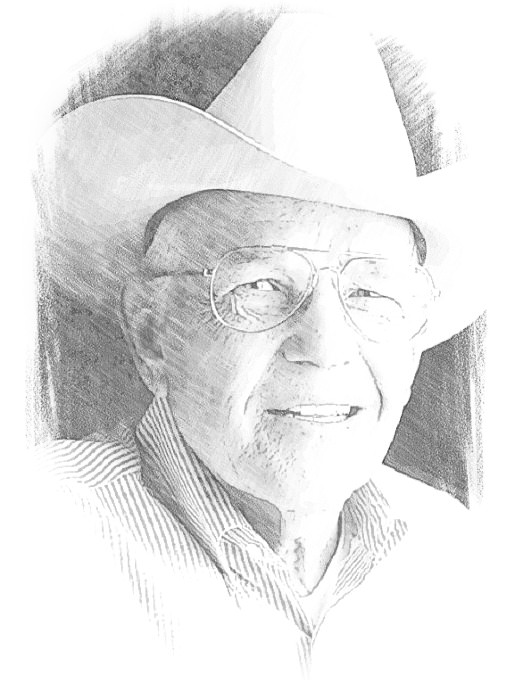 Grant Speed
Grant Speed was born in San Antonio, Texas, and spent many of his formative years working as a cowboy.
The Cowboy Artists of America held its first exhibition in 1966 at the National Cowboy Hall of Fame, which is now known as the National Cowboy and Western Heritage Museum in Oklahoma City, Oklahoma. Speed was among the artists to show in that inaugural exhibition and in many ways embodied the very essence of the new organization's purpose and philosophy; the support of "cowboy artists." In the years since that first show, Grant has received countless awards and honors for his work.
After a stint in the Air Force, three years of missionary service, and graduation from Brigham Young University's program in animal science, Speed settled down to raise a family and teach school. After two years, he knew he was in the wrong job. Speed honed his artistic talents at night, on weekends, and whenever he could steal time away from his day job. He learned the process of bronze casting from the ground up because there were no foundries close by. Speed worked diligently in his pursuit of a career in art.
Speed's work captures the essence of the modern working cowboy with a style that he characterizes as "loose realism." His work is full of passion and enthusiasm for his subjects, the medium, and the process.
Source: Cowboy Artist of America
In a Howling Dust Storm

Artist:

Grant Speed

Description:

Bronze (1992) | 12" x 13" x 14"; Edition #21 of 30

The Boss is a Lady

Artist:

Grant Speed

Description:

Bronze (1995) | 10" X 14" X 15.5"h

Squaw Man

Artist:

Grant Speed

Description:

Bronze (1974) | 10" x 12" x 14"; Edition #30 of 30

One Who Lived to Tell It

Artist:

Grant Speed

Description:

Bronze (1977) | 14"h x 10"w x 9"d; Edition #2 of 30

Sometimes titles reveal much about a work of art. In this case, "One Who Lived to Tell It" effectively ties into the story that this frontier character would surely have shared with others. Grant Speed's highly detailed and evocative sculpture allows the viewer to imagine just what that tale would be!

Almost Home from the War

Artist:

Grant Speed

Description:

Bronze (1977)| 12"h x 12"w x 8"d

In Grant Speed's bronze "Almost Home from the War" the smaller figure is a soldier returning home while the larger bust is of the soldier's spouse whom he is returning to. Reminding us to honor all those who have gallantly served at home and abroad, and we honor the sacrifices of their loved ones as well.

Trouble Comin'

Artist:

Grant Speed

Description:

Bronze

A spirited colt or a filly isn't an anomaly, but rather the norm. They are filled with energy, exuberance, and playfulness; much like a toddler but with a whole lot more power. Grant Speed has captured the spirited animal perfectly in his bronze entitled "Trouble Comin'."

Whether equine, bovine or human, Speed was adept at conveying his subject's essence as evidenced in his body of work. One such heroically-sized sculpture does just that and it resides at the West Texas Walk of Fame in Lubbock, Texas. It is of none other than legendary rock 'n roll singer and songwriter Buddy Holly.