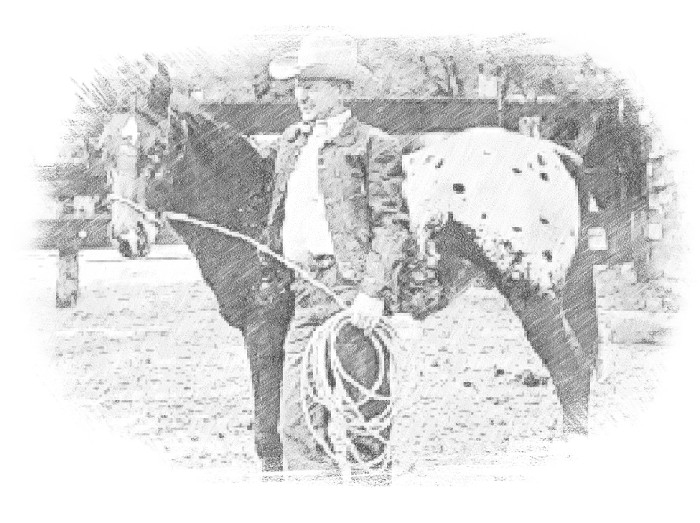 George Phippen, CA Founding Member
(1914-1966)
George Phippen, a Western artist from Skull Valley, Arizona, was a sculptor and painter in the representational style of western art, figures and horses. He produced approximately three thousand works in his brief career and is best remembered for his bronze sculptures, including pieces like Cowboy in a Storm. He was also a founding member and the first President of the Cowboy Artists of America. So when the museum's namesake died in 1966, his artwork and inspriational character encouraged his friends, family and fellow artists to work toward creating a facility in Prescott, Arizona, that would honor his memory and specifically represent artists of the American West.
George was raised on farms in Iowa and Kansas and had no formal art education. But while serving in World War II, he taught himself to paint and soon after the war, he briefly worked with artist Henry Balink in Santa Fe, New Mexico.
The Phippen Family 2015In 1974, the George Phippen Memorial Foundation was formed to create a venue that supported Western Art and honored George's talent and inspirational character. As a result, the first annual Memorial Day Western Art Show was presented in 1974, featuring some of the finest western sculptors and painters from across the nation. Then in the early 1980's, the James Family Trust donated a parcel of land to the Foundation for the construction of the Phippen Museum and, with the financial support generated from a decade of presenting the Art Show & Sale, on October 13, 1984, the museum opened its doors to the public.
Source: Phippen Museum 
Father Kino

Artist:

George Phippen, CA Founding Member (1914-1966)

Description:

Bronze (1963) | 14"h x 5 ½"w x 4 ½"d; Edition #17 of 20

In 1963, George Phippen submitted this bronze prototype for entry consideration to the National Statuary Hall Collection. And though it was not selected, Father Kino along with Barry Goldwater stand proudly representing Arizona.

Father Kino (1645-1711), a celebrated Jesuit missionary, worked tirelessly throughout Mexico, Arizona, and California, alongside indigenous populations. The National Statuary Hall website reads "Especially adept in mathematics and geography, he was one of the first scientific explorers, cartographers, astronomers, historians, builders and ranchmen of the Pimera Alta. Due to his efforts, missions and stockyards were developed. Roads were built to connect previously inaccessible areas. His many expeditions on horseback covered over 50,000 square miles, during which he mapped an area 200 miles long and 250 miles wide, and deduced that California was a peninsula. He built missions extending from the interior of Sonora 150 miles northeast to San Xavier del Bac. He constructed 19 rancheras which supplied cattle to new settlements. He was also instrumental in the return of the Jesuits to California in 1697. Father Kino remained in southern Arizona until his death in 1711."

A Jealous King

Artist:

George Phippen, CA Founding Member (1914-1966)

Description:

Oil (1955) | Image Size: 16"h x 20"w; Framed Size: 27 ½"h x 31 5/8"w

A founding member of the Cowboy Artists of America, George Phippen was both an accomplished painter and sculptor who specialized in cowboy subjects, primarily scenes from Arizona. However, he was also proficient in depicting wild animals and the cattle and horses found on ranches. Here he combined those two subjects with wild mustangs that are looking after a newborn foal. The herd gathers around in protection, while a white stallion, already proclaiming his territory to the new arrival, watches from afar.

Painted in a variety of colors with no two animals being exactly alike is a realistic representation of a wild mustang herd. The foal was placed in the left foreground below a small hill while protective mares stand behind and the remaining herd advances forward. While the shapes and placement of the horses mimic the natural contours of the landscape, a red rock outcropping mimics a typical Southwestern panorama.
George Phippen, CA Founding Member