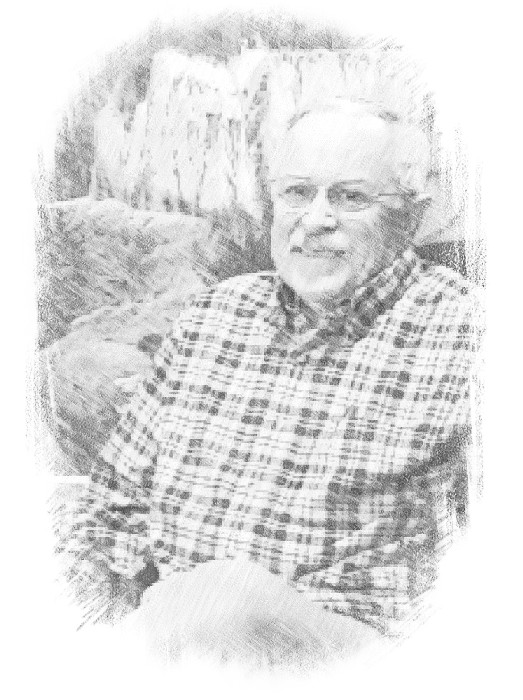 Gary Carter, CA Emeritus
(b. 1939)
Gary Carter graduated from the Art Center College of Design in 1971 and was blessed to have great instructors who encouraged him to paint the West.
He illustrated briefly then was offered a one-man show in Tucson, Arizona, which sold out and started his fine art career. While in Tucson he was invited to be the resident artist at Sun Ranch in the Madison Valley of southwest Montana. The ranch refurbished the bunkhouse to accommodate his studio. Gary, along with his Australian Shepherd Patches and Amos Moses, his "trick" cow horse, took up residence. It was a great learning experience, and he gained a cowboy's perspective and fine-tuned his cowboy humor.
Gary was adopted into the Crow Nation on June 25, 1991, as a member of the Real Bird Family and a member of the Big Lodge Clan. He was active in the Custer Battle re-enactment for years held at the Real Bird Ranch on the Little Big Horn River near Garryowen, Montana.
In 1982 he was accepted into the Cowboy Artists of America and in 1986 served as President of the organization.
Source: Cowboy Artists of America
The Lone Tipi

Artist:

Gary Carter, CA Emeritus (b. 1939)

Description:

Oil (2001) | Image Size: 38"h x 48"w; Framed Size: 49 ½"h x 59"w

In this large and accomplished painting, Gary Carter has depicted the landmark site of "The Lone Tipi" (Crow Agency, Montana) where an Indian encampment had been located during the Battle of the Rosebud. Customarily, when a warrior died, his body was left inside his teepee along with his possessions.

This site was also an important one relating to the Battle of Little Bighorn. It was used as a reference point establishing event times and distances by battle survivors. The movement of the Indians to their new encampment along the Little Bighorn River following the Battle of the Rosebud could be determined from it, and it also marks Custer's location where he believed he had been discovered and his orders to attack the river encampment were given.

At Custer's right, Carter has depicted the leader and pipe carrier of the Crow scouts, Half Yellow Face, who had been given the rank of corporal and subsequently received a military coat with chevrons, shown here, which he wore for the remainder of his life. Half Yellow Face is also attributed with a prophetic statement made to Custer before the battle ensued, "You and I are both going home tonight by a road we do not know." Custer's favorite scout, Bloody Knife, is depicted behind him. Bloody Knife wears the silver medal inscribed with his name which had been gifted to him by Custer. And the third unidentified figure to Custer's left holds the cavalry flag which was later recovered following the battle.

Victory Flag

Artist:

Gary Carter, CA Emeritus (b. 1939)

Description:

Oil | Image Size: 16"h x 12"w; Framed Size: 24 ½"h x 20 ½"w

With a mix of both realism and impressionism art styles, Gary Carter shows a Plains Indian warrior galloping down a rocky and rough terrain gripping an emblem of a successful battle, a U.S. Cavalry flag. Carter has painted the warrior in sharp realistic detail with clear and vibrant colors that pop off the canvas. The background is painted with quick and broad brushstrokes that give an impressionistic look and feel. By obscuring the background details, Carter emphasizes the figure of the mounted Indian and his rush down the steep incline. Rather than showing the actual action of the battle, Carter has chosen to focus on one participant, giving the viewer just enough information to engage their imaginations.

The Orator

Artist:

Gary Carter, CA Emeritus (b. 1939)

Description:

Oil (2008) | Image Size: 24"h x 48"w; Framed Size: 36 5/8"h x 54 5/8"w

Cowboy Artists of America Emeritus Member Gary Carter frequently tells stories through his art; stories that spring from his imagination, but which are based on his study of history. Here he shows a meeting between a group of northern plains Indians and frontier soldiers who are more than likely in the middle of a negotiation. In the moment, it is apparent that the elder has the floor and speaks on behalf of his people.

Carter has effectively handled the large group of figures and has imbued the scene with definitive authenticity.

Great Northern Train Robbery

Artist:

Gary Carter, CA Emeritus (b. 1939)

Description:

Oil (1973) | Image Size: 20"h x 30"w; Framed Size: 30 ½"h x 40 ½"w

"Great Northern Train Robbery" is indicative of Gary Carter's early illustrative style. In this rendition he depicts two vignettes of one of the many gold shipment train robberies as well as a WANTED poster for the capture of anyone who may have committed the offenses. Though the poster isn't easily read in this image, it does reference Hole in the Wall, a remote pass in the Bighorn Mountains of Wyoming. It was home for some notorious criminal elements at the time including Black Jack Ketchum, Kid Curry, and Butch Cassidy & The Sundance Kids, just to name a few.

Carter's first one-man show and sale was held at Jamison Galleries West in Tucson, Arizona, in 1973. The show sold out and this painting was among those shown and sold at that first exhibition. Prior to the show, Carter was visiting his parents in Montana and had begun painting in preparation. "This is me posing because I was a cheap model," he shared. Of the gallery's proprietor, Margaret Jamison, "She promised me I would never go hungry," laughed Carter. "Margaret was prominent in my success." Margaret's own collection was eventually donated to the New Mexico Museum of Art.

On the Trail of the Hostiles

Artist:

Gary Carter, CA Emeritus (b. 1939)

Description:

Oil| Image Size: 26"h x 44"w; Framed Size: 39"h x 57"w

In this evocative scene, a sense of realism and drama was achieved purposely by the use of bright sunlight and deep shadowing to accentuate the individuals and the unfolding action. Three members of a cavalry patrol have halted while their scout has dismounted and is pointing toward the direction they should advance; all are shown in bright sunshine. Distant riders approaching in single file are shown against a dark, rainy sky and the foreground is also depicted in deep shadow just below the feet of the horses and scout. The artist, Gary Carter, has effectively framed his main figures by placing them between the bands of darker color.

Winchester Quarantine

Artist:

Gary Carter, CA Emeritus (b. 1939)

Description:

Oil (1973) | Image Size: 24"h x 36"w; Framed Size: 30 ¾"h x 42 ¾"w

During the 1880's, Texas Panhandle ranchers instituted the "Winchester Quarantine" to mitigate diseased cattle from South Texas being driven north. Certain routes with water tanks were designated as "lines of drive" and inflicted herds were permitted a mile and half range on either side of the trail. And because not everyone approved of this control method, some ranchers hired guards outfitted with Winchester rifles to deter those who were opposed. A few years later, the popularity of fencing decreased the risks associated with both the conflict and disease transmission.

Gary Carter, an amazing storyteller, executed this historical depiction in 1973, nine years prior to his becoming a member of the Cowboy Artists of America in 1982.

The Medicine Hat

Artist:

Gary Carter, CA Emeritus (b. 1939)

Description:

Oil (1973) | Image Size: 8" x 10"; Framed Size: 18 ¼"h x 16 ½"w

This small portrait by Gary Carter completed prior to his becoming a member of the prestigious Cowboy Artists of America, is exceptional. Gary used the finely detailed, realistic style of the face as well as the beaded band of the headdress effectively and in sharp contrast with the impressionistic feel of the broad strokes of the background and the subject's clothing.

Gary lives in his adopted home of Montana. In 1991, he received the singular honor of being adopted into the Real Bird Family of the Crow Tribe and made a member of the Big Lodge Clan. He is adept at portraying both the historic and modern west, and his work ranges across a wide array of subjects.

Sioux Study

Artist:

Gary Carter, CA Emeritus (b. 1939)

Gypsy Trader

Artist:

Gary Carter, CA Emeritus (b. 1939)

Description:

Oil (1997) | Image Size: 18"h x 12"w; Framed Size: 26 ½"h X 20 ½"w

Napoleon transported hundreds of Gypsy men to Louisiana during the two-year period before selling the Louisiana Territory to the United States in 1803. Many followed as the nomadic life of trapping and trading accorded them familiarity, independence and opportunity.