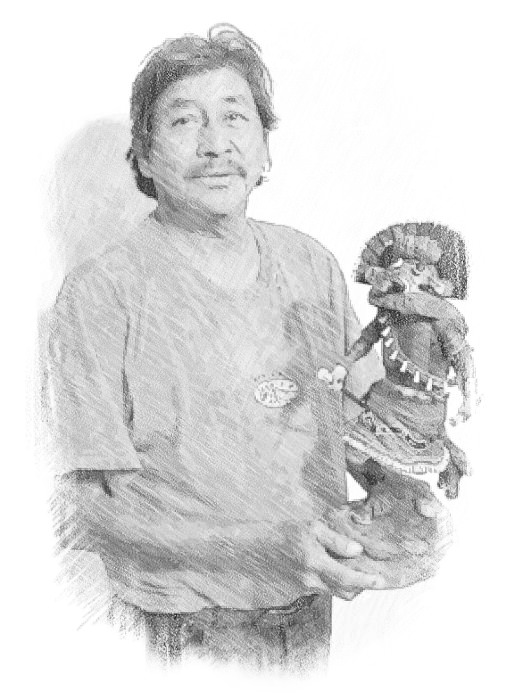 Cecil Calnimptewa
(b. 1950)
Cecil Calnimptewa, Jr. is a top prize-winning Hopi carver. His one-piece carvings are highly sought by museums and serious collectors. Cecil is the only Hopi carver to have been profiled in a monograph.
Cecil was initiated and began to participate in the dances. To develop his style, Cecil's wife, Muriel Navasie, helped him by serving as a model. He draped her with fabric to study natural folds in cloth. He also dressed himself up in lilts and sashes, carefully observing the details while standing in front of a mirror.
In August of 1991, Cecil won Best of Division, Best of Class, and 1st place ribbons at Santa Fe Indian Market. After they returned home, tragedy struck. Muriel suddenly became ill and soon passed away from pneumonia. Some suspected Hantavirus. The loss of his wife was hard. While his family members helped him maintain a gallery on Third Mesa, Cecil consoled his children. He later returned to carving, creating some of his most powerful artwork.
Source:  Hopi Katsina: 1,600 Artist Biographies by Gregory and Angie Schaaf
Sun Katsina (Tawa Katsina)

Artist:

Cecil Calnimptewa (b. 1950)

Description:

Cottonwood Tree Root (Hopi Katsina) | 12" x 13" x 26"

Two Salakos, Cumulus Cloud & Zuni

Artist:

Cecil Calnimptewa (b. 1950)

Description:

Cottonwood Tree Root (Hopi Katsina) | 10" x 11" x 27"

Many of Cecil Calnimptewa's carving skills are revealed in his sculptures particularly in his ability to posture and position katsina dancers accurately reflecting intricate movement. An inventive artist whose work also reveals the depth of his knowledge of Hopi culture and religion. Normally carving using the root of the cottonwood tree, Cecil pays particular attention to the finer details such as feathers which he considers to be one of his areas of expertise. His work draws upon traditional methods, but also brings an added dimension and sculptural quality especially when creating very large and complicated carvings such as seen here in "Two Salakos." The award winning art of Cecil Calnimptewa can be found in numerous private collections worldwide, at the Heard Museum and at the Museum of Northern Arizona.

Eagle (Kwaakatsina) Katsina and Two Mud Head Clowns

Artist:

Cecil Calnimptewa (b. 1950)

Description:

Cottonwood Tree Root (Hopi Katsina) | 20" x 21" x 25"

Saviki (Drawing)

Artist:

Cecil Calnimptewa (b. 1950)

Saviki

Artist:

Cecil Calnimptewa (b. 1950)

Piggyback Clowns

Artist:

Cecil Calnimptewa (b. 1950)

Description:

Hopi Katsina | 6"d x 11"h x 12"w

Eagle "Kwa" and Mud Head Clown "Koyemsi"

Artist:

Cecil Calnimptewa (b. 1950)

Description:

Cottonwood Tree Root (Kachina) | 18"h x 26"w

In the book "The Kachina Dolls of Cecil Calnimptewa: Their Power – Their Splendor," Theda Bassman wrote: "The Hopi Indians live in twelve villages on arid mesas in Northern Arizona. The Hopi believe that they were the first inhabitants of the earth, and are deeply steeped in their religion and traditions. Their spirits, the Kachinas, come into their villages to perform dances, while making requests to the Gods for rain for their crops and for a better, peaceful world.

From July to February, the Kachinas live in the San Francisco Peaks near Flagstaff. During the rest of the year they live in the villages and perform dances. The Kachinas are not only the spirits of the Hopi, but also the intermediaries between the Gods and man. The Kachinas represent the spirits, the dancers represent the Kachinas, and the dolls depict what the Kachinas look like. When taking on the costume and the dance, the masked dancers believe they assume the spirit of the Kachinas."

Early Morning Singer

Artist:

Cecil Calnimptewa (b. 1950)

Description:

Cottonwood Tree Root (Katsina) | 17"h x 9"w x 9"d

At the Bean Planting Festival or Powamu Ceremony typically held in late January or early February, the Early Morning Singer Katsina usually appear holding spruce trees and ringing bells; villagers are awakened by their song. During the main ceremony procession, the Early Morning Singers often stand aside in pairs. And as the day and ceremony progresses, they will lead other katsina in song and occasionally dance.

Once again Hopi katsina carver Cecil Calnimptewa's artistic, visual and cultural insights are at their best!

Blue Corn Maiden (Sakwap Mana)

Artist:

Cecil Calnimptewa (b. 1950)

Description:

Cottonwood Root | Dimensions: 14"h x 7"w x 7"d

The legend of Blue Corn Maiden, Sakwap Mana, is that she was the most attractive of the corn maiden sisters. She was loved for her beauty, her spirit, her generosity and for her kindness in providing the corn she brought year round to the pueblo people.

While out gathering firewood one chilly winter's day, she met Winter Katsina who brings the winter to earth. He fell in love with her instantly. He invited her to his home where he then made her a prisoner by blocking the exits with ice, snow and the cold. And though Winter K. was kind to Blue Corn Maiden, she longed to be back amongst the pueblo people.

While Winter K. was out making snow and cold upon the land, Blue Corn Maiden partially unblocked the entryway and immediately began looking for the food and plants she was fond of distributing to the people. However, all she found beneath the snow and the elements were four blades of yucca which she brought back with her to Winter K's home and immediately built a fire. The fire's warmth melted the snow sufficiently so Summer Katsina could enter. He brought with him fresh corn and several yucca blades. Unfortunately, Winter K. also returned wielding an icicle as if it were a knife and an ax-like ice ball. The Katsina, at odds with each other, blew cold and warm air respectively.

When Winter raised his icicle, Summer raised his yucca bundle which caught fire and melted the ice. It was clear the two needed to make peace and resolve their differences. It was agreed that during half the year, the spring and summer months, Blue Corn Maiden would live amongst the pueblo people distributing her corn. And during the second half of the year, fall and winter, she would return to Winter Katsina.

When Blue Corn Maiden returned to the pueblo for the first time, she was heralded as the beacon of springtime.

It is said that once spring has already come and a late winter's storm pounds the earth, it only happens because Winter Katsina is showing his irritation that Blue Corn Maiden has left his dwelling for her six month sabbatical.

The Black Ogre's Uncle – Tahaum Soyoka

Artist:

Cecil Calnimptewa (b. 1950)

Description:

Katsina/Cottonwood Root | Dimensions: 17"h x 8"w x 7"d

The uncles of the ogre family katsinam teach and enforce good behavior among the children. In the Hopi culture they represent spiritual beings and perform as dancers at annual ceremonies. Typically they appear with large, long snouts and have a hunting bow in one hand while the other carries a saw or knife. Often a hinged mask will make a clacking sound as the katsinam dance about. During the midwinter bean planting ceremony they often visit homes with children demanding food gifts and threaten to return and kidnap or eat the children if the gift is disappointing or the children misbehave. They return at the bean dance ceremony to once again enforce the lessons of good behavior; however, they are subjugated by ceremony's end and return to their caves until the next season.

Lovers Katsina

Artist:

Cecil Calnimptewa (b. 1950)

Description:

Cottonwood Root | Dimensions: 14"h x 10"w x 7"d

Hopi style of Auguste Rodin's "The Kiss" - imitation is the sincerest form of flattery!