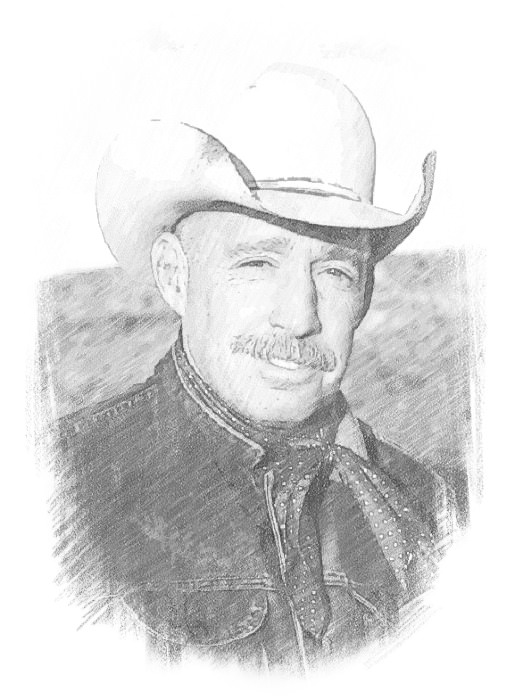 Bruce Greene, CA
Bruce Greene is one of the legitimate heirs to a cowboy kind of art legacy that traces its beginnings back to Charlie Russell. It is a legacy that is tied hard and fast to a familiarity and feeling for ranch life reality and based on a bedrock of artistic accomplishment.
Way out in West Texas on the historic JA Ranch established by the patriarch of pioneer cowmen, Charles Goodnight, Bruce has discovered and tapped into a deep reservoir of cowboy reality. He has enough artistic inspiration to last a lifetime. It is this privileged perspective that enables him to show us, through his art, the authentic essence of the contemporary cowboy.
Bruce was elected to membership in the Cowboy Artists of America in 1993 and has served terms as director, vice president and president. He is very pleased to have received the Ray Swanson Memorial Award for his painting When Freedom Isn't Free in 2007 and for In the Brazos de Dios in 2012. In 2010 Bruce won the TCAA Award for best portrayal of a cowboy subject matter for his sculpture When The Bloom Is On The Beargrass and the Gold Medal for Drawing and other Media for An Air Of Ability. In 2012, he won the Gold Medal for Sculpture with Storm on the Plains. At the 2013 Cowboy Crossings, Bruce won the Gold Medal for Drawing and other Media for Brandin' at the High Lonesome.
Source: Cowboy Artists of America
An Old Dog and A New Trick

Artist:

Bruce Greene

A Long Way from the Wagon

Artist:

Bruce Greene

Description:

Oil (2003) | Image Size: 30"h x 34"w; Framed Size: 38 ¼"h x 42 ½"w

Artist Letter

Artist:

Bruce Greene

Description:

Pencil (2007) | Image Size: 11"h x 8 ½"w; Framed Size: 17 ¾"h x 15 ¾"w

Evening Ride

Artist:

Bruce Greene

Description:

Watercolor (Circa 1990's) | Image Size: 5"h x 7"w; Framed Size: 12 5/8"h x 14 5/8"w

This small watercolor showing a rider under the evening cloudy sky instantly establishes tone and feeling. Despite its size, it is filled with many authentic details such as the grayish green sage of the terrain, the distant oaks, a welcoming light home and an ever present windmill. Its serenity speaks volumes.

The Building Storm

Artist:

Bruce Greene

Description:

Pencil & Charcoal (2008) | Image Size: 19.5"h x 28.5"w ; Framed Size: 34 ¼"h x 43 ¼"w

In this drawing of horses huddled together for protection in the case of a coming thunderstorm, Greene effectively uses his media, charcoal and pencil, to add to the sense of drama. The muted colors accentuate the darkening clouds and the storm dust. The apprehension is palpable.

Bruce Green won the Gold Medal in Drawing/Other Media at the 43rd Annual Cowboy Artists of America Exhibition & Sale in 2008 for "The Building Storm."

Moving Out

Artist:

Bruce Greene

Description:

Oil (1953) | Image Size: 24"h x 20"w;

"Moving Out" is one of Cowboy Artists of America member Bruce Greene's earlier works. The painting is done in muted colors reflecting the deep shade of the surrounding forest. While much of Greene's later work utilizes bright colors and sunlit settings, this painting has a cooler tone and reflects the reality of a mountain environment.

In this scene from the high country a cowboy is leading a loaded down packhorse away from a mountain cabin. He and his horses are poised to cross a stream and leave the cabin behind. Most likely the cowhand has spent the winter in the cabin and is now heading back to ranch headquarters.